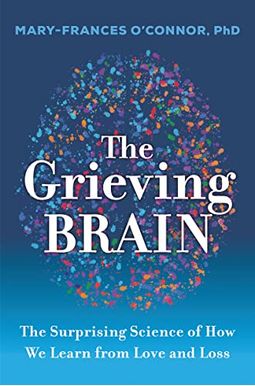 
 
The Grieving Brain: The Surprising Science of How We Learn from Love and Loss
Book Overview
A renowned grief expert and neuroscientist shares groundbreaking discoveries about what happens in our brain when we grieve, providing a new paradigm for understanding love, loss, and learning.
For as long as humans have existed, we have struggled when a loved one dies. Poets and playwrights have written about the dark cloak of grief, the deep yearning, how devastating heartache feels. But until now, we have had little scientific perspective on this universal experience.
In The Grieving Brain, neuroscientist and psychologist Mary-Frances O'Connor, PhD, gives us a fascinating new window into one of the hallmark experiences of being human. O'Connor has devoted decades to researching the effects of grief on the brain, and in this book, she makes cutting-edge neuroscience accessible through her contagious enthusiasm, and guides us through how we encode love and grief. With love, our neurons help us form attachments to others; but, with loss, our brain must come to terms with where our loved ones went, or how to imagine a future that encompasses their absence.
Based on O'Connor's own trailblazing neuroimaging work, research in the field, and her real-life stories, The Grieving Brain does what the best popular science books do, combining storytelling, accessible science, and practical knowledge that will help us better understand what happens when we grieve and how to navigate loss with more ease and grace.
Frequently Asked Questions About The Grieving Brain: The Surprising Science of How We Learn from Love and Loss
Book Reviews
(8)
Did you read The Grieving Brain: The Surprising Science of How We Learn from Love and Loss? Please provide your feedback and rating to help other readers.
Educational, powerful and compassionate

Derived From Web

, Mar 9, 2022

The brain science of grief is explored in this book. The second half of the book is about how to deal with loss and grief. Whether the loss is yours, that of a family member or a friend, they need people who support them. This isn't a book where you tell them what to do. Being a compassionate person will help them on their own journey. The book is written in a way that is easy to understand.
Understanding your grief

Derived From Web

, Mar 9, 2022

The scientific explanation of how our brain processes grief was very interesting to me. It was comforting to know that grieving isn't just an emotional response to loss but that our brain requires time and experience to reprogram. Being aware of how my brain processes my grief, I am better able to recognize unhealthy ways I'm using to deal with loss and implement behaviors that will lead me to a fulfilling life without my daughter. I would recommend this book to people who can appreciate the complexity of the body.
Thank you

Derived From Web

, Feb 22, 2022

I needed a book. Everything I've read before was about grief. Although I think my grief in losing my daughter is unique to me, that is just human feelings and shared with all humanity as delineated in this book. I don't expect to escape from my grief, but maybe a bit of understanding.
Rewiring the brain

Derived From Web

, Feb 19, 2022

I sent the book to my siblings and friends. I will probably send it to a few more people. Frankl's Man's Search for Meaning is a book that can be combined with this one to understand why the brain feels broken for so long after a terrible loss. I have been on the path of losing my son for more than two years. The explanation of the rewiring process helps me understand why it takes so long. It's necessary to push against people who think anyone should be over it or moved on.
This book is a must-read for anyone who has experienced loss

Derived From Web

, Feb 13, 2022

Mary-Frances O'Connor wrote a well-researched and scientifically-based discussion of how humans process grief. One of the most meaningful books on grief and grieving I have read is this beautifully-written social science book. I will be giving this book to people that will benefit from it.
Helpful for pet loss, too

Derived From Web

, Feb 11, 2022

I found the book helpful for pet loss grief as well. The book acknowledges other types of loss as well. I found her explanations comforting and helpful as I wanted to understand what my brain was doing during the grieving process. It's important to remember that grief is an incredibly complicated process for the brain, and that we should be gentle with ourselves or others going through grief.
Excellent Book

Derived From Web

, Feb 6, 2022

This book taught me a lot. It helped me process the loss of my husband and made me feel better. I have purchased many grief books since his death, but this is the only one that helped me.
Incredibly Validating; Finally, a Scientific Explanation for What I am Feeling

Derived From Web

, Feb 3, 2022

I pre-ordered this book a few months ago on a whim, and I am so happy I did. Four years have passed since my father's death, and I have been on a journey to better understand my grief. There was a time when I felt like I was crazy because I couldn't explain to my spouse, my therapist or anyone who would listen. This book has given me the tools to better communicate with my spouse who has never experienced such profound loss, as well as with other people who are grieving, because of the many previously unexplained feelings that have been validation by this book. This book has given me the confidence and validation I need to move forward in my grief journey. A scientific explanation is written in a way that the lay person can understand and relate to. I am thankful for the work done by Dr. O'Connor. Highly recommend.