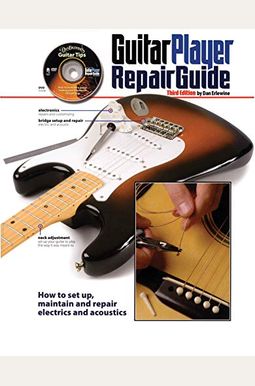 
 
The Guitar Player Repair Guide - 3rd
Frequently Asked Questions About The Guitar Player Repair Guide - 3rd
Book Reviews
(11)
Did you read The Guitar Player Repair Guide - 3rd? Please provide your feedback and rating to help other readers.
Buy this reference first...

Derived From Web

, May 11, 2022

I believe that this is the first reference that a guitar tech or builder should purchase. Even if you are simply a guitar owner, this is the material you will want to have at your disposal to keep it great and playing healthy. Want some famous stories and interesting name-dropping, it is in this book as well, but in the context of famous instruments, techniques and setup. Dan also includes sections written by fellow experts, not just HIS experience, but the best collected information on a subject that he can find. Interestingly detailed, and very accurate. One of the reasons I have been so slow to start working in this hobby is that there are so many specialized tools and materials and every dang is expensive. Dan doesn 't hold back telling you how to make a few of them on your own. If you want to build or repair guitars, highly recommended, but especially for electric guitars. Hell, I think that regular guitar players should have this reference on their shelves.
lots of info

Derived From Web

, May 11, 2022

This book is jam packed with lots of info and the best thing about it is that I never have to leave my guitar in the hands of a stranger as well as saving my money for things I can do myself.
Like guitars? Read this book.

Derived From Web

, May 11, 2022

Reading about how a blues player could set their guitar and why they might choose a brand of guitar, I have so much to learn.
awesome guitar repair and tune manual

Derived From Web

, May 11, 2022

How to play guitars, how to set them to play correctly, everything about typical guitars that everyone has these days, lots of good advice here for the amateur guitar repairman, must have.
Must have book for the Luthier. Amazon much cheaper than Stewmac

Derived From Web

, May 11, 2022

This book has a wealth of information about tried and true methods for guitar repair.
Fantastic reference book. Not for someone with zero knowledge of guitars

Derived From Web

, Feb 20, 2022

After reading some of the negative reviews, I realized that this is not for someone who has no knowledge of guitars outside playing them. If you don 't understand the mechanics and science behind your instrument, this book will be hard to understand and follow. There are tons of videos on the net that will dumb things down for you so that you can understand how a guitar actually works. I suggest that you start there. First gain a basic understanding of your instrument. As you do, this book will make more sense and become more of a better reference guide for you. Today I received mine. At a glance, I can see that this is a fantastic book and I can not wait to dive into it.
Very well Written and pretty exhaustive even covers some guitar build info, indespensable book!

Derived From Web

, May 19, 2020

The purpose of the book is not for guitar building, but builders would value that much information here would make a big difference when you make a guitar, if you don 't know how to remove and adjust a nut or bridge, this book is for you. If you have fret problems or need to clean up and polish a guitar, this book is for you. No, cleaning a guitar is not polishing it and you will find out that you must remove a guitar and clean dust BEFORE using polish and why. A most awesome book, don 't even think twice about getting this book. A bunch of professionals recommended this book to me, it was great advice. I recommend both the ebook and a hard copy.
Way beyond a guitar repair book! If you just play guitar this book is a must.

Derived From Web

, Mar 15, 2019

I thought I would find just a book of how to do this or that. No this book is filled with history and interviews with guitar legends like B.B. This site is for Buddy Guy and King. Everything is from strings to how they like to set their guitars here. This book is both a Guitar - Legend - History - book and how - to - book. You might be able to learn some of these off- YouTube videos, but with the book and the DVD you have everything you need to dig deep into fixing and repairing guitars.
Very deceptive Kindle write up.

Derived From Web

, Nov 18, 2018

No one was involved in the write-up, does it say that the Kindle version does not contain the links or content of the DVD. Very deceptive write-up makes people think that they get all the same information in the print version. After reading reviews, you will find out that this has been an issue for 6 years and they still have not corrected the problem. Don 't waste your money on the Kindle version. Amazon should have had them correct.
The First and Last Word in Guitar Repair

Derived From Web

, Feb 16, 2018

I bought the large soft cover version of this book in 1995 and have not been able to live without it since then. It has been highlighted, underlined and dog eared within an inch of its life, and I decided that I needed a copy that would never leave my side... hence the Kindle version. I now carry it everywhere with me. Even with the advent of YouTube in the current years, I still turn to this first and use video as a further practical. I have mounded and fixed guitars for family and friends and I couldn t have known where to start without Dan and his exceptional book. To me it is the Bible of Guitar Repair, along with tips and tricks of the best in the business. I picked it up as a greenhorn newbie and I still find nuggets of wisdom in it 20+ years later. If you have ever thought about taking your guitar apart, FIRST GET THIS BOOK!