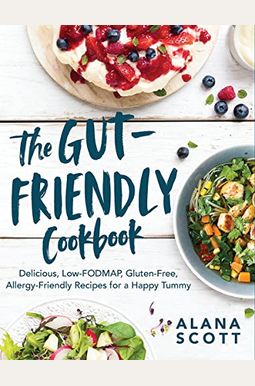  
The Gut-Friendly Cookbook: Delicious Low-Fodmap, Gluten-Free, Allergy-Friendly Recipes for a Happy Tummy
Book Overview
Recent studies have shown that a low-FODMAP diet--one that eliminates certain carbohydrates that can trigger gas, bloating, and other digestive issues--can help followers to feel better fast. Created by Monash University in Melbourne, Australia, the diet has become a worldwide sensation. Because the offending foods often seem like healthy choices (apples, cauliflower, and garlic can all cause tummy discomfort), it can be a challenge to pull together meals.
Enter Alana Scott and her wonderful cookbook. Scott, who suffers from irritable bowel syndrome (IBS), began developing recipes so she could enjoy eating again. In The Gut-Friendly Cookbook, she shares more than 100 recipes for delicious dinners, breakfasts, lunches, and snacks, plus sweet treats, gorgeous photographs of each recipe, and plenty of easy-to-read background information on FODMAPs, a shopping guide, and advice on how to change your eating through the whole cycle of the low-FODMAP journey. The recipes have all been reviewed and approved by a FODMAP- trained registered dietitian.
Frequently Asked Questions About The Gut-Friendly Cookbook: Delicious Low-Fodmap, Gluten-Free, Allergy-Friendly Recipes for a Happy Tummy
Books like The Gut-Friendly Cookbook: Delicious Low-Fodmap, Gluten-Free, Allergy-Friendly Recipes for a Happy Tummy
Book Reviews
(8)
Did you read The Gut-Friendly Cookbook: Delicious Low-Fodmap, Gluten-Free, Allergy-Friendly Recipes for a Happy Tummy? Please provide your feedback and rating to help other readers.
Wasn't Helpful

Derived From Web

, Oct 1, 2020

Unfortunately, it did not meet my needs for IBS recipes. She includes lots of recipes with red meat, potatoes and oil, which I am very sensitive to. She also uses a lot of nightshade foods, which can cause inflammation in some people. The pictures of the recipes were nice, but I couldn 't convince myself to keep the book.
Very helpful and great food

Derived From Web

, Sep 18, 2020

So much love this book. I spent the best money I ever spent on any book. I lost 3 lbs. In a few days, abdominal bloating and diarrhea went down. I also like the recipes. When I saw the wonderful food that I can eat, my discouragement from the information on the internet lifted immensely.
Many of the recipes have sugar in them.

Derived From Web

, Aug 18, 2020

This cookbook for the gut is not what I expected. While there are some recipes that contain ingredients I would consider healthy, there are far too many that use brown or white sugar in them. I personally don 't view any amount of white or brown sugar as healthy for my body.
Better than I thought

Derived From Web

, Aug 17, 2020

I was very hesitant to view a cookbook online without being able to buy it. As someone who doesn 't think that spritzing salt and pepper counts as seasoning your food, I had so many reservations. But my worries have been alleviated! After trying multiple recipes and enjoying them so far! This book made the task of consuming and sticking to a low FODMAP diet a lot easier!
Delicious Restaurant Quality Recipes Made at home and easy to do

Derived From Web

, Jun 21, 2020

I am new to a low FODMAP diet due to IBD. My whole family has loved everything I have made so far, which is sometimes difficult to do in our house.
BUY THIS BOOK!! Thank you Alana!!

Derived From Web

, Mar 1, 2020

Wow, I never review things, but after diving into this cookbook super late and finding so much hope and inspiration, I had to rave about it just. SIBO is no walk in the park. In fact, it has literally changed every aspect of my life, and even got to the point where I lost the ability to eat almost every single food, because I would have a violent reaction. But the healing journey has been huge, and any aspect that makes this journey feel less lonely or dare, I say *exciting* is so monumentally important. This book gave me hope, light, and newfound inspiration for this somewhat restrictive diet, I have to be on. It reminded me that I am going to be okay, that I am not alone that I am healing, which is the mindset needed to see real healing and to feel better. Alana, thank you!
Great information and recipies

Derived From Web

, Feb 25, 2020

You can see the author's passion to help others in the book. I recommend it for all those IBS - sufferers as a tool to help improve their diet and ultimately reduce the burden of this syndrome.
Tasty and easy to prepare cookbook

Derived From Web

, Feb 17, 2020

I love that there is a picture of each recipe, clear instructions and items that are easy to find and not too pricey. I would definitely recommend ''.