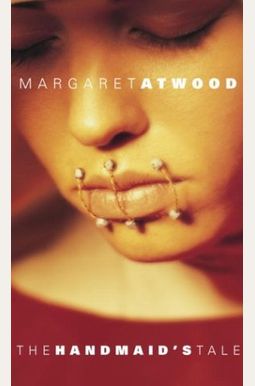  
Book Overview
This Description may be from another edition of this product.
Are there any questions? The final line in Margaret Atwood's modern classic, The Handmaid's Tale, has teased and perplexed fans since the book's original release more than 30 years ago. Now, in this Audible Original production, listeners get some of the answers they've waited so long to hear.
Featuring an all-new interview with Professor Piexoto, written by Atwood and performed by a full cast, The Handmaid's Tale: Special Edition is a must-listen for both fans and newcomers alike. Emmy Award winner Claire Danes (Homeland, Temple Grandin) gives a stirring performance of this classic in speculative fiction, where the message (and the warning) is now more timely than ever. In addition to rich sound design that honors the audio origins of Atwood's classic, the special edition also includes a brand-new afterword from the author and an essay written by author Valerie Martin (Mary Reilly, Property).
After a violent coup in the United States overthrows the Constitution and ushers in a new government regime, the Republic of Gilead imposes subservient roles on all women. Offred, now a Handmaid tasked with the singular role of procreation in the childless household of the enigmatic Commander and his bitter wife, can remember a time when she lived Read More chevron_right
Frequently bought together
Frequently Asked Questions About The Handmaid's Tale

Books like The Handmaid's Tale
Book Reviews
(14)
Did you read The Handmaid's Tale? Please provide your feedback and rating to help other readers.
A Dire Warning of Looking the Other Way

Derived From Web

, Oct 17, 2021

The book is even better if you've watched the show. I was amazed at the beauty of this novel. It's all beautiful and thoughtful. I teach this novel in my college classroom and my students love it. I talk about oppressive regimes in the 70's and 80's and the current state of women's rights here in America. I've never had a student say they didn't like the novel, they all like it enough or love it.
Fascinating

Derived From Web

, Jun 29, 2021

I liked the tale of an alternate universe and how things could have been different if historical events had played out differently. There were a few things that I didn't see explained and that made me a little confused and gave me a four star rating. I didn't know what ashedder baby was, or any other type that may have been born. There wasn't much information on how or why these people lived this way. I don't know. I enjoyed the book and will read it again.
Great Dystopian novel

Derived From Web

, Mar 25, 2021

If we let go of our liberties, a society that we could potentially emulate in the not too distant future is described in The Handmaid's Tale. Control of behavior is paramount, and books are burned. Common people don't have reproductive privileges that the elite have. Puritanical ethics of the Bible are re-designed to sustain a totalitarian society. Dreary and depressing, but close to reality than most will want to believe. The imagery and writing are great. It was frightening, and it was transformative.
Missing pages

Derived From Web

, Nov 15, 2020

I bought this a few months ago and I just started to read it and found there were missing pages and two blank pages in the picture I posted. I tried to get my money back. I bought this book for college because it was a requirement and now I can't do some assignments because it's missing pages.
Still A Great Novel

Derived From Web

, Dec 17, 2019

The first Margret Atwood novel that received public praise was The Handmaids Tale. When the book was first published, it was relevant to our times. The narrative is oppressive but the prose is brilliant. The book is well captured by the series of the same title, and the recently published The Testament is a sequel to the book. There is an alternate view of the future that you can read.
A Pseudo-Religious Dictatorship?

Derived From Web

, Oct 28, 2019

If our nation starts getting dominated by secular, power-hungry leaders, I can see how condition could get worse so that something like The Handmaid's Tale could happen. A revolution like this? Religion is dominated by power just like before. A real revolution will happen eventually, dominated by real believers like 2000 years ago. People will be happy if God-fearing people lead their nation, not depressed about it. This book was written to drive people further away from God, so people would become wary of religious leaders. Margaret, it was a good try. God is more loving and wiser than that.
Brilliant prose. Magical, haunting, riveting.

Derived From Web

, Aug 28, 2019

I was eager to read the sequel to The Handmaid's Tale. Margaret Atwood's prose is beautiful. It was first published in 1985 and is very close to where we are in today's world. It was magical, haunting, and riveting.
Hope the series is good, the book stinks

Derived From Web

, Jan 1, 2019

The book is boring and not well written. I didn't get the message that the women were being treated as breeding cows for men in this futuristic novel.
nope

Derived From Web

, Dec 28, 2018

I was waiting for a story line. The story line was the reason I got so tired of all the detail. I was very disappointed.
Idontknow bow I feel about this book,. It was very readable with a great use of the English language. The topic was Intriguing.i four d the the realisation of where our PC society couldleadus worrying. For a long time I have believed that Porte ting peop

Derived From Web

, Dec 27, 2018

I don't know what to think about this book. It was very readable and a credit to the authors literary skills. The topic was intriguing, and I found it disturbing that our PC Society could finally cause such a situation. Hitlar came to power in Germany in the 1940's. Brain washed his people and tried to establish an Aryan race by using only white German women as sex objects.