Buy 3 Get 1 Free
Our Best Sale Yet! Add 4 Books Priced Under $5 To Your Cart Learn more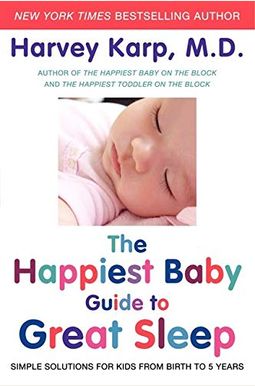 
 
The Happiest Baby Guide To Great Sleep: Simple Solutions For Kids From Birth To 5 Years
Book Overview
Dr. Harvey Karp is famous for his brilliant insights into centuries-old parenting problems and for discovering breakthrough solutions that are simple . . . practical . . . and fast working. In The Happiest Baby Guide to Great Sleep, he works his magic once again on the #1 complaint of new parents. The bone-deep fatigue that parents experience when their children sleep poorly is not just a nuisance--it is very serious. Sleep deprivation can provoke depression, illness, marital conflict, and even obesity.
A flood of sleep misinformation and contradictory messages have left parents more confused than ever: Hold your baby--but don't spoil her! Swaddle your baby--but don't let him get dependent on it! Based on Dr. Karp's thirty years as a pediatrician and child developmentalist, The Happiest Baby Guide to Great Sleep reveals groundbreaking new ideas to prevent or cure most sleep problems in children under five years old, including:
How to adjust a baby's schedule to reduce day sleep and boost night sleep within the very first weeks of life.
How to use sleep cues like swaddling and a special type of womb sound to help any infant sleep an extra one to two hours at night within just days.
How to defuse bedtime struggles and help your toddler fall asleep faster using a novel sleep training approach called twinkle Read More chevron_right
Frequently Asked Questions About The Happiest Baby Guide To Great Sleep: Simple Solutions For Kids From Birth To 5 Years
Books like The Happiest Baby Guide To Great Sleep: Simple Solutions For Kids From Birth To 5 Years
Book Reviews
(16)
Did you read The Happiest Baby Guide To Great Sleep: Simple Solutions For Kids From Birth To 5 Years? Please provide your feedback and rating to help other readers.
Buy this book

Derived From Web

, May 28, 2022

The LIFE CHANGING! You do not need to read the entire book to follow the system, but I was so impressed with it that I read the whole thing. I put this in combination with the CD of white noise and had my daughter sleep through the night the very first night I used it. I could almost feel the relief in her eyes as she followed this system and was finally able to get the sleep she was desperate for. This is my go-to baby shower book and I have purchased it countless times since then.
Great, Informative book!

Derived From Web

, May 28, 2022

This book has great information about how to train your baby to sleep from birth to five years. There are many scientific explanations in the book, but Dr. Karp explains them in an easy to understand way. I highly recommend this book, even if you are not struggling with the sleeping habbits of your baby. I think the routines and methods contained in this book are helpful for any parent.
This book was recommended to me by my pediatrician because my son was ...

Derived From Web

, May 28, 2022

It helped me get to a place where I could not only sooth my son effectively, but also get some much-needed sleep!
So thankful for this book!

Derived From Web

, May 28, 2022

Purchased this book after seeing a video by Dr. Harvey Karp while at the birth center, his video helped turn our first day with our amazing but screaming-from-the-moment-he-born newborn into a time we could enjoy. After reading it, our son changed our world and was able to sleep for several hours at a time. I continued to follow his suggestions through the months and by 8 months old he was successfully sleeping in his own room in a crib, with very minimal crying if he was put to bed.
it's not that hard takes time

Derived From Web

, May 28, 2022

It is not that easy to get a sleep, as it says, but you can call it with persistence in the long run.
Read this now before your baby is even born!

Derived From Web

, May 28, 2022

Our new born was having a lot of difficulty going back to sleep between feedings at night, and we'd often have a feeding right into the next with all awake. I had heard the 5 S's and we were doing some of them some time, but this book describes the sleep patterns of babies and why the 5 S's work. From the first night, I saw an improvement in our baby's sleep. We learned how to set sleep cues to trigger sleep. At 7 weeks old, our baby is sleeping for up to 5 hours at a time, with just one wake-up for feeding around 1 am. We could not be happier. I recommend this book to any expecting parent or new parents. Now read it before your baby is born! I wish I had-then we wouldn t have had as many frustrating nights during the first few weeks.
Dr. Karp does it again!

Derived From Web

, May 28, 2022

That is until my daughter passed the 6 month mark and we still got good sleep at night. Until finally implementing the CIO method, we struggled. It was bad for a few days, but it worked and is a happy and consistent sleeper. However, even though CIO was effective, I did not really like doing it. When my second was born, I found that this book had just been released and I decided to give it a read. I purchased the Kindle version so that I could read snippets while nursing. A lot of information is the same from his first book. I found his suggestions on sleep training to be particularly helpful and we are currently doing the pick up and down version with my 6 - mo in hopes that we can sleep train her without letting her cry. Bottom Line : If you love Karp and need some help with sleep training, this book is for you!
This works 100% of the time!

Derived From Web

, May 28, 2022

I am a labor and delivery nurse and take newborns every day at work. I use Dr. Karp's methods at work every day and often amaze new parents with my ability to calm their crying newborns. I recommend this to every parent and also encourage you to show up to your nannieschild care providers.
Ok

Derived From Web

, Mar 27, 2020

I gave it a 3 because I didn 't get far into reading it. By the time I realized that this 900-dollar bassinet was a giant rip off I was over him. If you want to have your baby sleep for 21 hours a day as a newborn in the bed without human contact, SURE works. But that thing is now it's mother. This book, I think, tells you how to be a human SNOO. You really don 't need to get the book to read what he is telling you.
A newborn must have!

Derived From Web

, May 28, 2019

My sweet baby was a terrible sleeper, didn 't nap more than 30min-45min and lost my mind from sleep deprivation every 1.5 hours of the night. Bought this book and implemented the five ss and started a bedtime routine with my 6 week old baby and he started sleeping! . Still not the best sleeper, but slept in his bassinet from 10-11pm, doing a 4 hour stretch, waking up to feed and then another 2-3 hour stretch. We have room for improvement, but overall much better! From now on, I will buy this book as a baby shower gift for every first time mom.