Buy 3 Get 1 Free
Our Best Sale Yet! Add 4 Books Priced Under $5 To Your Cart     Learn more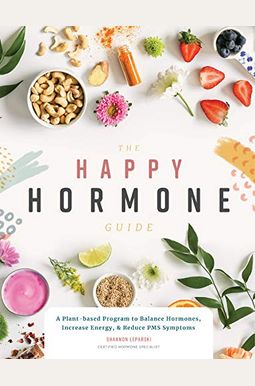 
 
The Happy Hormone Guide: A Plant-Based Program To Balance Hormones, Increase Energy, & Reduce Pms Symptoms
Book Overview
In The Happy Hormone Guide, certified hormone specialist Shannon Leparski presents a comprehensive, plant-based lifestyle program to help women balance their hormones, increase energy, and reduce PMS symptoms.

After struggling for years with acne, oily skin and hair, debilitating cramps, mood swings, brain fog, intense cravings, insomnia, bloating, and weight gain before her period, author Shannon Leparski developed the Happy Hormone Method through extensive research. Her life changed for the better and Shannon made it her mission to combat hormone imbalance and promote women's health.

The Happy Hormone Guide includes comprehensive, phase-specific (menstrual, follicular, ovulatory, and luteal) guidance including:


Changes in fertility, libido, and basal body temperature
Beneficial foods, micronutrients, and supplements
Phase-specific recipes to support hormone balance
Common changes to mood and energy levels
Exercise tips suitable to different times of the month
Facial recipes, hair masks, and essential oil blends
Modern culture expects women to keep up with the same
Read More chevron_right
Frequently bought together
Frequently Asked Questions About The Happy Hormone Guide: A Plant-Based Program To Balance Hormones, Increase Energy, & Reduce Pms Symptoms
Books like The Happy Hormone Guide: A Plant-Based Program To Balance Hormones, Increase Energy, & Reduce Pms Symptoms
Book Reviews
(14)
Did you read The Happy Hormone Guide: A Plant-Based Program To Balance Hormones, Increase Energy, & Reduce Pms Symptoms? Please provide your feedback and rating to help other readers.
Health advice from an anti-vaxxer

Derived From Web

, Mar 26, 2021

Started reading this to help with the hormonal imbalance. While I have been a clean-eating vegan for many years, I wanted to learn more about how to make my eating and exercise choices more in tune with my cycle and what supplements to take. I find it generally useful and appreciate the endorsement of a plant-based diet, but when I checked the author's social media, the book has lost a TON of credibility for me. I see a lot of anti-vaxxer instagram stories from her and other concerning anti-scienceprioritizing of feelings over evidence that makes me question the validity of the points made in the book. I will look for a more scientifically supported alternative medicine book to get more information to supplement it. She is also not a doctor.
Get your information elsewhere

Derived From Web

, Jul 31, 2020

Information about how their hormones work is pretty basic, nothing that can 't be found elsewhere. Concepts such as seed cycling aren 't new either. Just about anywhere you can find that. The real issue here is the information pushing by the author on her social media platforms. She recently shares information from a doctor who believes that complicated gynecological conditions like PCOS, fibriods and endometriosis are caused by demons. To write a book about empowering women to learn and share their hormones, then share information from a medical professional, such as this is extremely concerning. In fact, it is disrespectful to women everywhere that struggle with the conditions listed above. As I said, the information contained in this book is basic at best. Go elsewhere to learn more about hormones and a plant-based diet, unless you like your health with a side of Tin-foil hats and politically-motivated conspiracy theories.
Very educational book!

Derived From Web

, Jul 16, 2020

This book changed my life completely. I had no idea of what my body did. This book allowed me to ask my doctor the right questions. I went to my doctor and asked to check blood levels that I would never have known needed to be checked.
Largely consumed with expensive tests, supplements, "detoxing", etc.

Derived From Web

, Nov 22, 2019

I loved the idea of this book when I was researching it before purchasing, but when I finally started reading it, it is largely consumed with unhelpful tests, supplements, detoxification, etc. I know firsthand that it can be expensive and a waste of money. After taking the hundreds of dollars worth of supplements, I appreciate the comprehensive information provided in this book, but I was looking for a good food-based guide, which unfortunately does not seem to be the primary focus of the first half of this book.
An informative book to help you navigate your way to your healthiest self

Derived From Web

, Sep 23, 2019

I just received this book and while I haven t gotten too far into it... just clicked so much for me in the first few pages. For years I struggled with my gut health, fatigue, sleep, brain fog, etc. It started when I was 12 and keeps getting worse the older I am. I have seen many DRs had every test taken, Gallbladder removed and no answers or help navigating my issues. I always thought that a lot of this came from a hormonal imbalance because my body functions better when I am pregnant, so I was so excited when I found this book. Can 't wait to get through it all, but my favorite thing so far is that Shannon doesn 't make this an all-in program. It is very difficult to change habits that you have had for years to jump into a full program and not fail because it is overwhelming. One of the first things she writes is to feel good about starting small and adding part of this program into your life because it will still be good for you.
Good guideline but not a good person for inspiration.

Derived From Web

, Sep 23, 2019

After following them on Instagram, I have to take her and her advice with a grain of salt. For someone who is trying to build their following, Shannon is very sensitive to negative feedback, something that is essential for building a business. This book is a good general guideline, but I would take advice from someone who has experience in the field with real people, not someone who is introvert and hates people.
Empowering information that will change your life

Derived From Web

, Sep 23, 2019

I have been a follower of Shannon on Instagram for a few months now and have been inspired and empowered by her protocol and lifestyle. I am a holistic health coach and experience PCOS and have seen results over the past month while following Shannon's food protocol. The Happy Hormone guide presents exceptional tools and is written to be able to understand for a non-medical professional. Shannon's work should be in the hands of every girl and of any woman who experiences hormonal issues. Scham sincerely thanks Shannon for being such an amazing resource and role model. I look forward to sharing my work with my clients, who could benefit from it. Escabeth Kuntz, Coach of Holistic Health, is a spiritual coach of Elizbeth Kuntz.
Self Hormone Healing Guide (A+++)

Derived From Web

, Sep 17, 2019

When I ordered it, I was not sure what to expect from this book. All I know is that Shannon was working hard on it and doing all the research, while I was over here trying to find solutions for my PMS symptoms. So far I have read the first two chapters and am in Awe! I have received more information from this book and from any gynecologist I have ever seen. I have worked hard on the research and am excited to keep reading and follow the lead. I am already vegan, so it should not be a difficult switch. Thank you for all the hard work. They are critical, and you are right, it is a fundamental topic of conversation and should not be taboo. Also, these smoothie recipes are delicious. Can 't wait to try the recipes!
A must read for all women

Derived From Web

, Sep 14, 2019

I love this book so much! Not only is it just aesthetically pleasing, but Shannon writes in a way that makes us all feel connected. This guide, whether vegan or not, has so much important information for women.
Your gut will thank you.

Derived From Web

, Sep 13, 2019

This is the book I have been waiting for so long! I cannot wait to start the journey of healing within and be more aware of what my body needs through each phase! , '' he said.