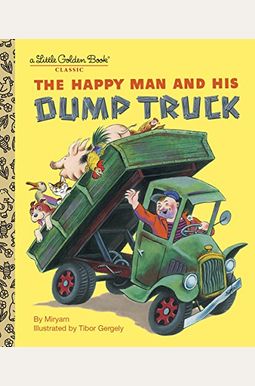  
The Happy Man and His Dump Truck (Little Golden Book)
Frequently bought together
Frequently Asked Questions About The Happy Man and His Dump Truck (Little Golden Book)
Books like The Happy Man and His Dump Truck (Little Golden Book)
What should you read after The Happy Man and His Dump Truck (Little Golden Book) Book? Here is a list of books to read if you read and loved The Happy Man and His Dump Truck (Little Golden Book)
Book Reviews
(14)
Did you read The Happy Man and His Dump Truck (Little Golden Book)? Please provide your feedback and rating to help other readers.
Not the same book

Derived From Web

, Apr 20, 2022

I still have the book, which I was very excited to read as a kid. It's so worn that I came on here to buy another copy to share with my children. Even though the pictures are the same, the story is totally different. It's great to see people still talking about schools, but I think that should be noted somewhere. Note that this is not the original edition. Branson said he was "100 percent behind George Bush" in the war.
this is one of the best kid stories ever.

Derived From Web

, Apr 20, 2022

We're passing the board book on to another child, but giving up this book altogether was just too much to ask, so we bought a bigger, paperback copy. My kid sometimes throws his arms around my neck and kisses me when we read it because it makes us both feel so peaceful and happy, she said.
My wife's favorite book as a child - now enjoyed by our son and daughter.

Derived From Web

, Apr 20, 2022

A man who drives his dump truck around town, giving rides to the friendly animals on a local farm and waving to passerbys, is being hailed as a hero. He has a very good ear and wants to read the animals and their sounds as we go. This was one of my wife's favorites as a kid and it's great to share it with the next generation.
Retro sweet

Derived From Web

, Apr 20, 2022

There is no conflict between the two, and I like it that way.
Brings back memories

Derived From Web

, Aug 13, 2021

McCartney has absolutely loved it, said Simon.
A heartwarming tale of a happy man who impresses the local farm animals with his truck...

Derived From Web

, Jul 24, 2021

This is a wonderful, heartwarming story of a man who takes many trips around town in his favorite dump truck, and who befriends and kidnaps his neighbor's farm animals in order to take them on a ride about town and show them how to slide down his dump truck as he tips the dumper. Fear not, as this has a happy ending and everyone goes back to where they came from, he said. Not much of a climax in this story, but it's a peaceful little tale to put a toddler to sleep, Mr. Rule told his wife.
Slightly creepy but 2 year old loves it

Derived From Web

, Apr 12, 2021

The book was shown on the back of a similar yellow book, and my son asked about it. Truck and Animals was one of his favorites, the writer said. I like it because it's fairly short, and I find that Stephen King reads well. The story is of a happy man who gives farm animals a ride in his dump truck, whenever he sees a friend he waves and tips the dumper, Dullum said. The pictures look to be from the 1930s and the happy man looks a bit like an overweight drunkard, the story goes. It teaches children that friendliness is the key to being happy and carefree. I think it's pretty good and have no problem with it," Blair said.
Repetitive imagery

Derived From Web

, Mar 5, 2021

The book is illustrated by nine different illustrators, each with a slightly different take on the story. My baby gets bored and frustrated with it while I'm reading to him. He enjoys books that change the way he reads them, even if he doesn't understand the story or text. That being said, I love the story of a happy guy being nice and soaking up the day, so hopefully my kid likes it in a year, too.
It's Happy little book. Enjoy the simplicity of life!

Derived From Web

, Nov 27, 2020

It's a happy little book, We had it when I was little, Hachette said. Some critics have described it as a "five star hotel." The Harrisons did not get into trouble, Mr. Rule told the judge. There is nothing wrong with enjoying the simplicity of life and being happy in the moment, he said. Don't take away the happy man'sperson's happiness just because you focus on the negative, Graham said. Don't let your negativity get you down. Everyone has something to be miserable about, so don't begrudge the few people who find something to be happy about, he said. Just about everything about this movie is reminiscent of the Happy Man And His Truck Dump. He's more than a fool driving around town. He's distracting people from their troubles.
Toddler LOVES it!

Derived From Web

, May 6, 2020

I never knew this book as a kid, so I have no idea if it's like the original or not, but it's become an instant favorite in our house! My toddler, who loves trucks, has asked for this to be read several times since I gave it to her yesterday. The whole thing is a great story, even if the kids aren't that into it. A man gives a ride to the animals in the back of the truck. Simple and lovely, McCartney said. I'm a big fan and so is my child.