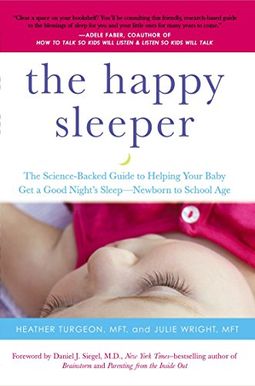 
 
The Happy Sleeper: The Science-Backed Guide To Helping Your Baby Get A Good Night's Sleep-Newborn To School Age
Book Overview
Many parents feel pressured to train babies and young children to sleep but kids don't need to be trained to sleep, they're built to sleep. Sleep issues arise when parents (with the best of intentions) over-help or helicopter parent at night--overshadowing their baby's innate biological ability to sleep well. In The Happy Sleeper child sleep experts Heather Turgeon and Julie Wright show parents how to be sensitive and nurturing, but also clear and structured so that babies and young children develop the self-soothing skills they need to
- Fall asleep independently
- Sleep through the night
- Take healthy naps
- Grow into natural, optimal sleep patterns for day and night
The Happy Sleeper
is a research-based guide to helping children do what comes naturally--sleep through the night.
The Happy Sleeper
features a foreword by neuropsychiatrist and popular parenting expert
Dr. Daniel Siegel
, author of
Parenting from the Inside Out
and the
New York Times
bestseller
Brainstorm
.
Frequently Asked Questions About The Happy Sleeper: The Science-Backed Guide To Helping Your Baby Get A Good Night's Sleep-Newborn To School Age
Book Reviews
(10)
Did you read The Happy Sleeper: The Science-Backed Guide To Helping Your Baby Get A Good Night's Sleep-Newborn To School Age? Please provide your feedback and rating to help other readers.
I sleep again!

Derived From Web

, Apr 29, 2022

Worked great with Cullen.
My go-to guide

Derived From Web

, Jan 30, 2021

Nanny who spends most of her career sleep training children as I work with birth-3. This book has been a great help in explaining the science of sleep and the process of training a child to sleep and troubleshoot sleep problems, said Dr. Janet Grubb, a pediatric sleep specialist.
Same Old BS

Derived From Web

, Jan 6, 2020

The technique is known as Ferber, ie., a modified Ferber method. But this is all part of the job, without even picking up your baby. The "sleep wave" system is basically common sense steps that go along with timed checks - wait to hear distressed pacifier cry instead of just fussing, go in and shush, pat, give back etc. What I've noticed in my quest for a useful gentle sleep-training approach is that everyone regurgitates the same trope of putting down drowsy but awake, losing sleep props, delaying parental responses and so forth, but I don't see any evidence-based information using science or anthropological data to back up the claims. I would be willing to return it, provided I could. Simply put, it's just "sleep training."
This method is like training a little dog... sad

Derived From Web

, Sep 3, 2019

The seller was great, said Ms. O'Neill. He also wrote, "The book was a disappointment. I've learned some helpful tips from it, but I would say it's a pretty cruel method and approach to dealing with phobias. I would not want to be treated like that, Mr. Booher told the judge.
Excellent soothing strategies and cuts down on long term crying.

Derived From Web

, Jul 21, 2019

It gave great tips on how to help your child sleep. He was overtired and crying, Tunick said. Within a week we went from crying to sleep to 5 minutes, he said. 100% recommend. It's great to be back home, said Blair.
Life changing!

Derived From Web

, Nov 23, 2018

The Perfect Sleeper System will keep your child safe and sound throughout the night. We were doing everything wrong and had developed bad habits, but after reading the book we were living happily ever after. Good sleep can rule the world, Beckham said.
Excellent and life saving!!

Derived From Web

, Oct 1, 2018

I purchased this book on the advice of a friend who tried the extinction method and couldn't handle the agony it caused the baby and myself. Just about everything about this technique will make your baby sleep, no matter how long it takes. It has seriously changed my outlook on sleep training. The sleep wave has you come up with a systematic and predictable sleep cycle that your baby then associates with bedtime. In case the baby starts crying, you check in for five minutes to prevent the development of hysterical crying. The boy was asleep in 15 minutes and had no interest in eating or drinking, despite repeated requests by his mother. It's a great book for new parents and to those who can't stomach CIO.
Not happy

Derived From Web

, Apr 19, 2018

What a waste of money, Hughes said. However, the method doesn't work for all babies. The combination of sleep deprivation and overtired from screaming made my 8 month old sleep deprived and overtired from crying for hours on end. But she made me stressed and anxious doing that to her, so I couldn't do it.
super easy plan to follow and I love that it ...

Derived From Web

, Mar 27, 2018

This really helped us get our 9 month old in her own room, super easy plan to follow, and I love that it still allows for night nursing, Mrs. Dhaliwal said.
It works. Buy it and get some sleep!

Derived From Web

, Sep 7, 2017

The product was implemented in September, and the results were immediate: Salesforce. com said it achieved "record sales" in August. It's the perfect balance of support for baby while also promoting independent sleep, Gerber says. The whole family is happy and asleep soundly, she said. I can't speak to the parts of the book tailored to younger infants or toddlers, since we just used it at 9 months, but I am holding on to the book in case we need to consult the chapter on older kids when my kid graduates to a toddler bed. I highly recommend this book and method to anyone. If you think about it, 10 bucks is the best price you ever spent.