Buy 3 Get 1 Free
Our Best Sale Yet! Add 4 Books Priced Under $5 To Your Cart Learn more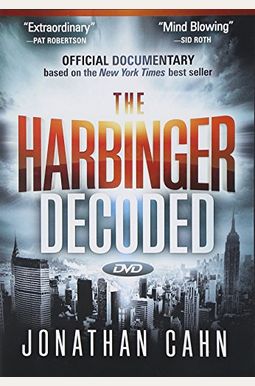 
 
Book Overview
From The Harbinger's New York Times Best Seller for Over 100 Weeks Consecutively and Over 2 Million Copies Sold
Amazon.com's top 100 best-seller list for more than six months​
Over 79 weeks on USA Today's Top 150 Best-Selling Books
7000 5-Star Reviews
The author that brought you NEW YORK TIMES best selling books The Book of Mysteries, The Mystery of the Shemitah, and The Paradigm with over 3 MILION copies sold
Go deeper into the meaning and messages of The Harbinger with this DVD that includes background material on the nine prophetic signs, interviews with top Christian leaders, and the story behind the story.

The power and stunning presentation of the revelations contained in the New York Times best seller The Harbinger: The Ancient Mystery That Holds the Secret of America's Future--in audiovisual form.

Is there an ancient mystery that lies behind everything from 9/11 to the collapse of the American economy--a mystery going back over two and half thousand years to the last days of ancient Israel? Could this mystery foretell modern events down to the exact days and hours--and reveal statements from American leaders even before they were spoken? Is America in danger of destruction? And is it all happening according Read More chevron_right
Frequently Asked Questions About The Harbinger Decoded
Books like The Harbinger Decoded
Book Reviews
(10)
Did you read The Harbinger Decoded? Please provide your feedback and rating to help other readers.
Wake up America, God loves you and wants you back. No matter how far you have strayed.

Derived From Web

, May 24, 2022

I have the book, but haven t yet had the time to read it. I highly recommend buying this DVD and passing it to your friends. I pray that it opens the eyes of God's people and we repent with love and passion and come back to him as the world has never seen. I can 't wait to read the book.
The truth that America faces

Derived From Web

, May 24, 2022

This film represents the book extremely well, it gives a good base for each area that is addressed in the book, without spending too much time on any one aspect. The narration is exceptional, Mr. Cahn does a superb job in delivering the message in a way that draws the curious, the researcher, the doubter, or the skeptic with precision and validity.
Bible Prophecy that is hard to ignore.

Derived From Web

, May 24, 2022

Do you think that the Christian Bible can really predict the future? Just read this book carefully and have your Bible available to look things up. I've seen the DVD originally and was absolutely fascinated ''. This is something that you will want to share with your friends. For my own studies, the book is the best way to go. It is virtually the DVD, but in print form. If I want to go back and read something or find some reference in the Bible, I don 't have to continually pause the video or replay a part of it.
" this is just as good if not better as it brings it to life

Derived From Web

, May 24, 2022

If you are unable to read the book The Harbinger, this DVD will show you clearly and visually what Jonathan Cahn is talking about! I did a write-up for the book as a must read, this is just as good, if not better, as it brings it to life! A real eye opener of how things are happening in the world today that are connected to things that happened in ancient Israel times. This shows the reality of what happens when we take God out of our country. Come to know Jesus Christ if you do not know Him personally!
Mind Boggling

Derived From Web

, May 24, 2022

The most jaw-dropping informative explanation of what is happening in America. If you see the warning in this way, you do not want to see it.
The background information for the Harbinger that Jonathan Cahn shares in this DVD is amazing. You cannot watch this and not be

Derived From Web

, May 24, 2022

This is a must pass DVD - see this one by not. The background information for the Harbinger, shared by Jonathan Cahn in this DVD is amazing. You can not see this and not be convinced that specific events that took place on specific dates are not mere coincidence. The Bible has recorded events in the Old Testament, which are now clearly visible in the United States. Once you see the decoded Harbinger, you will want to share it or give it to others.
Excellent companion to understanding The Harbinger.

Derived From Web

, Sep 27, 2020

To see photos and videos of the buildings discussed in the book and learn how Jonathan Cahn came to discover the details of what is covered in the book, was extremely helpful in understanding the history I had lived through... and the future circumstances unfolding in current events. My opinion is that having both the book and the video makes all the difference between understanding the surface of God's intentions and truly skimming His message.
Just buy the book

Derived From Web

, Feb 6, 2020

Disappointed with DVD's music being louder than voice and the whole thing felt like a commercial for the DVD rather than learning more or decoding the Harbinger. Book a great DVD... D to an F.
Loud music playing throughout movie in "background"!

Derived From Web

, Jan 23, 2019

I don 't recommend this video at all. I was extremely excited to receive it ''. I started watching, but couldn t hear anyone speaking because they have loud music in the " background ". I'm in my 50 's and it was exciting not hearing what should have been an annoying thing to learn and learn. I gave it no *, but it wouldn t let me submit it without 1 at least.
Back ground music was too loud!

Derived From Web

, May 2, 2018

I was very disappointed, the story was fine, as I had read the book, but the music was much to loud and I could hardly hear what was said!