BLACK FRIDAY DEALS CONTINUE - SAVE 20% AT CHECKOUT WITH CODE CYBERBOOK. Learn more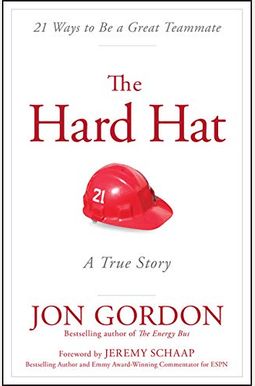  
The Hard Hat: 21 Ways To Be A Great Teammate
Book Overview
Great teammates don't just impact you today; they impact you for the rest of your life.
From the moment Jon Gordon heard about George Boiardi and the Hard Hat he was intrigued and captivated. Over the years he visited George's coaches, attended several 21 Dinners held in his honor, met his family, talked to his teammates and observed how he inspired all who knew him.
The Hard Hat is an unforgettable true story about a selfless, loyal, joyful, hard-working, competitive, and compassionate leader and teammate, the impact he had on his team and program and the lessons we can learn from him.
The book features:
A true story about George Boiardi, his team and their legacy
21 lessons to be a great teammate
Insights from George's teammates and coaches that bring the lessons to life
21 exercises to help you build a great team
Infused with practical insights and life changing lessons, The Hard Hat will inspire you to be the best teammate you can be and to build a great team.
One hundred percent of the author's royalties will go to support the Mario St. George Boiardi Foundation.
Please visit boiardifoundation.org to learn more.
Frequently Asked Questions About The Hard Hat: 21 Ways To Be A Great Teammate
Books like The Hard Hat: 21 Ways To Be A Great Teammate
Book Reviews
(12)
Did you read The Hard Hat: 21 Ways To Be A Great Teammate? Please provide your feedback and rating to help other readers.
Great story. I recommend it to anyone looking to ...

Derived From Web

, Apr 29, 2022

Each department was given a hard hat and each department had to nominate a person to receive the hat. I was the recipient for my department and wasn't really familiar with the meaning behind it so I purchased this book, he said. I have to tell you that this book is so inspiring despite the tragedy that begins the message, Raymond said. I have taken each point and have posted them throughout my office to remind me to stay true to my personal and work ethics, he said. It's great to see people come together and build a team, Bruno said.
Will touch your heart, make you think, and inspire you to be your best

Derived From Web

, Apr 29, 2022

I love all of Jon's books, but this one is particularly special for several reasons. Now comes the true story of an amazing young man whose example continues to influence others for more than a decade after his death. If you can't read this without being emotionally touched, you might want to check your pulse. While there are thousands of books with strategies to be a leader there are far fewer on how to lead by being a follower and by being a servant. What I'm most inspired by is the way he became a leader without trying to be a leader, Raymond said. There are lots of great ideas for being a better teammate and a better friend.. It's overflowing with great advice for being a better person.
Different than his others

Derived From Web

, Apr 29, 2022

I really enjoyed the perspective this book took on different aspects of the Beatles, Robert Frost and George Harrison. He gave a personal touch to each story, rather than his other stories. If you enjoy his other books, are a coach or athlete, or just love lacrosse, then this may be for you.
Great Book on Being a Better Teammate

Derived From Web

, Apr 29, 2022

Overall, this was a short but excellent read, said Paul LiCalsi. I was inspired by the story of George and how he was able to impact his teammates and family after death, Bruno told Criss. There are pictures of George at the end of the book to make him more human. Only a few pages later, does the book make George look so transcendent that he could have been Jesus. He was an enormous blessing to be around, Mr. Rule told the judge. It's just that he did everything except forgive sins and walk on water. The one thing I am being harsh about is that it was the only thing that took away from an otherwise phenomenal reading, Raymond said.
Be A Great Teammate: Why Ability Alone is Not Enough

Derived From Web

, Apr 29, 2022

A great book, a very moving one. She was an outstanding athlete and teammate, said her father, Phil. This book reminded me of many a ghost story.
Incredible young man

Derived From Web

, Apr 29, 2022

Inspirational quotes. The move to Omaha involved several thousand people, and several city streets were closed. He is a great coach and athlete, both on and off the field.
Excellent read for teams!

Derived From Web

, Mar 19, 2022

Whether you're a coach of a sports team or a leader of a business team, this is a must-read. There is a wealth of knowledge and inspiration to be gained from this. I have given this book to some players to read and gotten great feedback on it too.
programmed and schlocky

Derived From Web

, Nov 2, 2020

His body was unearthed near the wreckage of the "Chicken Soup for the Soul" restaurant. It's just that Dale Earnhardt Jr. did not have a car fast enough for Stewart. Gordon follows Jack Canfield's recipe and serves the reader some stale hash. Actually, any of those hit franchise business heart books, by Steven Covey or Brian Tracy, might serve the reader better than this. The change of narrator voice within the book is distracting, the publisher decided to use a lightweight font, and the character traits modeled in the book are toughness, selflessness, hard work, being selfless, and effort.
Hard Hat

Derived From Web

, Jul 1, 2020

If you need any team leadership counsel, this book is for you. Young people, I would think it would help them learn the characteristics of a great teammate. Pataki says selfless service is the key to success. Those who follow these principles will be blessed, but they will be truly blessed by others, willingly.
Great book about being a great teammate!

Derived From Web

, Nov 3, 2019

I'm a huge fan of Jon Gordon's work, and this book is great. A great teammate. This is the story of the legacy a great teammate left behind that is still impacting peoples lives. There are some practical ways to implement being a great teammate, he said.