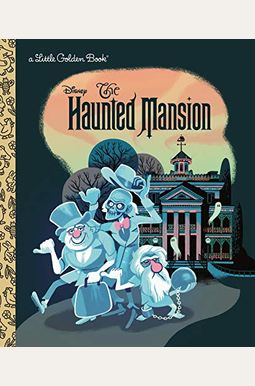 
 
The Haunted Mansion (Disney Classic)
Frequently Asked Questions About The Haunted Mansion (Disney Classic)
Book Reviews
(10)
Did you read The Haunted Mansion (Disney Classic)? Please provide your feedback and rating to help other readers.
Hidden Mickeys!

Derived From Web

, Feb 16, 2022

This might be a little scary for tots, but oh my gosh, there are hidden Mickeys on every page! Worth the price right there. I wish they had done this on all Disney - Golden books! I wish they had done this on all of the Disney - Golden books!
Arrived with scratched cover—may return b/c it is a gift:

Derived From Web

, Nov 18, 2021

It arrived with a scuffed cover. I bought it to give it as a gift. Probably will ask for exchange, so I won 't be embarrassed to give this to a child in my neighborhood.
Books were damaged

Derived From Web

, Oct 19, 2021

The books were damaged on the corners - not sure who taught the person how to package, but you do not place the product on top of the bubble bags ; they are to be placed in between two layers of bubble bags.
Nostalgic read...

Derived From Web

, Oct 17, 2021

Perfect to introduce young children to Haunted Mansion. Disney would be ideal for a first trip to Disneyland. I bought it for my nephew and are a sure hit. Simple short sentences are perfect for young readers. Stories are read easily in 10 minutes and are perfect for bedtime.
It's a summary of the ride

Derived From Web

, Jul 19, 2021

I thought this would be more about the horns in the mansion, so I was a little sad that it was just about the actual ride and everything you see going through it. That said, if you have a little one who may be interested in going on the ride, but is scared, this is a great book to reduce some fears. It's all about a kid overcoming his fear of the mansion.
A Beautiful Celebration of the Classic Ride

Derived From Web

, Jul 17, 2021

We have ordered this book because it features the art of Glen Brogan and we are not disappointed at all. I really do love the style of his art '', and makes this book a real delight. This makes it 5 stars alone. I didn 't know what we were getting into in terms of history, but turns out it is a true celebration of the ride itself. Reading books through the book is very much like walking step by step through the actual Haunted Mansion. Simply framed by the story of a child being dared to go into the mansion, the rest of the book serves as a great memory for the ride itself and even helps us and the kids remember the details and surprises we saw in the mansion.
Book Version of the Ride

Derived From Web

, Jul 14, 2021

This is a cute version of the Haunted Mansion, which is illustrated in a book for little children. It sums up the ride perfectly and my little one can not wait to go on the ride in person now!
Waited a long time for this

Derived From Web

, Jul 14, 2021

The book cover came damaged! Pretty disappointed that my cover is damaged considering I paid months and waited for the full price!
Excellent Re-telling of the Ride

Derived From Web

, Jul 14, 2021

This book has great illustrations and is a wonderful re-telling of the ride. The story is about a boy who is persuaded by his friends to go alone into the haunted mansion. He accepts the challenge and then goes through the ride, like it does in real life. He starts in the stretching picture room, gets in a doom buggy, then proceeds through all the various well known scenes. I think this book would be a great way to train younger children before riding the ride. It shows the fun side of being scared. Definitely recommend.
ADORABLE, COLLECTIBLE DISNEYLAND GOLDEN BOOK PACKED THOUGHTLESSLY BY AMAZON

Derived From Web

, Jul 13, 2021

I love Disneyland's Golden Books absolutely. As mentioned in a previous review, buy them as collectibles. They are charming, the artwork is superb and they are more than suitable for children of all ages — even adult readers. One of the simple pleasures of life is to read a book that I can admire, enjoy and hold in my hands. eBooks are real, but they are no substitute for the OK. It breaks my heart when I am looking forward to receiving a new book and it arrives dog-eared because the seller does not have the sense to use a book mailer. I received an oversized book rattling inside an NEW box with no stability! Amazon, do you ever learn? This book is GREAT! But if I buy something mint, regardless of what it is or its price, it should arrive in new condition. It is too bad that packing instructions for the common sense challenged can not be sent along with the order.