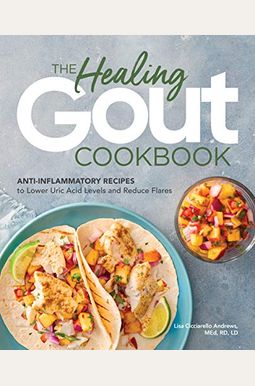 
 
The Healing Gout Cookbook: Anti-Inflammatory Recipes To Lower Uric Acid Levels And Reduce Flares
Book Overview
Relief from gout symptoms--through easy, delicious eating
Gout attacks are painful, but research shows that adjusting your diet may help prevent and even heal symptoms of this difficult arthritic condition. The Healing Gout Cookbook is your guide to a nourishing, low-purine, anti-inflammatory diet full of fresh and flavorful foods. With these 85 simple, satisfying recipes, you can help control gout flare-ups--while enjoying what you eat every day.
Find out how to reduce uric acid levels by decreasing your purine intake, and discover the benefits of anti-inflammatory and antioxidant-rich foods. The special recipes in this book are easy to follow and quick to prepare--so you can indulge in tasty meals while helping your body heal from gout symptoms.
The Healing Gout Cookbook includes:
85 flavorful recipes--Savor a variety of dishes like Black Bean Breakfast Scramble, Chili Garlic Green Beans, Balsamic Marinated Chicken, Blueberry Peach Cobbler, and more.
Dietary friendly--Recipes are labeled for specific dietary restrictions, like kidney-friendly and diabetic-friendly, and include variation tips to make life easier.
At-a-glance facts--Encourage or avoid the right foods with the help of a handy purine level chart, and stock your kitchen in a snap with a list of pantry essentials for a gout friendly diet.
Spend more time doing the things you love without pain with The Healing Gout Cookbook.
Frequently Asked Questions About The Healing Gout Cookbook: Anti-Inflammatory Recipes To Lower Uric Acid Levels And Reduce Flares
Book Reviews
(7)
Did you read The Healing Gout Cookbook: Anti-Inflammatory Recipes To Lower Uric Acid Levels And Reduce Flares? Please provide your feedback and rating to help other readers.
great recipes

Derived From Web

, Feb 12, 2022

I just received this book and walked through it lightly. I have told it has a lot of information for anyone, suffering from gout. I would purchase it again, yes. The recipes look good and delicious and seem fairly easy to make. The print is larger and easier to read, which really helps keep your interest and makes it easy to cook.
Good cook book

Derived From Web

, Jan 21, 2022

If you have gout, this cookbook is good with delicious recipes for avoiding the foods that cause gout. It shows that you can still eat healthy and have good food, just not the gout-producing foods.
Great intro to GOUT and the foods most likely to not aggravate it, to keep it in check.

Derived From Web

, Aug 2, 2021

The Healing Gout Cookbook : Anti-inflammatory Recipes to Lower Uric Acid Levels As a 60 year old single male who had heard of gout only vaguely, it was a shock to wake up in excruciating pain and unable to stand with an emergency room diagnosis of GOUT. As prescribed medication took effect, I scanned my go-to-source, Amazon and chose this book. I especially like the explanations and tables, the foods divided into easy to understand categories. From my life experience, the recipes will be easy to handle. I hope this health setback is the final push to get me to give up a lifetime of poor food choices to live long enough to enjoy retirement. One recipe for each recipe would have made this book perfect for me.
A great cookbook for everyone!

Derived From Web

, Jun 15, 2021

We purchased this cookbook to help my husband prevent gout attacks through dietary changes. Everything that we tried so far has been amazing! I could live these recipes off. My husband and my child love cooking. Nothing has stayed a leftover for long. Each recipe has enough serves to have several meals or enough for a family. Both cooked and uncooked they freeze well. If you're ever on the fence line, get it just.
It was everything I wanted

Derived From Web

, Jan 20, 2021

This cook book is right up my alley with the variety and spiciness while being friendly with Gout. Gout appears to be a personal thing, as certain foods trigger only certain people and not others. I can 't wait to make some of these.
very disappointing book

Derived From Web

, Sep 20, 2020

Don 't understand how this book received so many excellent reviews. Used internet info : For a book on managing gout, it seems strange how few soup and other vegetable-based recipes there are compared to the number of beef, poulty and fish.
Cookbook Gout

Derived From Web

, Aug 11, 2020

My husband is the one I needed to understand his gout condition better and to fix the meals he needed.