Buy 3 Get 1 Free
Our Best Sale Yet! Add 4 Books Priced Under $5 To Your Cart     Learn more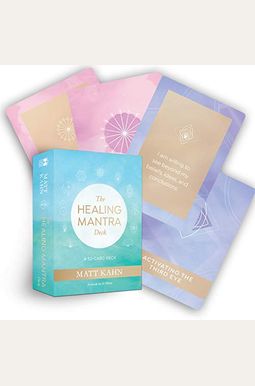  
The Healing Mantra Deck: A 52-Card Deck
Book Overview
Popular spiritual teacher and attuned empathic healer shares energetically encoded mantras on worthiness, abundance, love, and more.
What is a mantra? A mantra is an echo of your highest wisdom, reflecting back in your own voice to help you recall all the things you were born to remember. Together, they're doses of vibrational medicine delivered into your energy field through the power of your voice. Mantras are the language of unity consciousness; where the one speaking its wisdom and the one receiving its power are seen to be the same. This card deck from gifted healer and intuitive Matt Kahn contains 52 channeled mantras that have been encoded with healing energy, to realign your mind, body, heart, and soul. In this deck, users will strengthen their connection to the Universe, and a remembrance of their innate wholeness and perfection.
Mantras include: -
The light is always within me
-
I was born of infinite joy
-
I am worthy of all the pleasure my heart desires.
-
My intuition flows whenever I am still
-
Abundance is my birthright, and I receive it now
- and more Your life's greatest purpose and its deepest meaning will be revealed to you--one magical, healing mantra at a time.
Frequently Asked Questions About The Healing Mantra Deck: A 52-Card Deck
Book Reviews
(9)
Did you read The Healing Mantra Deck: A 52-Card Deck? Please provide your feedback and rating to help other readers.
Not a huge fan personally

Derived From Web

, Jan 8, 2021

After many years of apprehension, I have recently converted into oracle cards due to my faith. When I began with the idea, however, I reconciled myself to a few. Now I've five friends, including this one, and this is the only one I do not like. For starters I found this deck to be in-between and religiously repulsive as a spiritually in-tune person. Literally, I could not lit it without wanting to hold it on fire. The second thing I have is that on both sides of the cards there are words. These cards do NOT have a blank back, making pulling a card literally blind and without knowing exactly what is on the cards is nearly impossible. I think this deck would be good for some people in general, but I don 't like it personally.
Calming colors and inspirational mantras.

Derived From Web

, Jul 18, 2020

The color of this deck makes me love. The mantras are very inspirational and lead you to where you should focus your energy for the day. Very happy with my product ''. I'm more into intuition and listening to the divine, who speaks to me all the time since 7 years old. But I felt it was time to get some tools at 40. Love the calming colors. I'm a libra staring Empath. Well, we r everything there. We all know then what I am trying to say.
Love Revolution

Derived From Web

, Jan 22, 2020

The aesthetics is great, the cards themselves are beautiful, the mantras always strike me in the soul, and the booklet provides a perfect, more in-depth description. One card every morning before you start your day, set the intention, embrace the mantra, and watch your world shift. As you are, I am.
Amazing set with beautiful mantras that are meaningful and helpful!

Derived From Web

, Jan 1, 2020

In love with these cards, I am! I draw and shuffle one every day. I infuse my intention or question and pull a card that I feel is right. So far each mantra is spot-on and the booklet goes further with the explanations. It is a great deck that is easy to follow and I recommend to anyone looking for healing or answers through the mantra.
Let there be Peace on Earth and let it begin with me!!!

Derived From Web

, Dec 23, 2019

These are sooooooooooooooooooooooooooooooooooooooooooooooooooooooooooooooooooooooooooooooooooooooooooooooooooooooooooooooooooooooooooooooooooooooooooooooooooooooooooooooooooooooooooooooooooooooooooooooooo... The meaning of the cards are beautiful, the artwork is powerful and they are soft to touch! Through a friend suggesting that I watch one of Matt's videos... '' My life is forever changed. Thank you Matt and all the Love crew for bringing an extraordinary job for Peace, Love, and Light to our world! Namaste!
Matt Kahn's Healing Mantra Cards

Derived From Web

, Dec 22, 2019

As a long-time follower of Matt Kahn and a daily user of Oracle, Angel and Meditation Cards, I was thrilled when Matt released a deck. I am even more thrilled now that the Healing Mantra speaks directly to what is going on in my life. It is a beautiful way to start my day. Matt thanks you.
Deceptively simple yet hard hitting

Derived From Web

, Dec 16, 2019

Matt's deck cuts directly into the heart of unattended grief and loss. Truths that I haven 't given my consent to process are revealed on these cards with these simple but deep words. It forces me to fall my walls and feel what I have hidden from myself! I was not inspired to purchase these cards for nothing. More than meets the eye, this deck will help you meet parts of yourself for the soul purpose of healing, stop slapping and meeting all parts of yourself for the betterment of your life! Matt Kahn's mother homerun Amother! Thanks for facilitating the healing!
Simplicity with Deep Meaning and Good Energy

Derived From Web

, Dec 13, 2019

Pull a card and you will receive a beautiful mantra that will soothe your inner child and provide a respectful and compassionate insight. I'm sure that the sacred geometry is working its magic while I contemplate the message. This deck will be a useful tool in my ability to thrive and endure in all that life throws my way.
Vibrational Medicine

Derived From Web

, Dec 11, 2019

Matt's gift of healing is expressed so well through these mantras. Picking one daily, weekly or in response to a question, all feel so good to me. Vibrational medicine - tailor made for the moment I am in. I'm going to buy more to give them as gifts.