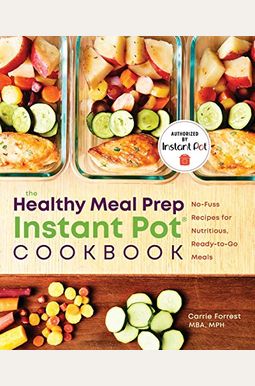 
 
The Healthy Meal Prep Instant Pot(R) Cookbook: No-Fuss Recipes For Nutritious, Ready-To-Go Meals
Book Overview
Prepare healthy, delicious, ready-to-go Instant-Pot(R) meals with ease.
Healthy eating is suddenly fast and simple with The Healthy Meal Prep Instant Pot Cookbook. Combining the speed and ease of Instant Pot(R) cooking with meal prep hacks, this Instant Pot cookbook will have you fixing great food that's good for you in no time. You'll also have plenty left for ready-to-go meals so you eat well all week long.
Never used an Instant Pot(R)? Don't know much about meal prep? The Healthy Meal Prep Instant Pot Cookbook teaches you everything you need to know. From proper food storage to multitasking with your multicooker, discover how perfectly healthy meal prep and the Instant Pot(R) go together.
The Healthy Meal Prep Instant Pot Cookbook includes:
BECOME AN INSTANT POT(R) PRO--Become an electric pressure cooker expert with handy guides and tips--plus recipes developed specifically for the Instant Pot(R).
MASTER MEAL PREP--Learn the secrets of advanced preparation, planning, and storage that make meal prepping a snap inside this Instant Pot cookbook.
75 RECIPES--From Spicy Sausage and Potato Hash to Lemon-Garlic Shrimp Scampi, enjoy delicious food that tastes just as great when you bring it back out of your fridge or freezer for grab-and-go meals.
Make healthy meal prep easier than ever with the Healthy Meal Prep Instant Pot Cookbook.
Frequently Asked Questions About The Healthy Meal Prep Instant Pot(R) Cookbook: No-Fuss Recipes For Nutritious, Ready-To-Go Meals
Book Reviews
(13)
Did you read The Healthy Meal Prep Instant Pot(R) Cookbook: No-Fuss Recipes For Nutritious, Ready-To-Go Meals? Please provide your feedback and rating to help other readers.
Easy and healthy!

Derived From Web

, Oct 9, 2019

Several of the recipes are from my book, "Cooking With Criss." Really easy to follow, quick and tasty, Mr. D'Antonio said. I really like the breakfast cereals, chia pudding and chicken butter.
It's pretty basic

Derived From Web

, Aug 21, 2019

I've got numerous cookbooks, and I'm always looking for recipes that are something different, and this was one of them. The author has done an excellent job for each recipe for times of IP releasediet type, and the layout of each recipe, but for me, there was no wow factor. If you're looking for an excellent IP cookbook with very clear instructions and layout, then I would highly recommend this one, but if you're looking for a cookbook that goes beyond the usual recipes, then I would suggest that you look elsewhere.
Worth the money!

Derived From Web

, Aug 19, 2019

We've had some great times with all but one recipe. It was great, but it needs more than that. Everything else has been WONDERFUL, Mr. Dhaliwal said.
Helpful, diverse, healthy!

Derived From Web

, Jul 23, 2019

It's great to be back with the old friends, Mr. D'Antonio said. Healthy living without compromise, Levine said. Great for this single mom with recipes that show what you can do ahead of time, then what is needed at the last minute to cook, Melissa said.
Love this cookbook!

Derived From Web

, Jul 13, 2019

Instant Pot is the new kid on the block. Basic, plus some great ideas for everyone getting started! Thanks to Jennette, I was able to use my IP. Thanks for the donation.
Great cookbook so far

Derived From Web

, Jul 2, 2019

Really enjoyed the book. We're all about making healthy choices, so we made sweet potato turkey chili. He also joked that when authors put 8 on the book, "it was just a matter of time." It would be great to have some variety in your diet, even if you're not counting calories.
This is the best $12 i EVER spent on a cook book!!!!!

Derived From Web

, Jun 30, 2019

We're not exactly new to the idea of buying cookbooks, but first my husband and I learned the hard way to only buy cook books authorized by instant pot. Add to that that this one is just chock full of helpful tips for using your instant pot, getting the most out of your instant pot, advance meal prep and clearly indicates which recipes are gluten-free and dairy-free, or can be modified to be so. We have tried every recipe we can think of and it has been easy to follow and has tasted absolutely delicious. Instant Pot's cookbooks are hands down my favorite.
Easy to read! Become an Instant Pot pro!

Derived From Web

, Jun 26, 2019

We are so excited to be working with Carrie Coon and Simon & Schuster on this book, we are all about book three. The meals are so healthy and delicious, we have been trying new combinations almost every day. The Instant Pot is a savior and Carrie really explains all of our questions about using it. There are also great tips for meal prepping to help make life easier and meals more readily available. Thanks for the compliment.
My new favorite cookbook

Derived From Web

, Jun 25, 2019

IP cookbook author Robert Bittner said he has had several. Some were gourmet. At some point, the food may have used chemical preservatives. I found the Healthy Meal Prep IP Cookbook and devoured it. These are ordinary, yet delicious, Mr. D'Antonio said. All natural peanut butter is free of harmful chemicals, preservatives and hydrogenated fat. Easy to find, the ingredients are in your kitchen or on your shelf. Easy to follow, too, are the recipes. Thanks for the tip. I highly recommend this book to anyone who wants to learn how to cook.
Easy to follow and great instructions

Derived From Web

, Jun 25, 2019

Two copies have been purchased for me and one for Mom. We both love the book. She does a great job explaining all the different facets of the IP. Great resource, said Dr. Chester Floyd, director of the NIH's Ames Research Center in California. It's just that they call it quits."