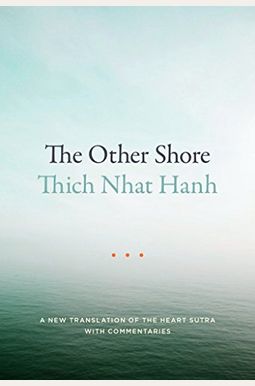  
The Other Shore: A New Translation of the Heart Sutra with Commentaries
Frequently Asked Questions About The Other Shore: A New Translation of the Heart Sutra with Commentaries
Book Reviews
(9)
Did you read The Other Shore: A New Translation of the Heart Sutra with Commentaries? Please provide your feedback and rating to help other readers.
Who and what you really are

Derived From Web

, Jul 24, 2021

Thich Nhat Hanh explained the Buddha's heart Sutra in this book in the most simple writing. It's a gem! Read it and Hanh's you are there '' one right after the other and you will be well on your way to Nirvana. I am a teacher of Buddhism and I think that these two books are outstanding. I highly recommend both.
A great translation that avoids ambiguity

Derived From Web

, Sep 11, 2020

I am not a fan of Thich Nhat Hanh or the cult of personality that sprung around him, but this is the best-known English translation of Prajnaparamita. Intuite, direct translations have always been a problem, because we Westerners lack the cultural context to easily understand the intended meanings and implications of the original word choices of the cultural author. Thich cuts through this with a delicate rephrasing that makes the text much less ambiguous. He also goes on to not only justify these alterations, but to provide parables that go a long way to illustrate the ideas that they express. Then it becomes quite obvious what the original authors intended to convey.
Nice translation & interpretation

Derived From Web

, Sep 5, 2020

He puts so much effort into making the text approachable and meaningful, making it an enjoyable read.
Repetitive but nicely written

Derived From Web

, Oct 26, 2019

It is a very nice read, but is essentially a point repeated over and over again, and over and over again.
Emptiness is not a nothingness.

Derived From Web

, Apr 3, 2018

This book is a revised and enlarged version of the Heart of Understanding, 1988, which is a commentary on the Heart Sutra. As generally understood, Emptiness is one of the basic doctrines of Buddhism, and yet many are confused with nothingness, which may lead to Nihilism. Based on the author's revised version of the English translation of the Heart Sutra, he placed emphasis on clarifying emptiness even by citing modern scientific knowledge. In particular, I impressed his concentration and insight in writing this book soon after his stroke in 2014. The author attached particular importance to these daily issues such as emptiness, impermanence, interrelations and courses and conditions in relation to our basic life and happiness. In doing so, he used a number of similes and precedents for helping the readers better understand.
Another Place Readily Available

Derived From Web

, Jan 29, 2018

Loved the writing and how gently the Sutras are present in common language for a greater understanding. Thank you for the kind words.
An illuminating translation

Derived From Web

, Dec 5, 2017

Different translations serve different purposes, but this is the best I have found for enlightening the meaning for a Western audience.
Welcome New Version

Derived From Web

, Oct 31, 2017

Clarifying the depth of "emptiness " as interconnection and communion, rather than the Westernized sense of nothingness, is essential for understanding the heart Sutra. This exposition opens this door in such a beautiful way. Mercier, thank you.
The Heart Sutra Revisited

Derived From Web

, Sep 22, 2017

This old translation of the Heart Sutra and its accompanying commentary is an expansion of an upcoming work by Thich Nhat Hanh. It is greater depth and goes quite inspiring, particularly since it is perhaps his last book before his stroke.