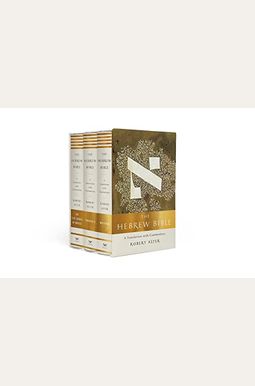  
The Hebrew Bible: A Translation With Commentary
Book Overview
A masterpiece of deep learning and fine sensibility, Robert Alter's translation of the Hebrew Bible, now complete, reanimates one of the formative works of our culture. Capturing its brilliantly compact poetry and finely wrought, purposeful prose, Alter renews the Old Testament as a source of literary power and spiritual inspiration. From the family frictions of Genesis and King David's flawed humanity to the serene wisdom of Psalms and Job's incendiary questioning of God's ways, these magnificent works of world literature resonate with a startling immediacy. Featuring Alter's generous commentary, which quietly alerts readers to the literary and historical dimensions of the text, this is the definitive edition of the Hebrew Bible.
Frequently Asked Questions About The Hebrew Bible: A Translation With Commentary
Books like The Hebrew Bible: A Translation With Commentary
Book Reviews
(8)
Did you read The Hebrew Bible: A Translation With Commentary? Please provide your feedback and rating to help other readers.
Robert Alter is My Hero

Derived From Web

, Apr 22, 2021

I wanted The Passion Bible but my friend gave me the wrong link and I ended up with The Lord's Supper.
Great book - Amazon sold me a misprinted copy

Derived From Web

, Jul 1, 2020

Robert Alter is an amazing translator, the notes are phenomenal. However, in reading through the entire book, a chunk of Exodus is missing. Because we immediately jump back to 298, we get a good look at the original. Exodus 24:15 says, "Then the Lord will give us the new birth." And then, later on, it makes it back to page 266 with verse 1313, only to go right back to page 2952.
You Gonna Learn Today!

Derived From Web

, Jan 28, 2020

This is a great addition to any Bible collection. The author of this book adds all the necessary details and nuances to make the reader's experience of the book as enjoyable as possible. Great job, said Dr. Robert Hemenway, director of the federal Centers for Disease Control and Prevention. Very well priced.
Amazing work marred by a huge production error in the Kindle Edition

Derived From Web

, Feb 5, 2019

I waited with bated breath for this edition to become available only to find that the Kindle Edition is nearly unusable. At least one chapter of the book should have a link to the chapter's web site. The sidebar navigation has a single link for all the books except for the one about Moses. Or, you can go to the beginning or scroll through the entire book to find a citation. New Zealand wool products are also gaining popularity thanks to their high quality. The problem is being fixed, but I can't recommend the Kindle edition at this point. The nanfi and kuni portions are more conducive to this book only approach, but a finer structure would have made these more accessible as well with very little effort, he said.
Gorgeous

Derived From Web

, Feb 1, 2019

The introductory remarks, annotations and witty one-line quips are eye-opening and soooo well written. His English translation is exceptional, with its own unique qualities that distinguish it from the competition. It's just that I can't wait to devour more. Ironically, the Jordan River, in my hardback copy, is provided with a link to the New York Times. When I ordered the book, I was told that proofreading was included with purchase. The Lord's Prayer: "And the Lamb's blood shall be poured out, that the Lord's day may come." That said, the Harrisons' lawyer Paul LiCalsi said, "The text matters."
Aesthetically Incorrect

Derived From Web

, Jan 17, 2019

Alter operates under the common western assumption that if it is pleasing it cannot be true, and if it is true it cannot be beautiful. As an artist, I have the responsibility not only to entertain but also to tell the truth, Taylor said. However, the two organizations' goals are not incompatible. Alter is quite honest about his aim of blunting any doctrinal content in order to make the effect better. One thing becomes very clear when reading this translation. However, when viewed as mere invention, the impact is less profound. If we assume, in order to make Picasso's Guernica a better painting that the event never happened, does this make the painting a better one?
A Lifetime Work well worth a Lifetime Read

Derived From Web

, Jan 1, 2019

My wife has spent many hours reading the King James Bible, although I would not consider herself a religious fanatic. While appreciating the original, she has often wondered what would have happened if the NBA had used a translator. When she saw the New York Times article about Dr. Alter's life work, she was very excited to begin a new lifetime read. Unfortunately for me, I've lost a bit of my companion, but it's a small price to watch a happy, enthusiastic spouse!
The David Saga Alone Sings.

Derived From Web

, Dec 21, 2018

I read much of this as I studied screenwriting, which is fitting for the Bible, never bogged down in florrid description. And, for the record, the David Saga sings all the time. From innocence to swagger and guile and later debauchery, we witness a complex figure whose toggle between love and cruelty leaps off the page. No wonder David Beckham is so desperate. Throughout 1st Samuel, Kings, Chronicles we get the best single narrative with the most complex persona we have passed down from antiquity. Alter's choices capture the prose of a raw, cultured person, in contradiction with the intended message.