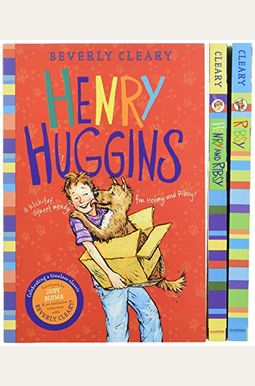 
 
The Henry And Ribsy 3-Book Box Set: Henry Huggins, Henry And Ribsy, Ribsy
Book Overview
For the first time ever, the greatest adventures of Newbery Medal-winning author Beverly Cleary's Henry Huggins and his dog, Ribsy, will be featured in a three-book box set. This box set, which dazzles with Jacqueline Rogers's illustrations, includes Henry Huggins, Henry and Ribsy, and Ribsy.
Nothing exciting ever happened to Henry Huggins until the day that a dog named Ribsy walked into his life. From then on, the duo's hilarious scrapes have never ceased to amuse. Whether Henry is scheming to raise money for his paper route or Ribsy accidentally overturns a boat during a fishing trip, these two will charm even the most reluctant readers.
Frequently Asked Questions About The Henry And Ribsy 3-Book Box Set: Henry Huggins, Henry And Ribsy, Ribsy
Book Reviews
(8)
Did you read The Henry And Ribsy 3-Book Box Set: Henry Huggins, Henry And Ribsy, Ribsy? Please provide your feedback and rating to help other readers.
It's a wonderful set to cuddle down and read with the kids

Derived From Web

, Jan 5, 2022

My children have loved these books for years and now I have given them to my grand children. They relate well to these stories of Henry and Ribsy. They laugh and they beg to hear more. Note the subheading of this terrible parable in the "American Masters" series, "Beverly Cleary."
Love this series of books

Derived From Web

, Sep 20, 2021

This was the first set of books I read when I was six years old. I bought them for my grandchildren because they could enjoy them too.
Engaging

Derived From Web

, Jun 27, 2019

It was read every chance my son had until he read them through. As he was reading them he kept excitedly engaging me in conversation about passages in the books. He enjoyed reading them, said Blair. I have to say that really makes me happy, she said. I bought them after he had read the Ralph S. Mouse series by Beverly Clearly. For those of you still looking for books that might get a boy interested in reading, this might be the set for you. Don't give up, Harrison said. There is definitely something that will be so interesting to him he will actually want to read it.
Excellent for readers young and old !

Derived From Web

, May 14, 2019

What a wonderful set of books. My husband and our 7-year-old grandson started reading together. I couldn't help myself, I had to join in. Then I realized I had read them about 54 years ago.
Great books...terrible print quality

Derived From Web

, Dec 30, 2018

I bought this set for my son who hates reading. He hasn't put the books down! His only complaint is the print is variably faded on certain pages making it hard to read. This is almost like when your machine is low on toner and half the page is faded. It's only a few pages in all three books, and he won't put the book down. We probably got duds, Tunick said. Overall, I was disappointed with the quality of the products.
A huge hit with my 8 year old!

Derived From Web

, Oct 20, 2018

My 8 year old son has always loved to read and lately is into chapter books! He got one book as a present and loved it so much, he asked for a set! He still wants to read them every night!
Missing Pages

Derived From Web

, Mar 5, 2018

Our time came to an abrupt end when we realized that pages 27-54 were missing from the book. We have not checked the other books to see if there is an issue there as well.
good quality

Derived From Web

, Oct 21, 2017

Good quality, said Gillian Kent, assistant director of marketing at Argos. Not like the cheap paper one from Scholastic. I have copies from both publishers, and this one is definitely better quality. Great for a book gift.