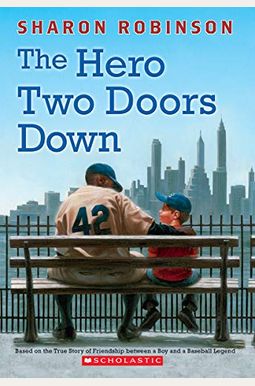  
The Hero Two Doors Down: Based On The True Story Of Friendship Between A Boy And A Baseball Legend
Book Overview
This Description may be from another edition of this product.
Based on the true story of a boy in Brooklyn who became neighbors and friends with his hero, Jackie Robinson.
Stephen Satlow is an eight-year-old boy living in Brooklyn, New York, which means he only cares about one thing-the Dodgers. Steve and his father spend hours reading the sports pages and listening to games on the radio. Aside from an occasional run-in with his teacher, life is pretty simple for Steve. But then Steve hears a rumor that an African American family is moving to his all-Jewish neighborhood. It's 1948 and some of his neighbors are against it. Steve knows this is wrong. His hero, Jackie Robinson, broke the color barrier in baseball the year before. Then it happens--Steve's new neighbor is none other than Jackie Robinson Steve is beyond excited about living two doors down from the Robinson family. He can't wait to meet Jackie. This is going to be the best baseball season yet How many kids ever get to become friends with their hero?
Frequently Asked Questions About The Hero Two Doors Down: Based On The True Story Of Friendship Between A Boy And A Baseball Legend
Books like The Hero Two Doors Down: Based On The True Story Of Friendship Between A Boy And A Baseball Legend
Book Reviews
(10)
Did you read The Hero Two Doors Down: Based On The True Story Of Friendship Between A Boy And A Baseball Legend? Please provide your feedback and rating to help other readers.
Wonderful

Derived From Web

, Sep 4, 2021

Part of summer reading. We had some hard time in the prelude with discussion of the death of the father, Mr. Rule told the judge. But if you have a sensitive kid, you have to be prepared for that. So far two people have asked to borrow it after reading the book.
Book was torn

Derived From Web

, Jul 11, 2021

Love the book for my grandson, but the book was completely thru at tope, as if cut by sharp scissors. It looks like it was intended as a present, and it's just not that useful anymore.
A book to cherish with your children or grandchildren!

Derived From Web

, Oct 31, 2020

I have had the greatest joy to have had this book read to me by my 9 year old grandson, Mrs Clinton writes. Because of the holidays, my grandson has asked if he could call me daily to read. He has picked this book and it is one of his favorites. It warms the heart to the core.
Outstanding

Derived From Web

, Jul 13, 2020

This is a well written story that is perfect for 2020. I am a fourth-grade teacher and I was looking for a new read aloud. It's just too good a book to put down. I've read it in one sitting. I've always enjoyed the themes of friendship, respect, and acceptance of differences. Such a perfect, feel good book for our society, Diana said. I can't wait to read it to my students. I'm going to pair it with Teammates. Thanks to Sharon Robinson for sharing this lovely story.
Amazing story 5/5

Derived From Web

, Apr 2, 2020

The product is amazing, I could read it all day. A true story of a great friendship. Overall great performance, said Dr. Goin.
To help grandson

Derived From Web

, Dec 26, 2019

The reason I read the book was to see what was said about the Jewish people and be ready to answer any question that my grandson had, my daughter and family came down last night and I explained the Menorah and lighting the candles for Chanukah, I was so glad that he is interested in different religions, this will make a better person of him as he grows.
Great for Young Readers

Derived From Web

, Apr 24, 2019

In the aftermath of the book, Jackie Robinson's daughter, Renita, explains the things she changed from the reality for a better story. It was a delight to talk about the book with her sixth-grade English teacher.
Too Much History/ Wonderful Characters

Derived From Web

, Jan 24, 2019

The book is also being sold to major league baseball fans. The book was originally intended for my son to read about a friendship mentorship. The story of what happens with the people gets weighed down with a lot of drag about historic detail that doesn't help move the plot along, he said. I thought I'd read it and tell my son about it. It's just too difficult to get through, Tunick said. In "The Fall," Blair uses too many historical facts in places where she is supposed to be building suspense. Even with time, it takes too long to get to the satisfying parts of the story. If you think this is a book report that you could read, you must be at the wrong school. It's wonderful to see a good, moral, honest role model and friend for children, Halle Berry said. It's great to have the adult characters around to introduce your kids to reading.
Great story about one of america's truly brave Heroes

Derived From Web

, Dec 29, 2017

Sharon's family story is a great story about family struggle and you can't beat personal experience when it comes to these stories, Kono said of The People's Journey.
Good idea, but the implementation is a little sappy.

Derived From Web

, Aug 11, 2017

I really wanted to like this book, but it was too sappy. It's just that my 10 year old daughter thinks it's really sappy. Steve, I really didn't like him. He has a lot of problems at school, and he's a troublemaker. He and his best friend Sena push her down when she comes to his house to deliver bad news. The story moves back to good memories of Steve's past related to baseball and his love of Jackie Robinson. Jackie Robinson was an incredible baseball player, and he faced many challenges in integrating that game of baseball into the American League, Hall of Famer Frank Robinson said. Jackie Robinson's book glosses over the racial conflicts, and just presents Jackie as a candidate for Sainthood.