Buy 3 Get 1 Free
Our Best Sale Yet! Add 4 Books Priced Under $5 To Your Cart     Learn more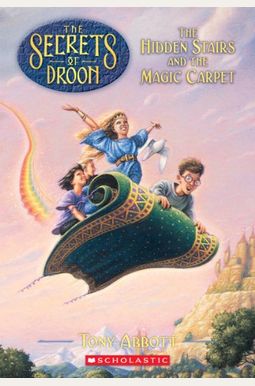 
 
The Hidden Stairs And The Magic Carpet (The Secrets Of Droon, Book 1)
Book Overview
When Neal and Julie agree to help Eric straighten up his basement, they never imagine that they're in for more than getting a little dusty. But as the three kids follow a soccer ball into the small room under the basement stairs, the floor suddenly evaporates to reveal a rainbow staircase to another world Before they have a chance to look around, they are caught in the midst of a battle. Shiny red men riding giant lizards are shooting arrows straight at them. They are saved by Princess Keeah of Droon who tells them the red men are warriors for the evil Lord Sparr. She promises to help them get home if they will carry a message for her.The message is delivered successfully but the brave Keeah has been captured by Lord Sparr. Equipped with a cape of invisibility, a six legged camel/horse, and a talkative spider-troll named Max, the three children manage to sneak in and rescue Keeah.Astride a magic carpet, Julie, Eric, Neal, and Keeah fly to the stairs that will take the three Upper World children back home. The kids are astonished to discover that no time has passed back in their own world. But even as they marvel at their adventure, they realize that Princess Keeah has left them a secret message: Your dreams will tell you to return
Frequently Asked Questions About The Hidden Stairs And The Magic Carpet (The Secrets Of Droon, Book 1)
Books like The Hidden Stairs And The Magic Carpet (The Secrets Of Droon, Book 1)
Book Reviews
(10)
Did you read The Hidden Stairs And The Magic Carpet (The Secrets Of Droon, Book 1)? Please provide your feedback and rating to help other readers.
useful easy chapter books

Derived From Web

, Jun 3, 2022

I find them only slightly better than the Magic Tree House books as far as writing and story. I don 't think they make good read aloud books. They are the most popular easy chapter books I own. As a reading tutor, I have read the first couple of Droon books with students so many times that I can recite them pretty much by memory. They fill a niche and I'm glad to have them.
The main character is swept away on a journey and I truly remember feeling like I went along with him

Derived From Web

, Jun 3, 2022

I read this series as a 3rd grader -- maybe a bit younger. It was one of my favorite movies. For starters, there are a ton of books in the series, so I was never without a book. The books have also opened my imagination completely. The main character is swept away on a journey and I truly remember feeling like I went with him. I have bought the book for my younger sister, who is 7 years old. I think it will work for her as a read on your own '' fantasy book.
This series "hooked" my dyslexic third grader on chapter books

Derived From Web

, Jun 3, 2022

My dyslexic son is third grade. Before he read this series, he had never stumbled across a chapter book on his own. He ordered book five in this series and I just finished the next three books. He is hooked and I couldn t be happier. The books are short and written at about the beginning of the third grade. They are not literary masterpieces, but they are fast-moving and high-interest. A 5 star Amazon review will suffice!
Perfect for younger kids

Derived From Web

, Jun 3, 2022

I read it all to my younger son, then to my elder son, when they were around 6 or younger at the time. He is now reading them on his own. The violence is very mildcartoonish. This was perfect for children who might like Harry Potter, but they find it too dark. Here you find only happy endings.
Great Book!

Derived From Web

, Jun 3, 2022

I started reading this book at the end of the school year with my special education students. They were really excited about it and got very much into the story. Once the school year starts again, we plan to catch up with the rest of the series!
Kids enjoyed it, but..

Derived From Web

, Jun 3, 2022

I bought this for my 7 yr old girl and 9 yr old boy -- they both said they enjoyed it, but my 9 yr old read it three times in less than an hour. Granted, I am happy that he wanted to read it, but I was looking for something more challenging for him to read over the summer. I would therefore recommend this for an older age, perhaps 5 or 6 yr old. As stated, my children enjoyed it and will probably be read more times, but now I hesitate to get the rest of the series, because it will keep them occupied for so short a time.
Great Pic that our 2nd grade book club enjoyed

Derived From Web

, Apr 30, 2018

The 2nd Grade Book Club of this month really enjoyed this book. My son, who usually does not like to read, looked forward to reading a bit each night and all the excitement and adventure with it. For the book club we planned a scavenger hunt in the park with questions for the kids to talk Abnout then on the next clue. I wore great capes and wands to fight off nims when they were captured... Everyone enjoyed a great read for all!
One of my favorite books when I was in elementary school

Derived From Web

, May 26, 2017

I loved reading this book series at my school when I was in the 4th grade, even though they now bring back a kind of special nostalgia. They were incredibly well-written and complex in terms of storyline for short fantasy novels and very creative as well. Who would not want to go with your friends under a secret world and have adventures filled with magic and danger over and over again? Strongly recommended for all lovers of fantasy and fiction.
Fun story.

Derived From Web

, May 18, 2017

My children would have loved this story when they were 8-10 years old. Action is fast paced, but easy to follow, sparking the imagination. As a family, we don 't usually go for stories with magic, but this one seemed harmless enough. As a mom, I am interested in new series for my kids and decided to read this to see what kind of material is available for middle readers.
Struggling Reader

Derived From Web

, Jan 21, 2017

I read this with a 5th grader who struggles with reading. He loves them and is very motivated to read them all!