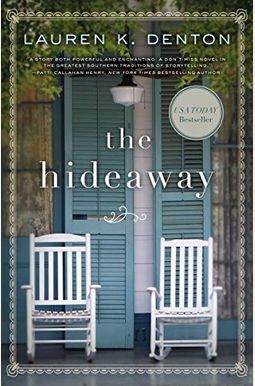  
Book Overview
In the South, family is always more complicated than it seems.
After her last remaining family member dies, Sara Jenkins goes home to The Hideaway, her grandmother Mags's ramshackle B&B in Sweet Bay. She intends to quickly tie up loose ends then return to her busy life and thriving antique shop in New Orleans. Instead, she learns Mags has willed The Hideaway to her and charged her with renovating it--no small task considering her grandmother's best friends, a motley crew of senior citizens, still live there.
Rather than hurrying back to New Orleans, Sara stays in Sweet Bay and begins the biggest house-rehabbing project of her career. Amid drywall dust, old memories, and a charming contractor, she discovers that slipping back into life at The Hideaway is easier than she expected.
Then she discovers a box Mags left in the attic with clues to a life Sara never imagined for her grandmother. With help from Mags's friends, Sara begins to piece together the mysterious life of bravery, passion, and choices that changed her grandmother's destiny in both marvelous and devastating ways.
When an opportunistic land developer threatens to seize The Hideaway, Sara is forced to make a choice--stay in Sweet Bay and fight for the house and the people she's grown to love or leave again and return to her successful but solitary life in New Read More chevron_right
Frequently bought together
Frequently Asked Questions About The Hideaway
Book Reviews
(15)
Did you read The Hideaway? Please provide your feedback and rating to help other readers.
A great vacation read!

Derived From Web

, Aug 4, 2020

I read this while on a beach vacation in Michigan, but it brought all the southern charm and strong female spirit that a girl could ask for. Normally, I read history and historical fiction, but this sweet modern story was quite enjoyable! I also love the fact that it wasn 't full of unnecessary sex, as so many novels are these days. I highly recommend reading it on the beach or in your sofa. It will take you directly to the warmth of Alabama.
Look Deeper

Derived From Web

, Mar 9, 2020

The past of her grandmother was much richer than the riches she was born with, which brought her prisoner to an unfulfilled life. When her grandmother finds her stuffing home, she leaves a life of both meaning and loss. When she discovers her grandmother's past, she also uncovers rich meanings that propels her to a more rewarding future for herself than the life she thought she had to escape. This book is a story that connects the past with an unspecified future with a more promising scape for a fulfilling life.
Curl up and travel to Sweet Bay for an enjoyable story

Derived From Web

, Nov 24, 2019

If you are looking for a sweet story to curl up to, grab your sweet tea and travel to Sweet Bay. The Hideaway is a story of a strong relationship between a grandmother and a granddaughter and decisions made in the past. It is somewhat of a cliche story of an old house, the feelings of loss and coming of age, but the characters are lovable and the story brought a smile on my face. Many times we are left with feelings of what if '' and evaluating life decisions made, but these decisions, right or wrong, often lead to unexpected blessings. The Hideaway is a Hallmark style of story telling, but an enjoyable read.
Secular book in Christian clothing

Derived From Web

, Sep 30, 2019

I am aghast that this book is considered Christian fiction ''. It isn 't until chapter 39 that anything Christian appears in the book and then is rather sarcastic, perfunctory and a non-event. One of the main characters trails right after meeting a man to bed. In this book there are no underlying Christian values nor overtly espoused Christian values. It is a Christian book in secular clothing.
Southern Warmth

Derived From Web

, May 5, 2019

It was not an American classic, so it was not an American one. It was just as advertised and I enjoyed it. Imagine a big old house, where a group of people live their golden years with friends and a little new blood thrown in and some mild scandal. I loved the setting so much that I searched Zillow to look at houses in this area of Alabama. And the bad guys got their due, I always like when it happens. Just a fun book if you are not looking for something too deep.
Family, Belonging, Finding One's Way

Derived From Web

, Feb 10, 2019

This book was read as our JanuaryFebruary book by a member of our book group. I was excited when I looked at the book! I am a southern girl, born and raised in the south, and love my roots. This book exceeded all my expectations! I loved the bizarre characters, the setting and the story. I understood Mags, the main character and would love to meet her grandmother, Sara! This book is about family, belonging and finding one's way. It has a beautiful setting in an old bed and breakfast tucked away in quiet little bay in Alabama, great characters and heart! I highly recommend '' this book!
Fell flat for me

Derived From Web

, Dec 5, 2018

The premise of the book was good...I liked the characters that had lived with the grandmother since the 60s in the big old house. Though the story held my attention for the first 75%, this last quarter was really predictable and I found myself skimming at the end. I thought the legal issues really unbelievable and the story fell really flat in general. There were no dramatic downs or ups or downs. It went very evenly and towards the end, I couldn 't find much reason to finish it except to see if anything exciting happened, which it did not.
Predictable

Derived From Web

, Jun 14, 2018

This delightful and very predictable small romance tells how a young woman, Sara, reveals the history of her mother and her grandmother, Mags. Unfortunately, the most active character in the book is her assistant, Allyn, an artistic bohemian young man full of creative energy, but he doesn 't play an active role in the plot. The story changes the view point of view back and forth between chapters, alternating between Emilia Story and Sara's story. This didn 't work well for me because there is nearly no difference between the two women's voices. I had to keep the flipping back to find out which we were currently talking about.
love and loss with one thing in common

Derived From Web

, Apr 5, 2018

Where do I start? A touching, uplifting story of family, friends, love and loss with a common thing, a quirky little house that has become the Hideaway. The story unfolds in Sweet Bay, Alabama, as choices must be made to keep this little corner of world history and its occupants true to it and more importantly, itself. It is entertaining and heartfelt. You will just love these characters as they begin to reveal to you and the layers begin to peel back. The text flows very well as the story continues with its journey between the two main characters, Mags and Sara, and a few colorful others. Typically, I don 't give a five - star rating, but this story captured me truly. A good story that is certain not to disappoint. Thank you Lauren K. Denton for this wonderful addition to my collection. I look forward to your next novel, Hurricane Season.
The Hideaway is a wonderful read

Derived From Web

, Jan 26, 2018

I loved this book ''. It is a story of love and loss and coming back stronger and wiser on the other side. This was the first novel by this author, but was written like a seasoned writer. I adored the wholesome way she chose to write this love story and if she gives in the pressure to write smut, I will no longer be a fan.