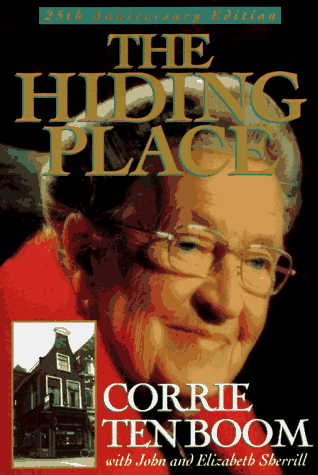  
The Hiding Place: 25th Anniversary Edition (Corrie Ten Boom Library)
Book Overview
This Description may be from another edition of this product.
Every experience God gives us . . . is the perfect preparation for the future only He can see.--Corrie ten Boom

Corrie ten Boom was a Dutch watchmaker who became a heroine of the Resistance, a survivor of Hitler's concentration camps, and one of the most remarkable evangelists of the twentieth century. In World War I she and her family risked their lives to help Jews and underground workers escape from the Nazis, and for their work they were tested in the infamous Nazi death camps. Only Corrie among her family survived to tell the story of how faith ultimately triumphs over evil.

Here is the riveting account of how Corrie and her family were able to save many of God's chosen people. For 35 years millions have seen that there is no pit so deep that God's love is not deeper still. Now The Hiding Place, repackaged for a new generation of readers, continues to declare that God's love will overcome, heal, and restore.

A groundbreaking book that shines a clear light on one of the darkest moments of history.--Philip Yancey, author, The Jesus I Never Knew

Ten Boom's classic is even more relevant to the present hour than at the time of its writing. We . . . need to be inspired afresh by the courage manifested by her family.--Jack W. Hayford, Read More chevron_right
Frequently bought together
Frequently Asked Questions About The Hiding Place: 25th Anniversary Edition (Corrie Ten Boom Library)
Books like The Hiding Place: 25th Anniversary Edition (Corrie Ten Boom Library)
What should you read after The Hiding Place: 25th Anniversary Edition (Corrie Ten Boom Library) Book? Here is a list of books to read if you read and loved The Hiding Place: 25th Anniversary Edition (Corrie Ten Boom Library)
#1

#1

#1
Book Reviews
(13)
Did you read The Hiding Place: 25th Anniversary Edition (Corrie Ten Boom Library)? Please provide your feedback and rating to help other readers.
Not the original edition

Derived From Web

, Apr 20, 2022

The same story still motivates us to be grateful for the small things in life. I was disappointed that it wasn't the same book that I bought at The Mustard Seed in the early 70's. I never got the book back after I lent it out. This edition is missing the family photos, but more importantly it is missing the 2 pages of questions with room for personal answers. God gives grace for the present needs. How many of these situations are there today? How many are ahead of God's supply? We will give thanks. I had written these down before I lent the book. An awesome story and beautifully bound edition. Don't loan out a favorite book. I'll keep looking for a pre-owned copy.
Awesome and Inspiration Story

Derived From Web

, Apr 20, 2022

God uses any and all situations to bring glory to his name. During Nazi-era Europe, the Ten Boom sisters were living out the commandments to love their neighbors, not because they were Jewish or a targeted group, but because they were. They were able to give thanks for all of the things in their lives, including the fleas in their living space. I highly recommend this book for anyone who is going through a difficult time or who wants to be challenged on how to live a life more abundantly for God.
Incredible Book!

Derived From Web

, Apr 20, 2022

I decided to read this book. Powerful messages come from this woman's strength and courage. I am very happy that this story came to light and was told in first person. History can teach us so many things. All should read this book.
What we must suffer for the sake of Jesus and survival.

Derived From Web

, Feb 23, 2022

When Annanias was told about Paul, Jesus said he would show him what to suffer. Jesus told Paul, "My Grace is sufficient, and that he Jesus will never abandon you, but go with us to the end." Jesus will never lie nor break a promise.
How to Love

Derived From Web

, Feb 20, 2022

The Lord was served by the ten Booms by keeping 2 commandments. They faithfully sought God's love and gave it back to them in the face of hate. It's possible to love your persecutors if you're in the Word. I loved this book. It was well written and well-writtenglorifying God.
The Marvelous and Breathtaking Story of the ten Boom Family

This book was AMAZING. It certainly would not have formerly been my first pick - I had to write a scholarship essay about a biography, so this is what I read. I ended up being totally wowed by this book and Corrie's wisdom. As morbid and saddening as her most of her life story is, Corrie had such a good perspective on her experiences and made the most out of every living moment. I think about this book on a daily basis, and I will be reading it again and again. If you need to practice gratitude, have a better perspective, get some bad a** woman wisdom, or get some Christian (or not!) motivation, you CAN'T go wrong with this book. Please just put it in your cart already - you're already thinking about it, so you might as well!
ially these days with all the FEMA camps being built around the world or whatever they are

Derived From Web

, Sep 22, 2021

I wouldn't finish it because it was too frightening and we are not having this communist.
You need to read this.

Derived From Web

, Jun 20, 2021

Fantastic book. I would trunk someone if I didn't know it was true. Some of the worst of it was left out. It is a story of faith and forgiveness. It is Aspirational! All of the young people who are trying to find their way and all of the grown-ups who have lost theirs, please share with us.
This book should be gifted to all

Derived From Web

, Feb 23, 2021

A beautiful edition is a lovely gift. The life of a family devoted to trying to be like Jesus was what inspired the spiritual words in this book. The pictures inside would have been the cherry on top if edits were to be made.
What faith Corrie Ten Boom had, and how we should be humbled by it!

Derived From Web

, Oct 9, 2020

She is an inspiration in so many ways, but especially for her love for God. She spent her life sharing her faith. I need to work so hard to get there, as she trusts in God. The spirit of forgiveness is shown by Corrie, and she acknowledges that it can only come from Him. A good read for kids. I read The Hiding Place when I was a child and again recently in my 30's. It has a lot of Christian beliefs for every age group.