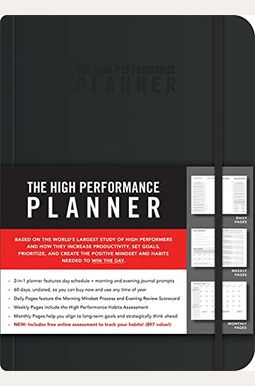  
The High Performance Planner [Yellow]
Book Overview
This combination planner-and-journal helps readers strategize their lives and increase their performance via writing prompts, self-assessments, and calendars--all backed by science and the author's 20 years coaching the highest performers in business, athletics, entertainment, and beyond.
The High Performance Planner
is a 2-in-1 day planner and journal based on the world's largest study of how high performers increase productivity, set goals, prioritize projects, outperform their peers, and create the positive mindset and habits needed to win the day. Through morning mindset journal prompts, daily goal boxes, evening scorecards, weekly habit assessments, monthly project planning, and proprietary whole life balance sheets, the Planner helps you think more strategically, prioritize like a pro, achieve your goals faster, and become more focused, happy, and productive. Best of all, the Planner helps you install the personal and professional habits proven to lead to long-term success. That's what it's all about. Best-selling author Brendon Burchard says, High performance means succeeding over the long term without compromising your health or positive relationships. This Planner helps you do that by accounting for your entire life's progress, not just your daily to-dos. Benefits of use: STAY MORE FOCUSED.
PRIORITIZE LIKE A PRO.
INCREASE
Read More chevron_right
Frequently Asked Questions About The High Performance Planner [Yellow]
Books like The High Performance Planner [Yellow]
Book Reviews
(11)
Did you read The High Performance Planner [Yellow]? Please provide your feedback and rating to help other readers.
No week ahead section.

Derived From Web

, Jan 29, 2022

My husband has a traumatic brain injury and is in therapy to help him develop some of his organizational skills. We bought the black high performance planner at a local bookstore and it really helps him to journal ahead and to plan his days. My complaint about this is that the black journal I purchased from Amazon does not have the section for the week ahead like the yellow one does. As a TBI person, the section above was important as it is easier for him to plan in shorter time frames. I want to be able to get black, but needs this section so that I can stick with the other colors.
Way to Big

Derived From Web

, May 12, 2020

I want so much to love this planner. Brendon Burchard created my favorite thought leader, after all, Brendon Burchard. The content is high-performance for fantastic achievers. The bold yellow color is outstanding, as is the quality of the planner. Unfortunately, this planner is WAY too large and bulky. The size makes it impractical for business professionals for everyday use. I feel like a third grader with a text book when I carry this book around. I think this planner may be available in a smaller size somewhere. If Brendon creates one, I am going to return to this and look for a smaller version or the next generation version of this planner, if Brendon creates one.
Layout is a bit funky, but the journaling aspect is perfect!

Derived From Web

, Jun 13, 2019

Brendon and the High Performance Planner haven t disappointed. It is large, as others have said. The journaling prompts are perfect : It is available for only two months, so keep this in mind when purchasing. There is some room for improvement in my opinion as far as the layout goes and because I tend to think more as a journal than as a planner, but I still love using this product and would recommend it to anyone trying to pull out their performance habits!
To expensive, to big n paper like cover? Find another one ☝️

Derived From Web

, May 18, 2019

This planner is any different than others, except that it is larger and bulkier. The material is very poor made out of paper, I'm a very busy person always outdoors from school to school, this is not wrking for me, since it gets super dirty super easy. The concept is good, but takes up so much time to write every detail every day!!! Most of the paper in the planner is weighed down with the designer thoughts n questions... barely enough space for notes and creativity. There was a smaller planner with less bs.
I know it's crazy but I use this everyday....

Derived From Web

, Mar 17, 2019

If I don 't use it every day, I become lax or ineffective or low ''. I wish I had it when I was younger! I find myself listening to podcasts and reading Brendon's books helps a lot. I do wish it started with a full month calendar, but there are plenty of additional pages in the back that I use for notes and drawing my own first month calendar. It I find it motivated because when I use it, I see results in my work. I have seen where he is redesigning now, but I couldn t wait for the next edition. My yellow cover is so sweet and I love it! It happens! It pops!
Good idea, but too much in one planner

Derived From Web

, Mar 13, 2019

I thought great idea, but I found the self-journaling section questions to be much too long, to the point where I started skipping them. A section scorecard of 6 in the morning, 6 at night and a 6 in the evening. I think that more questions would be more effective or maybe I need to spend more time with the planner. I am only 1 week in, but started skipping questions after the first day only.
Avoid

Derived From Web

, Dec 21, 2018

I have had it for several weeks and would not buy it again. I don't believe that the item was on pre- sale but is now in the calendar. It is larger than paper size, which is fine for a student, but not for everyone. I did not think the surveys were useful. I would use other journals before this again.
Simply Love This Planner!

Derived From Web

, Dec 2, 2018

I take Sundays around 8 pm to plan for the following week and this makes it so easy for me. The main reason I lose interest in planners within a few months is not that every page is the same but that they don't give me any direction or focus to connect with how I feel. I wish the planners had a few pages starting the month to put what your goals are. It has a space for a month review and calendar, but only after the month pass, which is important to keep you on track. Just two pages before your month starts, don't pay attention to my craziness, I' ll add my own pages. Get this and put it to work. I'm using it for December.
Great planner!

Derived From Web

, Nov 16, 2018

I opened it! It looks good! I am so excited to use it. Next time, put a first month plan in the proposal. It feels weird to start using it without a plan.
Needs one immediate improvement!

Derived From Web

, Nov 16, 2018

I just opened my planner and leafed through the pages and have one immediate suggestion for improvement - Put the planning page at the beginning of the book at the beginning of the month! I feel that it was designed to dive right away, on any day, but missing this planning page in the beginning feels awkward and disjointed. Why ask all the questions on that page if you are not going to make it the first page you see when you start. Seems to take the planning '' out of the planner. With that said-I give it a try and review after my first planner is filled.