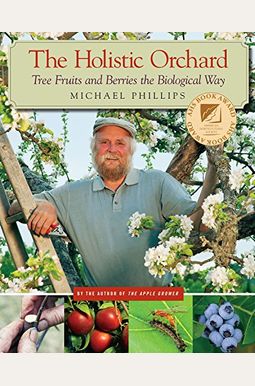 
 
The Holistic Orchard: Tree Fruits And Berries The Biological Way
Frequently Asked Questions About The Holistic Orchard: Tree Fruits And Berries The Biological Way
Books like The Holistic Orchard: Tree Fruits And Berries The Biological Way
Book Reviews
(11)
Did you read The Holistic Orchard: Tree Fruits And Berries The Biological Way? Please provide your feedback and rating to help other readers.
Great book! Tons of information

Derived From Web

, Apr 20, 2022

A great book, Gillian. Great crop, followed by great customer service, he said. The boys are expecting even better things this year.
The ultimate guru of whole earth......

Derived From Web

, Apr 20, 2022

He understands the concept of respecting the earth and the earth will respect you. 0 1462228 This guy understands the concept of respecting the earth and the earth will respect you. Becoming a student of horticulture is the path to a successful orchard.
So MUCH good info in here

Derived From Web

, Apr 20, 2022

What a difference a year makes? Thanks for the great info! Even for experienced gardeners, there are lots of good advice. Yes, it's well worth the price and I'll be one of your go-to reference books.
This is just the book I've been looking for!

Derived From Web

, Apr 20, 2022

I am not an organic person. He added: "I do not believe in better living through chemistry. I have several different kinds of fruit trees and berry brambles, and needed a correct way of getting them the nutrition they need organically. Thanks for the opportunity Mr. Phillips.
The Holistic Orchard

Derived From Web

, Apr 20, 2022

I have read many, many, many, books by this writer and I cannot recommend this book highly enough. Oodles of practicality, go ahead and try it in the garden and also a lot of good inspirational thoughts.
Superb!!

Derived From Web

, Apr 20, 2022

Thanks for the book. For anyone who has an interest in fruit trees, this is a must-have resource. I bought this on my Kindle, but will probably want a hard-copy of the book on my shelf, as this will be a go-to book!
Too much vernacular

Derived From Web

, Jul 9, 2021

The text is written in colloquialisms and vernacular that can be confusing, it would be helpful if images of each pest and disease were included in order for a non-expert to confirm the cause of the problem.
Coherent Holistic Guide to Fruit Growing

Derived From Web

, Mar 25, 2021

This book is well written and thorough, with good pictures, said Dr. Brian D. Kelly, a professor at the University of Michigan. Even with all the research, I have to pick with it is the seemingly random advice to use pea gravel around young trees for weed control. Michael does not really explain why he does this practice, which is illegal. Probably not harmful but it is the one area I have noticed where he might be misguided, Rodale said.
Very helpful.

Derived From Web

, Aug 16, 2019

There are a lot of helpful articles on growing and harvesting fruits and berries. Not only methods to get rid of unwanted pests and diseases but also how to keep your orchard healthy so it can naturally heal and keep disease away. They cover general orchard practices, helpful to any grower, as well as detailed information on specific fruits and berries.
There is alot of overarching, conceptual discussion, but ...

Derived From Web

, Aug 1, 2018

There is also a fundamental science and all the info you need to properly establish and manage your orchard. The book is written more conversationally than procedural, so just know that before you buy. I followed a majority of the guidance while setting up this year's orchard, he said. Instead of planting the same trees for both my neighbor and myself, I used the holistic method on my side of the road. And here we are in August, year one, and my side had literally 4x the foliage all the way down the rows. Everything is the same except for the authors' guidance. Mr. Daschle knows what he's talking about.