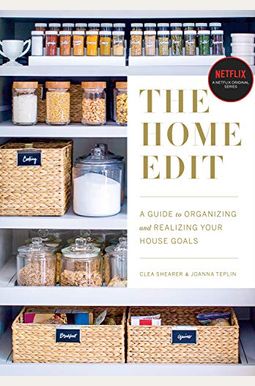 
 
The Home Edit: Conquering The Clutter With Style
Book Overview
NEW YORK TIMES BESTSELER - From the stars of the Netflix series Get Organized with The Home Edit (with a serious fan club that includes Reese Witherspoon, Gwyneth Paltrow, and Mindy Kaling), here is an accessible, room-by-room guide to establishing new order in your home.

A master class on how to arrange even your most unattractive belongings--and spaces--in an aesthetically pleasing and easy-to-navigate way.--Glamour (10 Books to Help You Live Your Best Life)

Believe this: every single space in your house has the potential to function efficiently and look great. The mishmash of summer and winter clothes in the closet? Yep. Even the dreaded junk drawer? Consider it done. And the best news: it's not hard to do--in fact, it's a lot of fun.
From the home organizers who made their orderly eye candy
the
method that everyone swears by comes Joanna and Clea's signature approach to decluttering.
The Home Edit
walks you through paring down your belongings in every room, arranging them in a stunning and easy-to-find way (hello, labels ), and maintaining the system so you don't need another do-over in six months. When you're done, you'll not only know exactly where to find things, but you'll also love the way it looks. A masterclass and look book in one,
The Home Edit
is filled with bright
Read More chevron_right
Frequently Asked Questions About The Home Edit: Conquering The Clutter With Style
Books like The Home Edit: Conquering The Clutter With Style
Book Reviews
(16)
Did you read The Home Edit: Conquering The Clutter With Style? Please provide your feedback and rating to help other readers.
Good Organizational Guidelines

Derived From Web

, Feb 20, 2021

I liked this book more than the second one because it had more useful information for the average person rather than showcasing all of their organization for celebrities. As I reorganize my home, I will be able to reference this book more.
Waste of money.

Derived From Web

, Sep 13, 2020

The book was about stars pantrys and closets. If you follow this book, you will have to spend a lot on baskets and containers. 13 dollars is a complete waste.
Good to have a general ideia but lacks in useful tips.

Derived From Web

, Feb 4, 2020

After reading the book, you find the will to organize your home, but the book gives more examples than tips, and they show big spaces where you have lots of space to store things, but I don't find it in the majority of the houses. It lacks objectivity and useful tips. It would be helpful to have more examples of real houses and more detailed tips and hacks.
Extraordinary book for organizing

Derived From Web

, Jun 9, 2019

I have a couple of books for organizing, but this one gives me ideas the other books don't. I read it in the library and realized it was a book I needed to have, study and the refrigerator labels are handy. If you need a book that isn't as harsh as Kondo's, this is it. It brought me joy. -)
Pages literally falling out

Derived From Web

, May 1, 2019

Five days after the return period ended, the spine splits open and pages fall out of the book. I haven't had time to read the entire book. Before I knew it, the spine was splitting and the pages were falling out. I have thoroughly enjoyed this book, but I can't find a way to talk to the manufacturer.
Pinterest is free.

Derived From Web

, Apr 25, 2019

This is not a good book. There are a lot of pointless rainbow pictures. Gwyneth's kids used to have a crazy organized playroom back in the day, Lauren Conrad's craft cabinet is beautifully organized, andMandy Moore has a hundred rolls of paper towels in her pantry. This isn't helpful in any way. The book did not feature a single principle of organization that would be helpful to me, I have a beautiful old house with a lack of bedroom sized closets and pantry. At the Container Store, I buy bulk.
Um, really with all the great reviews?

Derived From Web

, Apr 15, 2019

The book I was reading was going to provide a lot of innovative and helpful organizational solutions. I may have purchased this because of all the rave celebrity and magazine reviews. Buying lots of containers and labeling them is the solution to organizing according to the book. In every room. I am not interested in taking everything I own out of it's packaging and putting it into a glass jar. q-tips, cereals, laundry detergent, cookies and flour are included. I would like to have a neat little place for them. All clothing has plastic bins. Even flip flops. Unless you have a lot of time on your hands, and are able to repackage everything you buy at the grocery store, I wouldn't buy this book. You can get more ideas for free.
Your pantry (and closets, and drawers) will thank you for getting this book!

Derived From Web

, Apr 15, 2019

I feel like my house was more beautiful when I had this book in it. It is very easy to read and look at the pictures. Would make a great coffee table book, but you would want to read it. The style of the book is lovely. It is similar to having a friend who is funny and organized tell you how to get your stuff together. You don't have to apologize to your stuff before throwing it away.
Love this book!

Derived From Web

, Apr 13, 2019

This is the most beautiful book I have ever read. It is well written, funny, informative, and all around a wealth of organizing knowledge that will be easy to apply to any room in my home. I am happy about this purchase. If you want to give your home some organization, pride, and beauty, or if you just want to see gorgeous home interior photos, this book is for you. Thanks to the ladies who wrote this, we all have a helpful home tool.
Not impressed

Derived From Web

, Apr 4, 2019

If you have a lot of cabinet space and shelving, this book is great. I don't think it's helpful for the rest of us.