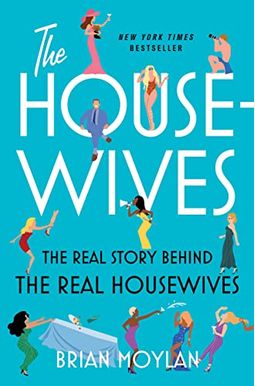  
The Housewives: The Real Story Behind The Real Housewives
Book Overview
From Brian Moylan, the writer of Vulture's legendary Real Housewives recaps, a table-flipping, finger-pointing, halter-topping VIP journey through reality TV's greatest saga.
In the spring of 2006, a new kind of show premiered on Bravo:
The Real Housewives of Orange County
. Its stars were tanned, taut, and bedazzled; their homes were echoey California villas; and their drama was gossip-fueled, wine-drenched, and absolutely exquisite. Fifteen seasons on,
RHOC
is an institution, along with
The Real Housewives of New York, Atlanta, New Jersey, Miami, Potomac
, and more. Over the years these ladies have done a lot more than lunch, launching thirty-one books, a cocktail line, two jail sentences, a couple supermodel daughters, Andy Cohen's talk show career, thirty-six divorces, fourteen albums, a White House party crash, and approximately one million memes. Brian Moylan has been there through it all, in front of the screen and behind the scenes. The writer of
Vulture
's beloved series recaps, he's here to tell us the full story, from the inside scoop on every classic throwdown to the questions we've always wanted to know, like--what are the housewives really like off-camera? (The same.) How much money do they make? (Lots.) He has a lot to say about the legacy and fandom of a franchise that's near and dear to his heart, and inextricable from pop culture today. A must-have for any fan of real drama and fake redacted],
The Housewives
is the definitive companion to an American TV treasure.
Frequently Asked Questions About The Housewives: The Real Story Behind The Real Housewives
Book Reviews
(7)
Did you read The Housewives: The Real Story Behind The Real Housewives? Please provide your feedback and rating to help other readers.
Well Written - Wish there was more insider intel

Derived From Web

, Jun 14, 2021

Much better written than Andy's books, but mostly pieced together interviews available online from other sources. I thought there would be more internal knowledge and less than I could Google myself ''. There was a really in-depth look at the history of Bravo and Reality shows - this was not for me purely housewives, but I can see it interesting to others. Still enjoyable and very well written, but not worth the money to me.
Too much sociology

Derived From Web

, Jun 7, 2021

When I heard on the Watch What C podcast that Bravo prohibited any current or former employees from talking to Moylan, I should have known that the content of this book would be on the thin side. It's too bad because Moylan is a fascinating writer and how the housewives are made must be a clever and engaging story. Unfortunately, we get very little of it and in its place there is way too much about the audience. The book made me dislike Bravo, which is certainly not its intent.
Not at all what I thought

Derived From Web

, Jun 7, 2021

I am not going to finish this book, but I will say that the author missed a huge opportunity to share the backstory that we all thought we were going to get. Huge bummer, I think. So far, the housewives who shared information that we did not know are 2-3 that were asked to leave the show.
Disappointed

Derived From Web

, Jun 4, 2021

Unfortunately because Bravo has locked its talent, much of this book is filled with information that any avid fan could easily find through a quick internet search or already surmised has probably happened behind the scenes. Highly disappointed for the hype ''.
Ugh

Derived From Web

, May 31, 2021

Don 't bother. Skipped through 34 of the book. Personally, I wouldn 't waste my hard earned money on this. A non-starter for sure b is a non-starter.
Dame Moylan Delivers

Derived From Web

, May 28, 2021

From his retrospective reviews, I have been such a fan of Brian's - with most of the franchises, I don 't even watch the shows anymore, just read his recaps. This book has the same interesting flavor coupled with surprisingly exact insights and research into how the whole Juggernaut came to be and continues to operate. Read a book by Brooks perfectly in the poolside. Pick it up, you won 't be disappointed.
Required reading for any Housewife fan

Derived From Web

, May 27, 2021

I don 't know what I expected when I sat with this book, something on par with Most Talkative. This is much deeper and more comprehensive to my pleasant surprise. Brian is clearly a fan, which makes this book special in that it celebrates the franchise, while at the same time provides a very detailed, well researched look at this global phenomenon. As a lifelong student of pop culture, I am both impressed and jealous of his achievements. His analysis in academic chapters is on par with the latter journals. My favorite chapters include BravoCon and his vacation with Vicki, as they provide a real insight into the personalities of fans as well as the Bravo machine. Honestly, aside from food, I would love to hang out with Vicki in PVR and I am not even an OC fan.