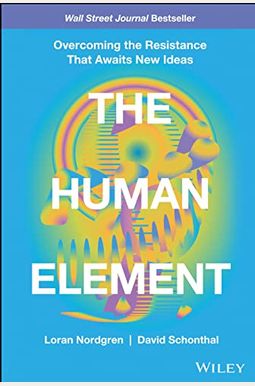  
The Human Element: Overcoming the Resistance That Awaits New Ideas
Book Overview
Watch your most innovative ideas take flight by overcoming the forces that resist change
The Human Element is for anyone who wants to introduce a new idea or innovation into the world. Most marketers, innovators, executives, activists, or anyone else in the business of creating change, operate on a deep assumption. It is the belief that the best (and perhaps only) way to convince people to embrace a new idea is to heighten the appeal of the idea itself. We instinctively believe that if we add enough value, people will eventually say yes. This reflex leads us down a path of adding features and benefits to our ideas or increasing the sizzle of our messaging - all in the hope of getting others on board. We call this instinct the Fuel-based mindset. The Fuel-based mindset explains so much of what we do, from adding countless trivial features to software, to bolting a sixth blade onto a shaving razor.
By focusing on Fuel, innovators neglect the other half of the equation - the psychological Frictions that oppose change. Frictions create drag on innovation. And though they are rarely considered, overcoming these Frictions is essential for bringing new ideas into the world. The Human Element highlights the four Frictions that operate against innovation. Readers will discover:
Frequently Asked Questions About The Human Element: Overcoming the Resistance That Awaits New Ideas
Book Reviews
(11)
Did you read The Human Element: Overcoming the Resistance That Awaits New Ideas? Please provide your feedback and rating to help other readers.
Great idea - interesting - a bit too long

Derived From Web

, Dec 20, 2021

I heard one of the authors on a podcast and I was intrigued by the idea of trying to find the friction in spreading new ideas versus just trying to motivate people to try it. The authors have a very excellent writing style, and their examples are approachable. Still worth the read :
Sorry, a rather loosely structured collection of advice. Missed the mark of greatness

Derived From Web

, Oct 31, 2021

There have been a plethora of these types of behavioral finance psychology books lately written. Most of them are pretty good, well-studied and applicable. I wanted to like this book, it's ok, but life is short so that you read it only the best and this falls short.
A great read and a big idea in one small package

Derived From Web

, Oct 27, 2021

This book is a fun read and presents a novel and hugely valuable insight into personal influence. I have had the good fortune to take classes with both Loran Nordgren and David Schonthal while pursuing my MBA, and cannot recommend this dynamic duo enough. Both are accomplished professors and outstanding professionals. This book combines many of the highest-yield concepts we learned in class into a concise manual for persuasion. It will be immensely valuable to anyone hoping to bring new ideas to the world, and more generally to anyone looking to influence others.
Well-written with great analogies!

Derived From Web

, Oct 11, 2021

I thought this would be a book for me to read for pleasure, but I was pleasantly surprised by the applications I can make in my professional life as well. As a teacher of high school physics, I particularly appreciated the analogies that the authors made to science concepts, because they work well for me. Their ideas were well-written, easy to read and really helped me gain some new insights to help challenge resistant students to reach a higher potential. Highly recommended!
A clear, enlightening read for innovators in any field

Derived From Web

, Oct 7, 2021

Even in a world driven by sophisticated data and analytics, instances abound where quantitatively robust strategic initiatives fail to gain leadership support, break during implementation, et cetera. We are still missing the human half of the equation, the other element. This book helps fill that gap by explaining the natural human opposition to change and then prepares to eliminate the frictions that hinder innovation. Our relationships with customers, clients and coworkers can all benefit from turning resistance into receptivity.
Great book

Derived From Web

, Oct 5, 2021

In any form or another, friction is faced in every field and industry. This book takes an outstanding approach to addressing the friction with new ideas. The book is well written and the subject is well handled.
Essential Read

Derived From Web

, Oct 5, 2021

Where other books focus on how to push forward, this book focuses on how to handle the inevitable pushback. As a bonus, it is also a super engaging, pleasant read! Highly recommended!
Great storytelling and perfect subject matter for this day and age

Derived From Web

, Oct 5, 2021

It is a short and easy read with powerful insight on overcoming the resistance that awaits new ideas. The authors use engaging stories and examples that keep the reader engaged until the very end.
Absolute Must read! Engaging from start to finish!

Derived From Web

, Oct 5, 2021

The Human Element provided such thoughtful and thought-provoking ideas to help create and promote innovation in business and life. It inspires you to think continually in new ways and gives you the tools and confidence to do it. It was engaging from start to finish and we plan to have our teams read it at work. What a better time than now to start thinking outside the box and push yourself?
The missing link between creating change and executing it.

Derived From Web

, Oct 5, 2021

The writer does a great job on detailing the thought behind creating change, outlining the forces in play and the actions that counteract these forces. The thoughtfulness of the author is displayed in content and his personality is displayed in his art of communication.