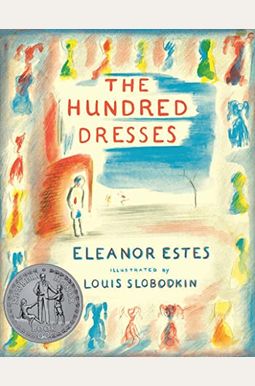 
 
Book Overview
This Description may be from another edition of this product.
Eleanor Estes's The Hundred Dresses won a Newbery Honor in 1945 and has never been out of print since. At the heart of the story is Wanda Petronski, a Polish girl in a Connecticut school who is ridiculed by her classmates for wearing the same faded blue dress every day. Wanda claims she has one hundred dresses at home, but everyone knows she doesn't and bullies her mercilessly. The class feels terrible when Wanda is pulled out of the school, but by that time it's too late for apologies. Maddie, one of Wanda's classmates, ultimately decides that she is never going to stand by and say nothing again. This powerful, timeless story has been reissued with a new letter from the author's daughter Helena Estes, and with the Caldecott artist Louis Slobodkin's original artwork in beautifully restored color.
Frequently bought together
Frequently Asked Questions About The Hundred Dresses
Books like The Hundred Dresses
Book Reviews
(11)
Did you read The Hundred Dresses? Please provide your feedback and rating to help other readers.
An important message about bullying

Derived From Web

, Apr 20, 2022

Though the book was written in the 1940s, the message of standing up against bullying resonates well today. It was a blast to the core, said the writer's 8-year-old granddaughter. In a generous gesture of compassion, McCartney writes, "I was in tears as I read. We're going to have to get used to it."
Mean Girls of the Past

Derived From Web

, Apr 20, 2022

The coarsening of our culture can be easily compared with Peggy's treatment of Wanda and Maddie's struggle with conscience. That adults today model the abhorrent behavior of doing what's right even when it is hard is shameful. The shame of not being able to summon the courage to speak out was evident. A great book to discuss.
It was good. Definitely has a good message

Derived From Web

, Apr 20, 2022

It was a good performance, said Blair. He also emphasized that people are not to judge others so quickly. Good to promote kindness, even if it means losing a few friends. Leaving one little sad.
Excellent read

Derived From Web

, Apr 20, 2022

I've only recently begun to read this book with my 8 year old. It's a timeless story about mean girls. After reading the book, we were able to have a wonderful conversation about how to treat others, Mrs. Ridgeway said. Great customer service, said Dr. Richard D. Aronov, director of the University of Pennsylvania Center for Health Research.
one hundred dresses

Derived From Web

, Apr 20, 2022

This is a book that I read as a kid and still remember. This book is great in teaching children about what they think is harmless can crush another person's spirit and the consequences of their actions. I would like to see it re-introduced to the schools.
We really wanted to like it

Derived From Web

, Apr 13, 2021

I really wanted to read this book with my 8-year-old but she just couldn't follow the text. We gave it a try, Morgenthau said. She couldn't tell me what we read in chapter 3. Then I made her listen to one more chapter and we gave up. It's so unfortunate because I can imagine this being a great book if you give it more time, Hachette said. The language is a bit archaic and that's where our troubles stemmed from, he said.
Very touching story - and based on a true experience

Derived From Web

, Nov 23, 2018

I'm so glad someone introduced me to this book, Elizabeth. Each of my children will be receiving one for Christmas to read with their children. Reflecting on the lessons we all need to review again and again is a lesson that we all need to review, Rekha said. The fact that this is based on a true story and written by the author as a way of making amends for being part of the problem rather than the solution makes it more meaningful to me.
Buy this book for your child!

Derived From Web

, Sep 17, 2018

I first read this book as a third-grader, but I still tear up whenever I describe the story to friends. Yes, it's dated, but the message it sends to every era is relevant. The "queen bee" girl who inspires others to join her in ridiculing a disadvantaged classmate resonates —unfortunately — as much today as it did then. A lesson is learned, a girl redeems herself, and a point is made that can never be made again. In my estimation, this book's message is so important and will continue to bring tears to my eyes every single time I talk of it.
she becomes the target of a fun "game" led by Peggy

Derived From Web

, Apr 10, 2018

She is a quiet girl who doesn't quite fit in with the other kids. This book is relevant today as it was written in 1945. In general, she was a good person, and she didn't realize she was being mean to Wanda, Tunick said.
Great children's book about bullying

Derived From Web

, Feb 2, 2018

When she claims to have a hundred dresses, Peggy and the girls tease her. It's just that she wears the same dress every day." Maddie feels so badly about how they treat her, but does nothing about it. The other possibility is that she said something she might become the new target.