Buy 3 Get 1 Free
Our Best Sale Yet! Add 4 Books Priced Under $5 To Your Cart     Learn more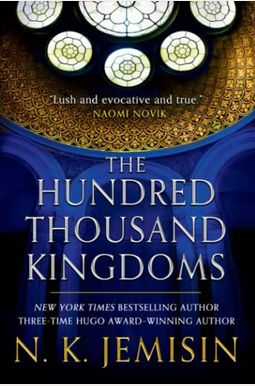 
 
The Hundred Thousand Kingdoms
Book Overview
After her mother's mysterious death, a young woman is summoned to the floating city of Sky in order to claim a royal inheritance she never knew existed in the first book in this award-winning fantasy trilogy from the NYT bestselling author of The Fifth Season.
Yeine Darr is an outcast from the barbarian north. But when her mother dies under mysterious circumstances, she is summoned to the majestic city of Sky. There, to her shock, Yeine is named an heiress to the king. But the throne of the Hundred Thousand Kingdoms is not easily won, and Yeine is thrust into a vicious power struggle with cousins she never knew she had. As she fights for her life, she draws ever closer to the secrets of her mother's death and her family's bloody history. With the fate of the world hanging in the balance, Yeine will learn how perilous it can be when love and hate -- and gods and mortals -- are bound inseparably together.
Frequently bought together
Frequently Asked Questions About The Hundred Thousand Kingdoms
Books like The Hundred Thousand Kingdoms
Book Reviews
(11)
Did you read The Hundred Thousand Kingdoms? Please provide your feedback and rating to help other readers.
I really enjoyed this, An interesting cut at mythopoeia more on ...

Derived From Web

, May 26, 2022

I really enjoyed this, an interesting cut at mythopoeia with a religious bent, light and dark etc, mixed with a little bit of sex, dare I say. Fun, different. One scene leaves the god of war to take care of things and that is it left to your imagination to what happens next.
Looking forward to the next one

Derived From Web

, May 26, 2022

I listened to this as part of a read-along and I am very glad that I did, because the voice of the main character is strong and clear and one of the better characterizations I read in a while. I look forward to reading the next book because each book in the trilogy is told from the perspective of someone else, so I wonder if the next voice we hear will be as good as Yeine's. Although I don 't think there is any reason to doubt it by this book.
A Great Fantasy

Derived From Web

, May 26, 2022

This book was the popular pick of the Vaginal Fantasy Reading Group for January 2014. I enjoyed this really much. A lot of the mythology in this book was reminiscent of Norse mythology, but it seems to pull from everywhere. In this book there were some really interesting characters and the world created by Jemisin was quite good. In this series I will read also other books.
This book was fantastic. The concept felt fresh

Derived From Web

, May 26, 2022

The concept felt fresh and the world building was detailed and amazing. I was on the edge for almost the entire book, read the whole thing straight through without a break and ordered the next in the series immediately.
Fantastic new story line!

Derived From Web

, May 26, 2022

I devour science - fiction - fantasy and I see how difficult it is to create a new story line and a new world. The impossible has certainly been achieved with this book by N. K. Jemisin. Gods imprisoned by mortals and then befriended by mortals provided an interesting twist and the ending was a very good surprise. I already placed the second installment in my wish list, but it will not be out until November-( ).
Disappointing, yet not

Derived From Web

, Jan 21, 2022

It is more than 3.5 stars for me. I think i was expecting too much from it, and delivered it for a time. Even the political manouvering was exquisite, however little of it was there. I was, however, not convinced by the love story. I found it really hard to believe that these two beings were remotely close to being in love with each other. It bothered me. I tried really hard to believe it if I was able to enjoy the angsty mood around the characters, but I just couldn t, I didn 't buy it and now I am disappointed. Still, I would recommend this book to anyone who enjoys a well written, fantastically fantasy story.
intriguing but distant

Derived From Web

, Nov 2, 2021

There is no doubt that this is a good book with an interesting plot and an amazing world building. I did not particularly care for the voice of Yeine, because I thought it was rather cold and distant. Yes, she is a warrior leader whose life has been changed for the worse overnight and therefore is not going to be thinking and feeling warm fuzzy fuzzies, but the whole book was so fraught with pain and confusion and secrets that some relief from would have been nice. The only bright spot, the only charm, was Sieh. Which is long, considering this is a hard book. If you are into beautiful, intricate world building and don't mind a narrator without much positivity, this is a great option.
Rapidly becoming one of my favourite authors

Derived From Web

, Aug 15, 2020

I have now read a few books by this author and all of them are worth five stars. I am pretty sure that she can not do anything wrong as far as I am concerned. The Hundred Thousand Kingdoms had me entrapped from beginning to end. Great world building with the promise of much more to come in the rest of the trilogy. Fantastic characters, especially the gods, whom I also hope to see more of in the next two books. An excellent story with an intriguing twist at the end, which provided a completely satisfactory conclusion.
Fascinating.

Derived From Web

, May 3, 2020

Based on Book 1 there is a lot of potential, although I heard the next book deals more with the general population.
A Tale of Court Intrigue and Enslaved Gods, captivatingly told by Jemisin

Derived From Web

, Aug 5, 2019

I just finished reading this book, and I loved it just as much or even better than the first time. This is Jemisin's debut novel and I'm hard-pressed to say whether this or The Obelisk Gate is my favourite book by her. The main character of Yeine was from the ruling Arameri family, the daughter of the ruler of The Hundred Thousand Kingdoms, who left the court behind her. When her mother dies, Yeine is summoned to the capital where she is thrown into a power struggle. The Arameri rule the world because they have slaved gods at their command, and Yeine gets to know these gods during her time in the palace. This book has a lot of things in it that I particularly enjoy a night god, political intrigue, the trope of an outsider arriving in the court, the helpful assistant character, the cold MAGE character and gods as characters who are around in the mortal world. This is made for me just like I loved it.