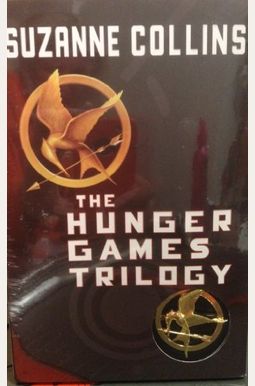  
The Hunger Games Trilogy: The Hunger Games, Catching Fire, Mockingjay
Frequently Asked Questions About The Hunger Games Trilogy: The Hunger Games, Catching Fire, Mockingjay
Book Reviews
(9)
Did you read The Hunger Games Trilogy: The Hunger Games, Catching Fire, Mockingjay? Please provide your feedback and rating to help other readers.
This Series is a must-read for all educators

Derived From Web

, Apr 20, 2022

Suzanne Collins has written a series that includes many variables, including her creativity, thought-provoking issues, history, and futuristic possibilities that are all so interwoven that some readers, especially teens, may not perceive unless someone gives them some well directed direction. Questions or comments to make them think. I believe that this series should be on a Required Reading List for high school students with a teacher using The Panam Companion as a guide to classroom discussions, writing prompt, etc. Adult readers would enjoy this series. I admit that I have re-read the series more than once, and that I have enjoyed them. I think you should read The Panam Guide by V. Arrow since it makes these books even more interesting. To say I am a fan is an understatement. stewartreb@me.
great trilogy!!!

Derived From Web

, Apr 20, 2022

I picked up the books after I watched the first movie. The book is better than the movie, not that the movie was bad or anything, but it was different. I loved Catching Fire because it had so much more of the two of them. There are moments in Book 3 that are similar to when there is aSPOILER ALERT. I love the moments when Finnick gives her his string and when both of them break down. I didn't like the fact that they were trapped down there, and I felt like I didn't know any better. I was upset that they killed both Finnick and Prim. I understand why they killed Prim, but Finnick dying was not necessary.
Awesome, exciting, scary

Derived From Web

, Apr 20, 2022

The book was full of action, suspense, and situations that were not far from reality. Excellent character development and insight into the non-existent concern for others that some societies display for humanity in general. There are dangers to government control. There is a new idea of cruel things that have happened in history. There is much to say on the human will to survive in a world of oppression. In the 3 books we watch the characters become different, just like in real life. As much could be written about these books as they contained about government oppression, will to live, right and wrong, self serving people, double crossing power struggles and top ruthless realities that reach maturity via using others as pawns. It was just mind blowing. I've read the books a few times.
Better Than Expected

Derived From Web

, Apr 20, 2022

I watched The Hunger Games 1st movie before I read the books. I didn't understand why the movie was so good before I saw it, and when I saw it and loved it, I realized that there was an important storyline missing. A good friend yelled at me for not reading the trilogy first. I plan to read again and watch the movies again after reading it, because I'm glad I read it before seeing the second movie. I think it will be more enjoyable. There is a great story about the people in positions of power who will do everything in their power to keep their power.
The characters were believable and the various twists to the plot kept me engaged

Derived From Web

, Apr 20, 2022

The box set came with a sturdy holder for easy storage and all the boxes were hardcover. I liked the books because they showed how a government could affect large numbers of people. The characters were well drawn and although the 1st and 2nd books were stronger, the last book had the biggest challenge because many people had problems with it. The last book had to show how people have to deal with loss and violence when warriors stop fighting and how they had to do to others. The main character was showing that there was a price to be paid for being the face of a revolution and for the loss of life in such a short time. The plot was not predicable because of the various levels of intrigue.
Disappointed

Derived From Web

, Feb 15, 2021

I wanted to get the books and put them in the hunger games section of my shelf, but I found a rip on the back of the Catching Fire book, because I love the book series. If you are buying a new book, it is very important to you that it comes in perfect condition. I am not sure how to contact the people who are selling these books. I am disappointed.
Stories are great but book came moldy!! (EDITED)

Derived From Web

, Oct 25, 2019

I loved this series when I read it years ago. One of the books came to me after I bought this used set on Amazon for my son. The box is not moldy in the pictures. It's gross. I didn't ask for a refund because 1.5 of the books were readable, and it was my busy season, so the effort didn't feel worth it to me. I appreciate that the seller didn't wait for me to respond. The good customer service is reflected in my star rating.
Greatly Enjoyed First Two, Third Not So Much

Derived From Web

, Apr 14, 2019

It's difficult to write a captivating book. It can be difficult to write multiple. I've always been a fan of the Hunger Game books and movies, but have never been able to get into the final book as much as the others. Part of the draw for me in the first two books was the Hunger Games. The relationships, the story lines, and the logistics of the Games themselves. By the third book, the story has evolved greatly and takes place in other settings and I just wasn't as fond of it as the other two. It brings a good level of finality to the series but it wasn't my favorite. It's still a great series, worth a read, and this set was a good way to get them all.
Great Gift For the Avid Reader

Derived From Web

, Jan 14, 2019

My son received this gift. He likes hardcover books and has become very particular about his collection. I can not fault him for that. The series is excellent and I have read it myself. As an adult I didn't find it oversimplified to cater to teens, as is most "teen fiction" out there. The series is complex in its imagery at times, well written and intricate in its plot development, and it pushes young readers to expand their boundaries. This was no exception, and I am always happy to encourage my son to read. He read them all at least twice in about four days.