Buy 3 Get 1 Free
Our Best Sale Yet! Add 4 Books Priced Under $5 To Your Cart     Learn more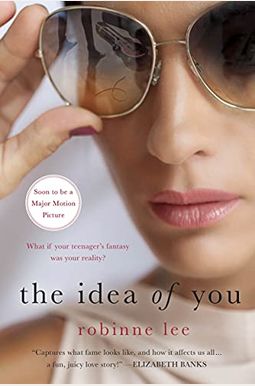 
 
Book Overview
Included on The Skimm's 2020 list of Eight Books Both You and Mom Will Love
The sleeper hit of the pandemic . . . . There is no escapism like reading about a nearly middle-aged woman embarking on a glittering, global love affair with a thoughtful young sex god . . . . It's electric, triumphant to read. --Vogue.com
An OMG page-turner. --Gabrielle Union
Sol ne Marchand, the thirty-nine-year-old owner of an art gallery in Los Angeles, is reluctant to take her daughter, Isabelle, to meet her favorite boy band. But since her divorce, she's more eager than ever to be close to Isabelle. The last thing Sol ne expects is to make a connection with one of the members of the world-famous August Moon. But Hayes Campbell is clever, winning, confident, and posh, and the attraction is immediate. That he is all of twenty years old further complicates things. What begins as a series of clandestine trysts quickly evolves into a passionate and genuine relationship. It is a journey that spans continents as Sol ne and Hayes navigate each other's worlds: from stadium tours to international art fairs to secluded hideaways in Paris and Miami. For Sol ne, it is a reclaiming of self, as well as a rediscovery of happiness and love. When Sol ne and Hayes' romance becomes a viral sensation, and both she and her daughter become the target of rabid fans and an insatiable media, Sol ne must face how her romantic life has impacted the lives of those she cares about most.
Frequently bought together
Frequently Asked Questions About The Idea Of You
Books like The Idea Of You
Book Reviews
(9)
Did you read The Idea Of You? Please provide your feedback and rating to help other readers.
Sexy and fun...but the writing could be better

Derived From Web

, Sep 26, 2021

I liked this book, but as an author myself, there's one thing about the writing that annoys me to no end the improper use of dialog tags. He's talking to somebody, she said. The author frequently uses wrong dialog tags. Simply put, try to smile a line of dialogue, or even just sigh. It's just that it won't happen." Instead of saying, "That's hilarious," he wrote, "That's hilarious." Or, "That's hilarious," he said, referring to the sketch. This indicates that the character is laughing after he spoke, rather than while he's speaking, which is pretty tough to do.
The Idea of What....... exactly?

Derived From Web

, Nov 27, 2020

We read about older men and younger women all the time, as is typical and socially acceptable, so this was refreshing and an interesting draw for me, too. 0 3171616 We read about older men and younger women all the time, as is typical and socially acceptable, so this was refreshing and an interesting draw for me, too. The book is, in fact, a parody. The majority of the characters are out-of-this-world actors. I really enjoyed the relationship between the two main characters, Mr. Hughes said. The author tried too hard to be relevent and hip, Raymond said. It's an overabundance of politcal correctness, elitism, and name-dropping, Raymond said. It starts out with a great deal of false female empowerment that in the end, gives in to all the usual societal pitfalls and ends up in the absolute martyrdom of the female character. There is no sequel planned, but the characters deserved so much better, McBride said. It's hard to give it a one star and a less than stellar review, but it's not one I'd recommend.
Read it!!!

Derived From Web

, Jun 6, 2018

Even though it mentioned a lot of brand names, it was not about that. It was about feelings, Raymond said. It was almost impossible to put it down. It was such a relief to see all the faces, and my gosh, did I cry!!! It's great to be back home, said Blair.
No words

Derived From Web

, May 22, 2018

It's not often that I feel like I'm at a loss for words. I find it truly surprising how often I feel the need to review a book by a woman who doesn't even have the words to say anything. It's just that the feels are there. It was a joy to read, even if we had to pinch a few lines. I enjoy reading, Bruno said. I don't critique the whole thing, just the extended vocab. Yes, I would be open to a new contract, even if it draws me in. If it makes me feel good, I feel. A great book, one of the best I've ever read. It is, without a doubt, one of the most exquisite pieces of mind, soul, and heart work ever created. Standing Ovation takes on The Beatles' "You Can't Hurry What You Want From Me."
Great.....until the end

Derived From Web

, Feb 10, 2018

The story is told through the eyes of three young women who fell in love at first sight. The ending was unsatisfying, too, because it offered no clear motive for the mutiny. It was too abrupt, too many unanswered questions, and Rumsfeld said it was too soon to determine what the reallocation would be. It felt rushed, like the author was tired of writing. It's clear that Baz Luhrmann needs a sequel. Even with time, it just seems improbable that they could walk away so easily. The story needed an HEA not an ambiguous ending and they rode off into the sunset. After becoming so invested in their love story, and seeing how hard they worked to maintain it, walking away was too good a taste in my mouth. In reality, I don't believe it could have happened that way, Mr. Rule told the judge. Even though we're losing a lot of money, Call Me By Your Name is just begging for a sequel.
This book was absolutely amazing. I loved it

Derived From Web

, Feb 4, 2018

The book is absolutely amazing, said Christina. It was a lot of fun, said Blair. The connection between Hayes and Solne was amazing. I'll miss the way they played, but I also loved the way they voiced Hepburn's. I flew in the other way just to see more of their relationship, Mr. Caramore said. I totally understand Solne decision and I understand the realism of two people being completely in love and it not working out, Blair said. What absolutely kills me is this idea that Solne always wanted someone who understood her, Raymond said. She was looking for someone who understood her passion for art and her need for more. Hayes, who pleaded guilty to weapons charges, said he never considered himself above the law. Even then, he said, "it was because of circumstances that were ruined that I was able to do it." It just hurts me that they were so real with each other, and she ended the relationship on a lie, she said. It's almost over, but I can't help but think about the ending. Because I am, but it was such a beautiful and well written story, I just cannot stop thinking about it.
Disappointing but Beautiful

Derived From Web

, Aug 13, 2017

The risk would have been for Solene to believe she had it all, even if she couldn't.
Life changing- unlike anything you've read before.

Derived From Web

, Aug 6, 2017

Although I would consider it more of a love story, Jane Austen's "Jane Eyre" stands in a class by itself. It is reminiscent of The Great Gatsby and Titanic, the main characters of which were played by Baz Luhrmann and Elizabeth Taylor. And Hayes and Solene are just that – an unlikely coupling who somehow manage to find pure, true love with each other despite the pressures of the outside world. You might expect to turn on the radio and hear an August Moon song, or walk past an LA gallery and catch a glimpse of one of Solene's art shows. I have reread this book 4 times and still can't believe it will end. This is a completely different kind of romance, marriage and babies, Raymond said.
Completely blown away

Derived From Web

, Jun 18, 2017

I can't believe how fast this thing has grown, how much money has changed the world. I have never read a book like this. When I first saw the book, I expected it to be good. The book makes you feel so many emotions. I mean, I was hoping for a certain ending. I feel like there is so much more to say, Taylor said. I felt like I could relate to her. I will be thinking about this book for a long time to come. Hands down one of my favorites this year.