BLACK FRIDAY DEALS CONTINUE - SAVE 20% AT CHECKOUT WITH CODE CYBERBOOK. Learn more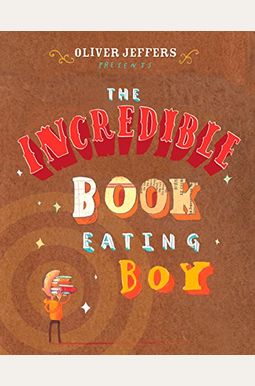 
 
The Incredible Book Eating Boy
Book Overview
Like many children, Henry loves books. But Henry doesn't like to read books, he likes to eat them. Big books, picture books, reference books . . . if it has pages, Henry chews them up and swallows (but red ones are his favorite). And the more he eats, the smarter he gets--he's on his way to being the smartest boy in the world But one day he feels sick to his stomach. And the information is so jumbled up inside, he can't digest it Can Henry find a way to enjoy books without using his teeth?
With a stunning new artistic style and a die-cut surprise, Oliver Jeffers celebrates the joys of reading in this charming and quirky picture book. It's almost good enough to eat.
Frequently Asked Questions About The Incredible Book Eating Boy
Books like The Incredible Book Eating Boy
Book Reviews
(16)
Did you read The Incredible Book Eating Boy? Please provide your feedback and rating to help other readers.
What a delightful story about the joy of books!

Derived From Web

, May 18, 2022

I bought this book to read aloud to my first grade class of my daughter. I never read it before, but saw it on a recommended reading aloud list. It is perfection, especially in the illustrations and fonts. The children loved it and I enjoyed reading it. What a delightful story about the joy of the books!
Great story, incredible illustrations!

Derived From Web

, May 18, 2022

My 5 year old can 't get enough of this book! Henry is a little boy who discovers he loves to eat books. The more books he consumes, the smarter he gets. He begins to eat three or four books at a time and thinks that he will soon become the smartest person on the planet. Then things start to go wrong. He starts eating too many books too quickly and begins to feel ill. But the worst part is that all his information in the books he is eating gets mixed up and it becomes embarrassing for him to speak. Everyone tells him that he should stop giving books up, so Henry gives them up. He then picks up a half-eaten book from the floor and starts reading it. It was also so good. Henry finds out he loves to read and he thinks that he may still be the smartest person on Earth. It will take you a little while longer. Book is great!
*****Ten Stars!*****

Derived From Web

, May 18, 2022

If I could give this rating to the Incredible Book Eating Boy, I would give it to the Book Eating Boy. Initially, my son did not take a liking to the book when I introduced him to it, and I was disappointed because my son Oliver Jeffers'; Stuck and Lost and Found enjoyed. Instead of reading the book with him, I read the book well, and that night I told him the story when he slept next to me. The next night I repeated the story before going to sleep. At the end of the story, he was intrigued by the bitten last page and the cover page and asked me how Henry managed to bite our book ''. But this is our book! '' This is a great book, Mr Jeffers!
Simple Silly Plot

Derived From Web

, May 18, 2022

I liked this simple silly plot of a boy who loved books by eating them! We thought it was cool that he got smarter by doing so. I have spoken about cherishing '' a book that was so good so that this literal take on it was funny. It is a different view of a bookworm. Backgrounds were unique. The added detail of the bite taken out of the back cover was a great surprise especially for my children. It has made the story come to life. I liked the message that reading books is a treat '' as enjoyable as eating them... and you also become smarter. The boy now takes temptation and then gives a bite out of a book when he is reading. Our favorite story was after Henry had eaten so many books that he had a dream of a book that was trying to eat HIM!
Pretty soon all three granddaughters wanted to hear it

Derived From Web

, May 18, 2022

This book is absolutely riveting for children and adults. My six year old great grandson laughed out loud on reading the first of several in one sitting. The British Isles also entertained her. Pretty soon, all three granddaughters wanted to hear it. They love looking at the bite taken from the back cover of the book. This book entertained the entire family of the grands, parents, and children.
Deliciously different

Derived From Web

, May 18, 2022

One day, while walking his cat, Henry gets a hankering for the taste of a word a page and eventually an entire book. Pretty soon he is consuming several volumes in a single sitting and the knowledge in the books goes directly to his brain. And then his taste for books goes south, as does his book smarts. Fortunately, he figures out another way to become smart, that is not so hard on the stomach. In addition to the book, unique pages and illustrations relating to books are incorporated into the book theme.
Fun! And a little scary for little folks...

Derived From Web

, May 18, 2022

My son loves books, so he could relate to Henry completely. He might have related a little bit of TOO much though, because after reading this book when he was 3, he had nightmares like Henry's nightmares. He is now 5 and this book has thankfully returned to his favorite status without any impact on his sleeping. I love this book and I love the style and the artwork of it, and I love that it is not like any other book on our shelves.
Fun, but not enough.

Derived From Web

, May 18, 2022

Boy Jeffers, The Incredible Book-Eating Boy Jeffers' amusing little story comes with a chomp taken from the back of the book. If that is the kind of thing that interests you, I highly recommend checking this one out. As the title tells you, the story of a kid who eats books and grows smarter by osmosis. He finds out, however, that gluttony of any kind gets the best of him... It is a fun, clever little book, if a little tad simplistic. But while you are digesting, no pun intended, the contents, spend some time looking over the backgrounds of the pages, which are absolutely enchanting for bibliophiles. Amusing, I had just a bit more to it with there 'd been a bit more.
Liked it so much, I even ordered the Spanish version

Derived From Web

, May 18, 2022

The story line focus is on books, with a great story line and good pictures! History is not too short, but not either too long. I ordered it so much for my son that I even liked the Spanish version. I also love how they have the bottom corner of the book chewed for the imagination purpose of the child.
Devouring books

Derived From Web

, May 18, 2022

This is an imaginative and creative book that can get children thinking about books and knowledge and what it means to devour a book.