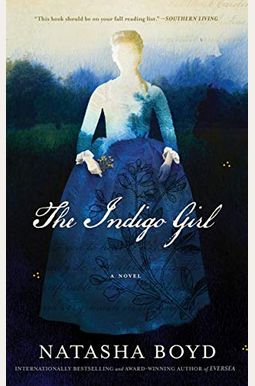  
Book Overview
This Description may be from another edition of this product.
The year is 1739. Eliza Lucas is sixteen years old when her father leaves her in charge of their family's three plantations in rural South Carolina and then proceeds to bleed the estates dry in pursuit of his military ambitions. Tensions with the British, and with the Spanish in Florida, just a short way down the coast, are rising, and slaves are starting to become restless. Her mother wants nothing more than for their South Carolina endeavor to fail so they can go back to England. Soon her family is in danger of losing everything.
Upon hearing how much the French pay for indigo dye, Eliza believes it's the key to their salvation. But everyone tells her it's impossible, and no one will share the secret to making it. Thwarted at nearly every turn, even by her own family, Eliza finds that her only allies are an aging horticulturalist, an older and married gentleman lawyer, and a slave with whom she strikes a dangerous deal: teach her the intricate thousand-year-old secret process of making indigo dye and in return--against the laws of the day--she will teach the slaves to read.
So begins an incredible story of love, dangerous and hidden friendships, ambition, betrayal, and sacrifice.
Based on historical documents, including Eliza's letters, this is a historical fiction account of Read More chevron_right
Frequently Asked Questions About The Indigo Girl
Books like The Indigo Girl
Book Reviews
(16)
Did you read The Indigo Girl? Please provide your feedback and rating to help other readers.
Great Read!

I loved this book. It takes place in the days when British subjects were settling in the coastal areas of the south and the fact it is based on a real person just makes it more fascinating. It is a great example of how someone of the "gentler sex" was not considered anything other than property but the grit shown by the main character in handling situations that were not considered proper for a woman is remarkable. You can't help but love the spunk of Eliza Lucas. I highly recommend the book.
A Glimpse of the social and family life in a Southern American Colony.

Derived From Web

, May 18, 2021

Prior to reading this book I had read Lamb's biography, His Bosom, which was the history of a South Georgia farm family and the social life of the South 20 years prior to the Civil War. Both novels reveal the hardships endured by women and how their roll provided survival of families but with huge contrast of difference. The book includes the social and family lives of slaves in the early American colonies.
it is historic fiction with quite a bit of actual characters dates and history included

Derived From Web

, Sep 12, 2020

i've always been interested in the slave trade with the first Irish who could not function or for many survive In extreme heat, as well as the Africans who were much more valuable to the British as they did not get malaria and could function in tropical climates. I've always enjoyed reading about plantation life on the islands and in the United States. In Jamaica, where I worked as a nurse in 1961 I was fascinated by the names of the Irish and mixed races of the wonderful people there. This is one more book to unfold the heartless cruelty of British imperialism, They came to their senses about slavery but it continued in the United States. This book taught me a great deal about Indigo, and I'm thrilled to be reading it. I highly recommend it to anyone who is interested in history and the tragedy of slavery. Mary, we are so happy, was asked, said the Rev. John Paul.
Disappointed

Derived From Web

, May 14, 2020

I bought this book because it sounded interesting and most of the reviews were four or five stars. In a generous gesture of irresponsibility, her father has to leave, so she puts herself in charge of the accounts and three plantations. The author emphasized Eliza's intelligence and capability, but the actions of Eliza came across as too immature and too emotional. There was, however, a second place to her yearning and pining for childhood friend--a slave, now an adult. Her incessant worry over being forced into marriage could have been brought out without beating the subject to death, Mrs Hughes said. Though Hepburn's widow would have liked to have seen Hepburn's softer side, the British star came across as a lightweight, regardless of how she stuck up for her slaves. I skimmed through about two-thirds of the book.
Inspired

Derived From Web

, Apr 22, 2020

Though initially reluctant, I did not realize that the book was based on historical fact. Realizing this at the end of the book nearly knocked the air out of me. Her goal, to bring Eliza to life and inspire readers with their own breath, was surely reached. Great job by the guys at DBM.
Cannot recommend

Derived From Web

, Feb 25, 2020

The heroine, at 16, takes over the management of three farms and is solely responsible for her family's future as well as the slaves, crops, education of her younger sister and more. She advocates for women's rights as though she were one of today's feminists at a time when that was unknown.
Fascinating history

Derived From Web

, Feb 25, 2020

I almost immediately recognized the story as a parody of Little House on the Prairie. I liked our heroine, too, Blair said. To be ambitious and to be intelligent were not considered attractive attributes in a young woman. She defied the odds, helped with the birth of a nation and found love, a story we should all know. Thanks for the job.
The Rebirthing of Eliza Lucas Pinckney

Derived From Web

, Feb 22, 2020

While the facts of Eliza's life were assembled and presented in the format of a book, the truth remains that she was an incredible woman. I enjoyed reading, often waiting for my turn to read again. 0 1462228 14622201 For many years I enjoyed reading, often impatient at having work to do before I could read again. I was also reminded of the value of indigo as a money crop in the development of the economic security of South Carolina. Brand new customers are raving about the service.
Based on a True Story

Derived From Web

, Feb 19, 2020

In a society that discouraged women from any business success, Nita was even prevented from owning land by women. She overcame enormous odds again and again. It's wonderful to learn of her talent, said Blair. Great read, said Dr. Michael Davis, director of the NIH's Ames Research Center in California.
Historically Accurate

Derived From Web

, Jan 24, 2020

The story takes place in the early years of the Republic, one of my favorite periods of time. However, that sometimes made it a difficult read for a woman raised in a time of heavy industry and even the wealthy. Though Eliza's life was certainly stress-filled, she was also very interesting. But as her mother states, "it's too intelligent for a girl."