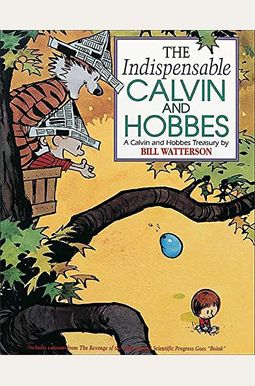 
 
The Indispensable Calvin And Hobbes: Volume 11
Book Overview
Calvin, the six-year-old dirty tricksmeister and master of indignation and his warm, cuddly philosopher sidekick and Hobbes, a tiger whose idea of adventure is to lie on his back by the fire and have his stomach rubbed. This unlikely due captured the hearts, the minds, and, most of all, the funny bones of America.
The Indispensable Calvin and Hobbes
contains an original full-color section, as well as all the cartoons appearing in
The Revenge of the Baby-Sat
and
Scientific Progress Goes Boink.
All Sunday cartoons are presented in full-color.
Frequently bought together
Frequently Asked Questions About The Indispensable Calvin And Hobbes: Volume 11
Book Reviews
(14)
Did you read The Indispensable Calvin And Hobbes: Volume 11? Please provide your feedback and rating to help other readers.
Suboptimal Port to Kindle

Derived From Web

, May 17, 2022

I love C&H so much so that I have no hate there. The strips are clear enough and I do enjoy them, but they do not fill the iPad screen and amazingly, you can adjust the reader to eliminate the useless letterboxing on all four sides. As a result, art and fonts are small and unnecessarily difficult to read. I do not regret my purchase and I love C&H and having it on my Kindle. But the porting to Kindle was poorly done and detracts from what should have been a 5 - star experience.
No other artist has captured boyhood as perfectly as Bill Watterson.

Derived From Web

, May 17, 2022

If you are thinking about buying this book, you are already a Calvin and Hobbes. But for those who have not discovered the joy of Calvin and Hobbes, I would encourage you to pick one of these up and enjoy a work that transcends the funny papers and could truly be described as art. These stories and characters offer commentary, insight, wit and quite often elicit emotion from the reader.
Superb content, no complaints about the edition

Derived From Web

, May 17, 2022

You don 't need me to tell you that this comic is excellent. As a child I read all Watterson's strips when they were still current. I did not tell them that, of course. As for this hardbound issue, I have not received any complaints about the format, etc.
and he loved it, too

Derived From Web

, May 17, 2022

Last Easter, I bought a different Calvin and Hobbes treasury book for my nephew to try to get him to read more. He was hooked before he finished, so I bought this one for Christmas, and he loved it too! The book was packaged with other items I had purchased and arrived on time and in good shape... no complaints!
Calvin and Hobbes is always a sure-fire way to bring ...

Derived From Web

, May 17, 2022

Regardless of how many times I already read it, Calvin and Hobbes is always a sure-fire way to bring a smile!
Childhood Revisited

Derived From Web

, May 17, 2022

What do I say more?!? I bought this book because a friend of mine had never heard of them and while I did show her the book, I was transported and spent the afternoon laughing at both.
Funny, Gift Giving, Trouble Reading Help

Derived From Web

, Feb 24, 2022

With this book you can not go wrong. It is funny to keep it for yourself. In my case, I have a 23 yr old daughter, bipolar, schizophrenic, manic, meth addict. Eventually she found herself in jail. Jail provided nothing to do for long periods. We received hourly phone calls how she couldn t make it, tone of suicide. Jail had a book limit of 4. She finished reading it and asked for another. Never happened in all her years. I went back to Amazon immediately without wasting a second. I doubt you have a similar issue, but Calvin and Hobbs was a gift from God for her parents.
I have to hide it

Derived From Web

, Dec 14, 2021

If I want my children to do something productive or important, I often have to hide the book. They love it so much that they can 't focus if it is sitting on a couch somewhere open. This also works. A time for comics and s as time for work... no always time for Calvin and Hobbes, they say.
Not the Calvin and Hobbes I remember

Derived From Web

, Jul 20, 2021

I loved Calvin and Hobbes when my oldest son was in primary school. I bought this for a grandson, but fortunately I read it before the deadline. One of the cartoons had Calvin asking his dad why he was still with his mother and not living in an apartment with scantily clad women. With all the complaints about sexist behavior, I was shocked that this was included even in a child's comic book. I have returned the book. Obviously, this was not added for the amusement of a child.
Another Day, Another Adventure

Derived From Web

, Mar 8, 2021

More fun and more humorous with Calvin and Hobbs high Jenks. It's never a dull moment from school to time traveling to play the game inventing. To give Susie a bad time to his favorite winter fun. Calvin and Hobbs dose it all in their Crazy Good Adventures. A great read. Debra H. Debra H.