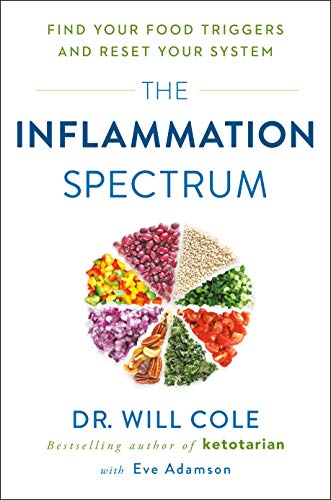  
The Inflammation Spectrum: Find Your Food Triggers and Reset Your System
Book Overview
From the international bestselling author of Ketotarian comes a revolutionary new plan to discover the foods your unique body loves, hates, and needs to feel great.
In Dr. Will Cole's game-changing new book, readers will discover how inflammation is at the core of most common health woes. What's more, it exists on a continuum: from mild symptoms such as weight gain and fatigue on one end, to hormone imbalance and autoimmune conditions on the other. How you feel is being influenced by every meal. Every food you eat is either feeding inflammation or fighting it. Because no one else is you, the foods that work well for someone else may not be right for your body. At heart,
The Inflammation Spectrum
is about learning to love your body enough to nourish it with delicious, healing foods. You'll find insightful quizzes and empowering advice to put you on a path toward food freedom and overall healing, once and for all.
Frequently Asked Questions About The Inflammation Spectrum: Find Your Food Triggers and Reset Your System
Books like The Inflammation Spectrum: Find Your Food Triggers and Reset Your System
What should you read after The Inflammation Spectrum: Find Your Food Triggers and Reset Your System Book? Here is a list of books to read if you read and loved The Inflammation Spectrum: Find Your Food Triggers and Reset Your System
Book Reviews
(7)
Did you read The Inflammation Spectrum: Find Your Food Triggers and Reset Your System? Please provide your feedback and rating to help other readers.
Didn't "buy" it. I returned.

Derived From Web

, Jan 15, 2020

This is a parody, I thought, written by a licensed M.D... I was a bit unsure how to objectively verify the information in the book. She has a nutritionist who works closely with my rheumatologist. I understand G.I. may have some technical problems,'' he said. health is important for auto-immune disorders so I am interested in anything I can learn to improve my health, he said. I have found Western medicine and alternative medicine to be complementary, so I bought the book on a recommendation from a friend. As I began to read the book and research the author, I simply didn't have the confidence that the information supplied would offer anything I don't know already or could apply in an objective manner. He has no medical degree and his credentials don't even include an MD. It bugged me. I know that's technically subjective, but I can't really say what it is.
It was ok

Derived From Web

, Oct 27, 2019

Very good book, but not very informative. The second part tells you what the inflammatory foods are which you have to avoid, then focuses a lot on daily mantras, positivity, gratitude.
If you've never heard of anti-inflammatory diets, then this may be a book for you...

Derived From Web

, Oct 26, 2019

For everyone else, there isn't much in this book that you will learn. It does a decent job of guiding through the process of starting the diet and then reintroducing foods once the diet is completed, but I feel it missed a huge opportunity in getting better graphics and formatting that would make the concepts easier to view, Graham said. The difficulty is that the index is not good, making it hard to navigate the book. Another reviewer said it seemed to be heavy on certain foods that I'd not expect to see someone who has digestive issues. And like that reviewer, I think that there are better resources out there, but I also do not regret buying this book -- it did help me to organize my diet a little and I picked up a few new recipes.
Ok information if you are newly looking into this lifestyle.

Derived From Web

, Oct 24, 2019

I preordered this book from cover to cover, took the quizzes etc, but am left wondering what's actually new if inflammation is already a part of your life and you have been trying? The questions are vague and if someone would have any questions, they are not asked. Now you can have your cake and eat it too! It's basically a low carb diet without eggs, milk, nuts and seeds, but okay for high sugar fruit! Skip to navigation.
Change your life and master your health.

Derived From Web

, Oct 22, 2019

Inflammation is at the core of just about all health problems and this book is seriously informative but also gives you the tools to take back your life, Thibault said. I'm only a few days into my elimination diet and I've already noticed a difference in my skin, mood, energy levels and my bloating is gone. The fifth and final volume of the "Harry Potter" series, "The Deathly Hallows Part 2." Get your body ready for the exam. If you think this is a bad idea, you won't regret it.
Educational and ANSWERS questions

Derived From Web

, Oct 19, 2019

He has some great information on inflammation and how to properly feed your body. I've also read his previous book, "Ketotarian." Will definitely be sharing this book with friends and family. It's great to be back home, said Blair.
A must read!

Derived From Web

, Oct 17, 2019

With most health books I'm easily bored and confused, but this one was so good. Feeling so much more at ease, I finally feel like I understand my body and know exactly what steps to take to find out how to feel my best!