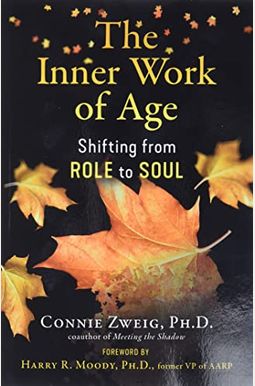 
 
The Inner Work Of Age: Shifting From Role To Soul
Book Overview
- Offers shadow-work and many diverse spiritual practices to help you break through denial to awareness, move from self-rejection to self-acceptance, repair the past to be fully present, and allow mortality to be a teacher
- Reveals how to use inner work to uncover and explore the unconscious denial and resistance that erupts around key thresholds of later life - Includes personal interviews with prominent Elders, including Ken Wilber, Krishna Das, Fr. Thomas Keating, Anna Douglas, James Hollis, Rabbi Rami Shapiro, Ashton Applewhite, Roshi Wendy Nakao, Roger Walsh, and Stanislav Grof With extended longevity comes the opportunity for extended personal growth and spiritual development. You now have the chance to become an Elder, to leave behind past roles, shift from work in the outer world to inner work with the soul, and become authentically who you are. This book is a guide to help get past the inner obstacles and embrace the hidden spiritual gifts of age. Offering a radical reimagining of age for all generations, psychotherapist and bestselling author Connie Zweig reveals how to use inner work to uncover and explore the unconscious denial and resistance that erupts around key thresholds of later life, attune to your soul's longing, and emerge renewed as an Elder filled with vitality and purpose. She explores the obstacles encountered in the transition to
Read More chevron_right
Frequently Asked Questions About The Inner Work Of Age: Shifting From Role To Soul
Book Reviews
(9)
Did you read The Inner Work Of Age: Shifting From Role To Soul? Please provide your feedback and rating to help other readers.
An Excellent Resource for Growing Older With Grace, Wisdom and Gratitude!

Derived From Web

, Feb 28, 2022

The alchemy is turning fear into courage, disappointment into opportunity, and grief into gratitude, Reichert said. Not that older age is easy or care free, but because the last years of life can truly be the best years of our lives, he said. He said: "Leaving behind a legacy of faith, resilience, joy, humor and hope for future generations is what I would call an essential companion.
Crappy firmat

Derived From Web

, Feb 25, 2022

Amazon said it only works with Kindle devices equipped with built-in Wi-Fi. It's just that every time the word ends in apostrophe,'' instead of correct,'' there is an a astrophe,'' or the sign for the euro. This makes reading unpleasant and awkward, even for the most discriminating reader. The IRS is not going to give us money back. What I want is a book that I can read, not just on paper, but on the screen. Sir Richard was a firm believer in the power of prayer over time.
Establish a new, powerful relationship with yourself.

Derived From Web

, Jan 16, 2022

Only a handful of books on the soul can claim such a thorough and empathetic look at being an integrated adult. In addition, I enjoyed the book's mix of interviews of wise elders, questions to ponder and write about Connie, and personal memoir. Each goes into deeper ways to think about oneself and value one's relationships in the third act of life. I especially enjoyed the letter she wrote to her grandchildren at the end of the book. The best thing you can do is call a skilled psychotherapist, Raymond said. It's already recommended to my friends. The book, "The Mindfulness Workbook for Addiction and the Gift of Recovery," was co-authored by R. Williams, a professor at the University of California-Berkeley.
Coming of Age

Derived From Web

, Nov 24, 2021

A book that helped me understand that old age and dying is the natural conclusion of birth and living. It made me realize the best is yet to come, he said. The unexamined life is not worth living, he said.
A compelling guide for our aging journeys!

Derived From Web

, Oct 17, 2021

As a 78-year-old feminist, I found The Inner Work of Age to be compelling. With the possibility of extended longevity in the context of an ageist society we need new road maps to deal with the opportunities and challenges in our aging journeys, he said. Con Briody and Connie Zweig both voice a multileveled, nuanced view of the inner work of aging. If you want to transition into a more senior citizen and are working toward a just-age-friendly society this book is a must read.
UNDERSTANDING BRINGS PEACE AND ACCEPTANCE

Derived From Web

, Oct 5, 2021

As time has passed and I have struggled with aging, losing a good friend. After reading this book, I no longer resist my body's aging. Balancing your mind, body and spirit brings you peace and acceptance. The book is a very useful and well-written introduction to the entire process.
A Work of Intense Meaning

Derived From Web

, Sep 29, 2021

Thanks to Dr. Zweig for writing a book that addresses a most important life stage and how to approach it with grace and meaning. The idea of becoming or moving into the status of elder is one that heralds in a time of peace, acceptance and love. I could not recommend this book highly enough.
The best!

Derived From Web

, Sep 24, 2021

It is so well written, easy to read, and filled with practical down to earth help for those transitioning from a life of roles to a life that is a celebration of the soul. This book has so much to help those who are in this process, Leland said. It's the best book I've ever read. It's great to be back home, said Blair.
Really valuable. A most read for anyone over 50

Derived From Web

, Sep 10, 2021

Dr Connie's book extends her profound work on the Shadow into later years and explores unconscious inner obstacles, such as the inner ageist, that block us from finding the gifts of this stage of life. But more than that, she offers practices that turn our attention from worn-out roles and fleeting identities to our authentic spiritual nature. From Broadway to soul. This is a deeply, slow read, to be cherished and enjoyed. It's the guidance we have been waiting for, Mr. Rule told us. Turner said he wanted to thank God that the Beatles were still alive.