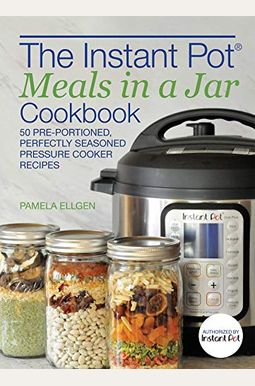 
 
The Instant Pot(R) Meals In A Jar Cookbook: 50 Pre-Portioned, Perfectly Seasoned Pressure Cooker Recipes
Book Overview
Make Your Instant Pot(R) Cooking Even Faster and More Convenient
The wildly popular Instant Pot has made cooking delicious meals quicker and easier than ever. However, you still need to prepare the food that goes into your Instant Pot. This book shows how to create pre-prepped, mason-jar-filled entrees that make meal time as easy as 1-2-3: dump the jar's pre-measured contents into your Instant Pot, add water, and pressure cook. It's easier than microwave mac and cheese but way better tasting and far more healthy.
The Instant Pot Meals in a Jar Cookbook
offers a wide selection of meals in a jar, including breakfasts, lunches, dinners and desserts. It details the specific meal prep needed to stock your pantry with mason jars full of all-natural foods that are ready to cook at a moments notice. There are also recipes that include combining the self-stable meal in a jar with fresh vegetables or meats from your fridge for an even more delicious entree that still requires almost zero meal-time work. Officially authorized by Instant Pot, this book will help you get the most out of your pressure cooker. With Instant Pot specific techniques and step-by-step instructions, anyone can make delicious meals in a jar to store or gift.
Frequently Asked Questions About The Instant Pot(R) Meals In A Jar Cookbook: 50 Pre-Portioned, Perfectly Seasoned Pressure Cooker Recipes
Books like The Instant Pot(R) Meals In A Jar Cookbook: 50 Pre-Portioned, Perfectly Seasoned Pressure Cooker Recipes
Book Reviews
(7)
Did you read The Instant Pot(R) Meals In A Jar Cookbook: 50 Pre-Portioned, Perfectly Seasoned Pressure Cooker Recipes? Please provide your feedback and rating to help other readers.
100% disappointed in this cookbook.

Derived From Web

, Apr 6, 2019

She wants to place the ingredients in the jar for storage and then dump them into the pot. A ziploc or a storage container in the kitchen would already save money on buying jars. Also, there are no family friendly recipes. Money was wasted.
So great for keeping a busy life organized

Derived From Web

, Apr 2, 2019

What I love about this book is that it helps you create meals in advance if you have limited freezer space. If there is plenty of room in your freezer, it is not so hard to make things in advance. But I don 't. It is always jam packed and I needed another solution. This book helps you prepare meals ahead of time that go into ball jars and just wait for you until you're ready to make them. All the ingredients it recommends are cooked pre-dried, so that you just layer them into the jar and cook them when you need them. You'll need an instant pot with a steam release function, but most of these can be cooked in about 15 minutes. I like to spend one afternoon every two weeks preparing about two dozen of these dried, and then it is so easy to pop them in and eat them when I am hungry!
A wonderful cookbook

Derived From Web

, Mar 31, 2019

Instant Pots have always terrified me, simply by virtue of them being unknown and appearing complicated - well, no more! There are a beautiful variety of recipes and all can be easily modified to change it every now and again. I really appreciate that dietary needs are taken into account and are listed by meal type, with prep time, cook time and release times. The recipes are easy to follow and the photos in this book are GORGEOUS! What a beautiful cookbook!
EASY

Derived From Web

, Mar 26, 2019

I like this book a lot ''. I have used a pressure cooker in the past, but I just don 't like the cooking or prep work and this is pretty easy. Most recipes have a very limited ingredient list and makes life easy for me. I was a little confused at first about finding all this dried food, I didn 't realize that this was meant to be a pack - ahead kind of meal, you can use mostly fresh ingredients and then add the dry ingredients up to 6 weeks later or was it 3 months?! It depends on the ingredients, but if you find a recipe you love-BAM, you can make 6 jars of it ready to pop in the instant pot with one or two additions after a rough day. I think I 'll even give a gift of this to a friend at some point. She eats meat and I don 't, so I can pass it to the carnivores once I find them. There is something for everyone and is what I try to say here!
THE BEST!

Derived From Web

, Mar 25, 2019

This book has the BEST instant pot recipes for meals in a jar! Literaaaaallly obsessed '' with it. Pair that with an instant pot and it's like someone made my dreams come true! Truly, you are going to want to try everything. I love that it is organized in a way that makes sense from breakfast to snacks to including meat and even some Amazin dessert - the vanilla rice pudding came out so bomb. I am not a big coffee or tea drinker, but I sure love Chai - that spiced Chai recipe is my new go-to.
Ready to Cook at Any Time

Derived From Web

, Mar 14, 2019

It seems that most people have an instant pot of pressure cooker for the holidays. We had the excitement of making some of the recipes that came with the directions, but the instant pot started to sit in the back of the cabinet. Until I discovered this book! The concept of combining all ingredients together in a jar and being prepared to cook at any time is just brilliant. Just watching those layered jars in my pantry makes my heart sing. The 1 quart mason jars are so easy to find and the perfect meal size. The dried fruits and vegetables are easy to find in my area, and the book points out that online is an excellent resource no matter where you live. With the meals organized in jars and vegetable, chicken or beef broth on hand, you go from pot to table by the time the table is set.
I am taking my Instant Pot on my next RV vacation.

Derived From Web

, Mar 10, 2019

If you own an instant pot, this book is for you. There are 50 recipes for cooking in a jar, just waiting to be prepared. The pictures make these recipes even more beautiful and appetizing. If you do not already have them, ingredients are easily accessible. Many can be purchased at your local grocery store in the bulk aisle. I really like that the shelf life for these prepared meals is between 3 and 6 months. The recipes are for breakfast, snacks, sides, soups, add just meat, pasta and grains, beans and legumes, and of course desserts and drinks. Something new I learned with this book is that you can use Pyex, Bundt pans or other pans inside the instant pot. This adds just more uses to this valuable appliance. I take my next RV vacation on my Instant Pot.