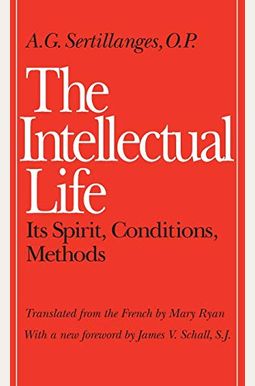 
 
The Intellectual Life: Its Spirit, Conditions, Methods
Book Overview
Fr. Sertillanges's teachings are as timeless as any truths which describe the genuine nature of things. . . . This book is highly recommended not only for intellectuals, but also for students and those discerning their vocation in life.--New Oxford Review
This] is above all a practical book. It discusses with a wealth of illustration and insight such subjects as the organization of the intellectual worker's time, materials, and his life; the integration of knowledge and the relation of one's specialty to general knowledge; the choice and use of reading; the discipline of memory; the taking of notes, their classification and use; and the preparation and organization of the final production.--The Sign
Frequently bought together
Frequently Asked Questions About The Intellectual Life: Its Spirit, Conditions, Methods
Books like The Intellectual Life: Its Spirit, Conditions, Methods
Book Reviews
(8)
Did you read The Intellectual Life: Its Spirit, Conditions, Methods? Please provide your feedback and rating to help other readers.
"The world is in danger for lack of life-giving maxims."

Derived From Web

, May 23, 2022

I missed not being able to highlight them on my Kindle, but then again it is just as well, since I would have highlighted half the book. My favorite may be an unattributed quote, He who falls without stepping forward takes a bigger step. Sertillanges outlines the nature of and the virtues needed for intellectual life. He discusses the balance of the physical, mental and social aspects of intellectual life. Much of it centers on balancing the depth and breadth of the focus on studying and recreation. Open to any random page and you are likely to read an inspiring thought in a well-turned page. As I read, I kept imagining one sentence after another was posted to someone's Facebook status. This is an ennobling manifesto of living a life devoted to the thought.
Convoluted translation.

Derived From Web

, Mar 28, 2021

Literal translation from French does not irritate and occasionally flows. Ideas are good, but it requires a lot of patience to read the sentences.
Good

Derived From Web

, Mar 2, 2021

More than likely not because I wouldn 't want to start an awkward religious argument with someone more sensitive to anything relating to religion. Also, the purple prose can be too tedious to slough for some. I recommend giving Deep Work a read over this from Cal Newport. I find the prose written beautifully at times, but it can be overwhelming as well ''. In all, it was a great book that gave me some fine insight into staying focused on my task.
A Motivating Book

Derived From Web

, Jan 8, 2020

I read it at the suggestion of my guitar teacher. He said that he reads it every year. It is highly motivating for anyone who is serious about studying. It is easy to read-not boring and packed with ideas to help one stay focused on the work. A little pricey, presumably to me because it has a somewhat limited audience-much like most college textbooks. I would say that it is well worth the price in terms of money and time to read it. I wish I had read it before the college. With the benefit of its wisdom, May have done better.
60th Birthday Present to Myself

Derived From Web

, Oct 5, 2019

Every word is valuable in a meaningful life. I wish I had discovered this book 40 years ago! It is never too late.
Learning how to study

Derived From Web

, Aug 12, 2019

The book is written by a Dominican monk. He makes many references to philosophers and St. Aquinas. If you are not familiar with these references, it makes for very difficult reading. I have studied philosophy in college and even so, I found this book very difficult. I decided very slowly to reread the volume, giving special attention to the various references.
Great starting point.

Derived From Web

, Mar 8, 2018

The first half, perhaps 23, is quite interesting and informative, although other more modern works repeat much of what Sertillanges says ( and not that he was the first ). He draws heavily on Aquinas as a model, but his suggestions and discussions related to distractions are particularly relevant today and even more. The latter portions become a tad repetitive rehashing of much of what was said before.
Aquinas study

Derived From Web

, Aug 3, 2017

Sertillanges sees, using Thomas Aquinas daily routines, a list of tips and tools for what those with a passion for the humanities can achieve a state of balance. It is more than a do this, do this, do this, do not do this. It offers legit examples and even though it was written 100 years ago, transcends into the current context.