Buy 3 Get 1 Free
Our Best Sale Yet! Add 4 Books Priced Under $5 To Your Cart     Learn more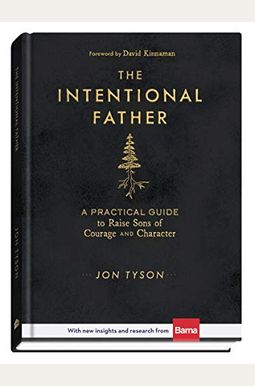 
 
The Intentional Father: A Practical Guide To Raise Sons Of Courage And Character
Book Overview
A proven plan to raise sons of integrity, faith, and consequence

Dads today are often overwhelmed with both the responsibility and the complexity of raising sons in this challenging culture. At the same time self-initiation is killing our young men. Without strong mentors, boys are walking alone into a wilderness of conflicting messages about who they should be as men. It's no wonder that our sons are confused about what the world expects from them and what they should expect of themselves.

The Intentional Father is a helpful antidote. This concise book is filled with practical steps to help men raise sons of consequence--young men who know what they believe, know who they are, and will stand up against the negative cultural trends of our day. Jon Tyson lays out a clear path for fathers and sons that includes specific activities, rites of passage, and significant marking moments that can be customized to fit any family.

It's not enough to hope our sons will become good men. We need them to be good at being men. This book shows fathers, grandfathers, and other male mentors how to lead the way.
Frequently Asked Questions About The Intentional Father: A Practical Guide To Raise Sons Of Courage And Character
Book Reviews
(10)
Did you read The Intentional Father: A Practical Guide To Raise Sons Of Courage And Character? Please provide your feedback and rating to help other readers.
From a mom/grandmother :)

Derived From Web

, Dec 12, 2021

My heart is for this generation of young people who are being raised in such cultural chaos, and that's why my mom or grandmother picked up a book on fathering. I want to see the young men and women of our world given the chance to understand who they are and how they can use their power in Christ Jesus. This book was exactly what I was hoping for. Jon Tyson does a great job of breaking down the theology into practical applications. Young dads who were not raised with concepts of honor and courage by their fathers can learn how to train their sons to understand identity and purpose. I am reaching out to every young father I know to let them know about this resource.
Uses New Age Means to Raise Christian Children

Derived From Web

, Nov 15, 2021

I had to put the book down. The man seems to use a lot of worldly means to try to raise men of Christlike character. The first thing he mentions in his chapter is the Ennegram. Christians need to stay away from the Ennegram because of its satanic roots. Christian self-discovery is contrary to the teachings of the bible. We need to learn more about Christ. A pastor uses worldly means and wisdom to teach people. The author says everything he did right in this book. It makes you feel guilty that you didn't plan out the elaborate trips with your sons. The book is not for the average Christian father.
Do this = Get that…or not

Derived From Web

, Nov 4, 2021

His assessment of the problems today is what frustrated me about this book. He didn't have any advice for being a good dad. I read all of the books and tried to implement the things that weren't available 20 years ago. Not perfect, for sure. My 20 year old daughter and 17 year old son don't like my parenting. If your children are willing, following methods works.
A confrontation of apathy

Derived From Web

, Oct 22, 2021

Jon's direct style leaves little room for dithering, either you're going to take up the challenge of intentional fatherhood, or you're not. You have to face the decision of how you will respond to this book. It is inspiring and convicting. Even as each chapter has challenged me to break out of my comfort zone as a father, it has also left me with a vivid sense that I can do it even in the midst of a busy life with clear, practical, and realistic action steps. Jon is speaking into one of our culture's greatest diseases - a lack of godly manhood - with a call to every father to rise to his calling to love and prepare sons to become men.
Practical and real

Derived From Web

, Oct 16, 2021

Advice for parenting. Our kids won't get our values through osmosis. Jon shares his own journey with practical advice.
Life changing for me and my son

Derived From Web

, Oct 15, 2021

The book is amazing. Jon has read over 100 important books on the topic of raising boys and has distilled all that wisdom down to this one book. He has refined that wisdom through real world application by taking his son through the process he outlines here with more intentionality than any other father has ever done. If the fathers in just a small portion of the American church were to read and apply this book, it would change the trajectory of the country for the better. I encourage fathers to read this and take their son through the process outlined. It will open a floodgate of blessings for you, your son and generations to come.
talks about toxic masculinity?! WHAT??

Derived From Web

, Oct 12, 2021

I bought this book because I have three boys. One of the first things this book discusses is the epidemic of toxic masculinity, how in the world can you raise men of consequence and courage if you start talking about it. When women and children were allowed to leave the Titanic, I didn't hear anyone complaining about toxic masculinity. This world and country needs a revival of men being protectors of women and being unapologetic in their God given strength of character. I bought the book to find that effort. Don't buy anything.
Every father of boys needs this

Derived From Web

, Sep 28, 2021

The book is a must have for fathers. This is the plan if we want to see change in the future. Jon makes it easy to use. It is not an easy road, but it is the right one. The book shows how to go with your sons. I started the path with my oldest son and it has been very rich and valuable. Please purchase this book.
Wonderful Book!

Derived From Web

, Sep 19, 2021

I bought this book for my husband because he is not a reader. He works on the exercises in the book every evening. My husband is very thankful for the wisdom Jon Tyson shares.
Clear, Helpful, and a Quick Read

Derived From Web

, Aug 28, 2021

I have read a few books on parenting and fathers and sons and this is the most practical and helpful in our cultural moment.