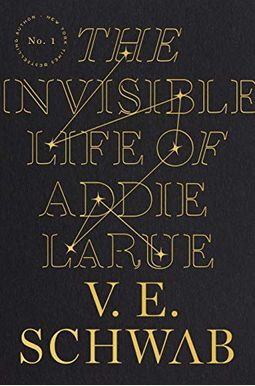 
 
The Invisible Life of Addie Larue
Book Overview
NEW YORK TIMES BESTSELER
USA TODAY BESTSELER
NATIONAL INDIE BESTSELER
THE WASHINGTON POST BESTSELER
Recommended by Entertainment Weekly, Real Simple, NPR, Slate, and Oprah Magazine
#1 Library Reads Pick
--
October 2020#1 Indie Next Pick
--
October 2020
BOK OF THE YEAR (2020) FINALIST
--
Book of The Month Club
A Best Of Book From: Oprah Mag * CN * Amazon * Amazon Editors * NPR * Goodreads * Bustle * PopSugar * BuzzFeed * Barnes & Noble * Kirkus Reviews * Lambda Literary * Nerdette * The Nerd Daily * Polygon * Library Reads * io9 * Smart Bitches Trashy Books * LiteraryHub * Medium * BookBub * The Mary Sue * Chicago Tribune * NY Daily News * SyFy Wire * Powells.com * Bookish * Book Riot *
Library Reads Voter Favorite *
In the vein of The Time Traveler's Wife and Life After Life, The Invisible Life of Addie LaRue is New York Times bestselling author V. E. Schwab's genre-defying tour de force.
A Life No One Will Remember. A Story You Will Never Forget. France, 1714: in a moment of desperation, a young woman makes a Faustian bargain to live forever--and is cursed to be forgotten by everyone she meets. Thus begins the extraordinary
Read More chevron_right
Frequently bought together
Frequently Asked Questions About The Invisible Life of Addie Larue
Books like The Invisible Life of Addie Larue
What should you read after The Invisible Life of Addie Larue Book? Here is a list of books to read if you read and loved The Invisible Life of Addie Larue
#1
Book Reviews
(11)
Did you read The Invisible Life of Addie Larue? Please provide your feedback and rating to help other readers.
Millennial Fiction

Derived From Web

, Jan 5, 2022

I am a male Boomer. You can guess my predjudices. I was able to get through it but wasn't very impressed. The concept is clever, but I would have liked the author to go from the character's point of view to that of the main character. After consorting with a dark spirit, Ms. Larue spends 300 years partying and never once contemplates that there might be a ying and yang in the universe and that the way out of her predicament might lie in an appeal to the forces of light. She doesn't seem to have thought about the nature of good and bad and how that might help. It was hard to suspend my disbelief. A good proofreader would have corrected the language gaffe. She knew about the languages.
first book by VE Schwab

Derived From Web

, Jan 4, 2022

This was the first book that I read. It has been on my TBR for a long time, and I am thankful I finally got to read it. I fell in love with Addie's story. In the 1700s, we watch her grow into a young woman. She is born with stubbornness and a dream quality that could be beyond their front door. She escapes her small town after making a deal with the Gods that they will answer in the night. She is cursed to be forgotten by everyone she meets. It is hard to write a review without giving away any information. I fell in love with the way she told Addie's story and the history woven into it. This will make my favorites shelf, but it may be some time before I feel like reading it again.
A good but slick read, a little too long

Derived From Web

, Sep 20, 2021

I read this for my book club. It was a good read and I wanted to know how it ended, but the ending was too long. This is the story of a young woman who made a deal with a devil. He is a charming but ruthless demigod who takes people's souls. The devil, Luc, almost takes away the life of young Adeline LaRue, but she is able to live forever. Her story covers 300 years of how she survived when she had nothing and no one, but Henry remembered her once she was out of sight. The author researched through centuries of history. The story had a feel for lost and lonely. I didn't like that the author wanted to add lots of sex because it sells.
A unique story of freedom, love and sacrifice!

Derived From Web

, Sep 14, 2021

Addie sacrificed her life so that she could marry a widower with young children who would listen. She was given her freedom for her soul. Three centuries go by while Darkness visits Addie. After she leaves, no one remembers her. If she sees them again, they come back as if they have never seen her before. She is truly lonely. She can't stay in one place for long. The only thing that remains is a carved wooden ring. She wanders the world for three hundred years and experiences poverty, famine, and love. As her character grows, Addie shows great strength. 5 stars for a unique story of freedom, love and sacrifice.
**BORING**

Derived From Web

, Mar 10, 2021

The book was boring. The charaters were boring and uninteresting. Don't spend your money on it. !
Amazing Plot, Poor Execution.

Derived From Web

, Feb 12, 2021

How can you base a book on a character who has lived for 300 years but not speak much about history? France is a fascinating country. Vive la France, the glamour, the turmoil, the innovativeness, and the class disparity! The historical references felt like homework. You will be let down if you're a historical fiction buff. If the author put half as much effort into historical references as she did in describing the climate of New York City, then this would be an amazing read. This book has left me wondering if the author has ever been to Paris or any of the other world class cities mentioned in the text. The passion used to describe NYC was noticeable. The main character's curse provided its limitations, but she was boring.
An out-of-body experience of a Good Read!

Derived From Web

, Jan 9, 2021

This was a completely different experience than the previous novel I'd read. If the idea of being able to live for hundreds of years, yet not leave a mark or remembrance was riveting, it was also because of the complicated relationship between Addie and the God of Darkness. Each chapter made me want to jump up and down. There is a sense of excitement. The writing is beautiful, elegant and concise, which makes the novel pulse with life in your hands. The only thing I would complain about was that Paris' Sacré Cur did not exist in the 1700s.
One of the most anticlimactic books I've read in a long time

Derived From Web

, Dec 26, 2020

I don't know what to think with all of the excellent reviews. Maybe it is written for a younger age group. If a book starts out slow, I usually give until I get to about 50% for the whole story to come together, and that draws me in. The monotony is killing me and I'm at 70% with this book. I'm waiting for a big "grab me in" part but it's not there. The characters are slow and have no depth. One of the most boring books I have read in a long time.
7 stars, one for each of the freckles on Addie's face

Derived From Web

, Nov 4, 2020

In 1714, in a moment of desperation, Addie makes a bargain with the wrong god to live forever and is cursed to be forgotten by everyone she meets. She runs into someone who remembers her name 300 years later. This is not a typical romance, but a romance with life. It is about wanting to leave your mark in the world. It is a story about finding meaning in life through art and history. She makes me fall in love with Addie while reflecting on life and death. I admire Addie's strength and resilience, but I wouldn't have made it a week in her shoes. There are no other words to describe this book. It is safe to say that I will remember Addie LaRue.
Invisible interest

Derived From Web

, Oct 25, 2020

I bought the book based on the blurb. I bought this book because of the hype. I paid full price for this instead of waiting for it to roll through on a daily deals email, is that sad? Yes, I do. I understand that the premise was supposed to show how invisible Addie was. The way the chapters were skipped from past to present and sideways should have been easy. This wasn't the case. The title character was annoying and the skipping between past and present was not well done. For the first 32% of the book, I didn't like it. I tried. The hype? I just couldn't. I wanted it to get better every time I opened it, but it didn't. I am sure there will be others who enjoy this book. It dragged on for me from the beginning to the end.