Buy 3 Get 1 Free
Our Best Sale Yet! Add 4 Books Priced Under $5 To Your Cart Learn more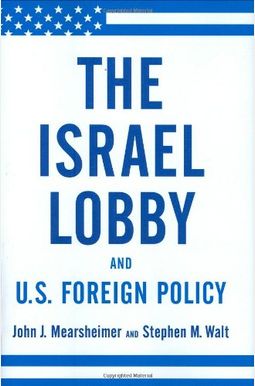 
 
The Israel Lobby And U.s. Foreign Policy
Product is currently Out of Stock.
You can add it to your wishlist and you will be notified once we receive a copy.
Book Overview
This Description may be from another edition of this product.
The Israel Lobby, by John J. Mearsheimer of the University of Chicago and Stephen M. Walt of Harvard's John F. Kennedy School of Government, was one of the most controversial articles in recent memory. Originally published in the London Review of Books in March 2006, it provoked both howls of outrage and cheers of gratitude for challenging what had been a taboo issue in America: the impact of the Israel lobby on U.S. foreign policy.
Now in a work of major importance, Mearsheimer and Walt deepen and expand their argument and confront recent developments in Lebanon and Iran. They describe the remarkable level of material and diplomatic support that the United States provides to Israel and argues that this support cannot be fully explained on either strategic or moral grounds. This exceptional relationship is due largely to the political influence of a loose coalition of individuals and organizations that actively work to shape U.S. foreign policy in a pro-Israel direction. Mearsheimer and Walt provocatively contend that the lobby has a far-reaching impact on America's posture throughout the Middle East--in Iraq, Iran, Lebanon, and toward the Israeli-Palestinian conflict--and the policies it has encouraged are in neither America's national interest nor Israel's long-term interest. The Read More chevron_right
Frequently Asked Questions About The Israel Lobby And U.s. Foreign Policy
Books like The Israel Lobby And U.s. Foreign Policy
Book Reviews
(12)
Did you read The Israel Lobby And U.s. Foreign Policy? Please provide your feedback and rating to help other readers.
It is our American Duty to read this book

Derived From Web

, May 1, 2022

Considering how much money that comes from the U.S. and not on good reasons or no reasons at all, Americans ought to read this. A must-read for anyone interested in world affairs and U.S. foreign policy.
How the Israel Lobby damages the US

Derived From Web

, May 1, 2022

This is a must-read for conservatives, not liberals. It's a stunning book, even if we don't get to the heart of the matter. Those sympathetic to the Palestinian cause and its impact on the US government and population might have made an even more dramatic story.
Thought provoking to say the least!

Derived From Web

, May 1, 2022

In "State of the Union," Kerry lays out the case for why the US has a pro-Israeli foreign policy in the Middle East. Though highly respected Jewish scholars, their work is well-known and well-reviewed. It is a startling admission by two of America's leading writers of foreign policy that US foreign policy has been damaging to the national interest due to a heavy impact of Jewish lobbying and pro-Israel policy's. If you are serious about seeing a change in US foreign policy and war-fighting arguments, this book is highly recommended.
Interesting report on the Zionist lobbys power in the US...

Derived From Web

, May 1, 2022

I recommend that anyone interested in learning more about this terrible book read it. Jews have the right to speak the truth, he said. It's our duty, and we're here to do it. Though I'm an American, I'm not Israeli. Yes, I'm not from there and it's not the Jewish state. The fact is, it doesn't represent me just like ISIS doesn't represent Muslims or Islam.
Mearsheimer and Walt provide an excellent documentation on how the Israel Lobby has had an ...

Derived From Web

, May 1, 2022

Must-read for anyone trying to understand the absurd foreign policy decisions made by the United States over the last two decades.
Pretty good but needs to go deeper

Derived From Web

, May 1, 2022

Pretty good but needs to go deeper, onall areas of the economy, political economy and cultural, he said. influences that are hidden and the censorship of critics of zionistism by Corp. media that is very pro-zionist.
The Truth Shall Set You Free

Derived From Web

, May 1, 2022

If you want to gain an invaluable prism of how to view and understand all the news and government machinations since the Balfour Declaration letter to Lord Rothschild, the creation of the Federal Reserve, through every war the United States has been involved with since, you must read this book. The pernicious and corrosive influence of this conspiracy must be excised from our republic if we are to survive, he said. The Romans called them Destroyers.
Contraversial, but a good read.

Derived From Web

, May 1, 2022

The book harshly criticizes the Israeli government and the Israeli lobby in Washington. He added: "There needs to be a more balanced view of the world.
Bold, Provocative, and Necessary

Derived From Web

, May 21, 2021

This book is in that it throws a hand grenade in the discussion of Israel and Palestine and US foreign policy like no other work. Provocative in that it challenges many commonly held beliefs and ideas about Israel, our supposed Greatest Ally, and ultimately asks us if they are worth the billions of dollars that the U.S. spends on them. It is also necessary because as it is explained in the book, the discussion on Israel and Palestine, especially in media and public discourse, is very one-sided and leans towards Israel side, and so this book opens up a huge door to the discussion, and opens up much needed dialogue on Israel and the Israel lobbies. This book is a must-have work of foreign policy, and is an essential book to have for international relations, history, politics and foreign policy buffs.
This is a must read

Derived From Web

, Jul 19, 2019

I have started showing an interest in the false Jewish narrative since Congress Bill 447 has been passed and blatant lies about Poland's war effort have been told. I have always wondered why America slavishly supported Israel irrespective of it being right or wrong, and often to America's detriment, he said. It seems that the American Jewish lobby collective, the AIPA, not only uses financial and media resources to tame American politicians, including Presidents, but also vilifies both Jewish and non-Jewish critics of Israel and Zionism. This book is dated and must read by Americans.