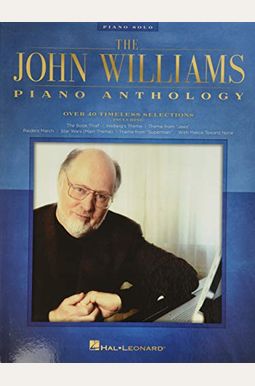 
 
The John Williams Piano Anthology
Book Overview
(Piano Solo Composer Collection). Over 40 beautiful piano solo arrangements of beloved John Williams themes, including: Theme from Angela's Ashes * Cantina Band * Catch Me If You Can * Theme from E.T. (The Extra-Terrestrial) * Harry's Wondrous World * Hedwig's Theme * Hymn to the Fallen * The Imperial March (Darth Vader's Theme) * Theme from Jaws * Theme from Jurassic Park * The March from 1941 * The Mission Theme * Olympic Fanfare and Theme * Raiders March * Rey's Theme * Scherzo for Motorcycle and Orchestra * Theme from Schindler's List * Somewhere in My Memory * Sophie's Theme * Star Wars (Main Theme) * With Malice Toward None * and more.
Frequently Asked Questions About The John Williams Piano Anthology
Book Reviews
(10)
Did you read The John Williams Piano Anthology? Please provide your feedback and rating to help other readers.
Kindle version is awful

Derived From Web

, Jul 28, 2021

There is no way to play from a book where I have to turn over the second page of every single song. I 'll be back.
Outstanding book from the Maestro!!!

Derived From Web

, Mar 2, 2021

What a fabulous collection of music by Maestro John Williams! This seems to be close to as actual, as he wrote it on his piano. Definitely recommended for someone who plays the piano well, and even then there is plenty in here that I have needed to really practice and practice --- John Williams is magnificent, and any pianist who loves his music will most likely love this book! John, thank you!
Arrived with tears

Derived From Web

, Dec 16, 2020

I bought this as a Christmas gift. It arrived with damage to cover as seen in the photo. These cosmetic damages certainly don 't ruin the music and I believe that the recipient will still be pleased with this gift, but I am disappointed that a new purchase would arrive in this condition. This may be due to the carrier's rough handling, but better packaging could have avoided these defects.
VERY DISAPPOINTED!

Derived From Web

, Sep 4, 2020

I LOVE John William's music, that is why I ordered this book. But I have never been so disappointed in a music book that I purchased because I am this one! I guess it is obvious that while music is great, it really needs a full orchestra to do justice to it. The piano arrangements do not do it justice! I am extremely bored with them as an advanced pianist.
Great addition to my music collection.

Derived From Web

, Jul 3, 2020

I adore John Williams and this book is a perfect comfort book for me to pull out on the piano. Some of the pieces here are a little more advanced and require practice, but most of them I found I could read part to how much I have listened to his pieces! I wish this book had the Theme from Sabrina, Love Theme from Superman and Love Theme from Indiana Jones and the Raiders of the Lost Ark. This book is fabulous and well-arranged with those exceptions! Highly recommended!
Great book......

Derived From Web

, Jun 14, 2019

This is a great compilation of John Williams's film music. This is the reason I bought it. I am reasonably proficient in piano playing, but not a conservatory candidate. Most music in this collection I just admire... one doesn 't realize the use of multiple meters within a song. One would expect this in late romantic music up through the present day, but the presented challenges to reading Mr. Williams music present challenges beyond my abilities. If I had more years to work on it, I would be better able to read this music, but then the fingers!!!!! Regardless of the genre, Maestro Williams is one of the great composers of all time. If you have the chops to play cover to cover, this is the book for you to immerse yourself in advanced challenges as a musician!
Difficult Pieces

Derived From Web

, Aug 22, 2018

FYI - I am a moderate player, can play some of these pieces with some practice, they sound great. FYI, this is for advanced players or those willing to PRACTICE.
BIG Printing Error

Derived From Web

, Jul 29, 2018

I had, however, an error in printing. 20 of the pages are obliquely reversed and in the opposite order. I did not realize it until I had the book for a month. It is disappointing that I have to take the book upside down and turn 20 pages forward to complete a few songs.
Amazing John Williams Collection!

Derived From Web

, Nov 17, 2017

My only disappointment was that it does not have the theme of Jurassic Park. I also agree with other customers that the binding does not facilitate easy playing. But I never realized before how incredibly simple and yet stunningly complex is John Williams'music. I fell even more deeply in love with his music than I play it!
The Collection You Want!

Derived From Web

, May 4, 2017

Love, Love This Collection! '' It has got most of the songs you would want from John Williams and they're a lot of fun to play. The only downside of such a large collection is that the book is kept open. Unless you have one of thoseMusic Book Clip or Page Holder, even heavy books have a hard time keeping certain songs open. Is this the solution for you? I took it to a print shop and had them cut the edge and spiral bound it. I don 't know why, though, Hal Leonard does not offer spiral editions for these larger books. If you are a fan of John Williams, even with the thickness of the book, this is a must for you.