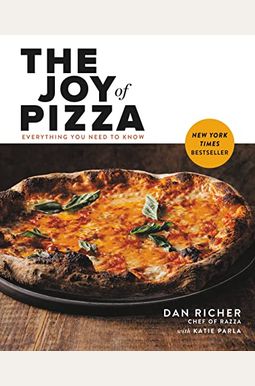 
 
The Joy Of Pizza: Everything You Need To Know
Book Overview
Learn to make artisan pizza the American way in this ultimate guide to the perfect pie from the creator of the best pizza in New York (New York Times).
Pizza is simple: dough, sauce, cheese, toppings. But inside these ordinary ingredients lies a world of extraordinary possibility. Dan Richer has devoted his life to discovering the holy grail of pizza: the secret to making a truly transcendent pies. The pizza at his restaurant, Razza, has been named the best in New York by
The New York Times
--despite the fact it's in New Jersey. Richer's pizza is among the best one can eat in America, if not the world. For him, the joy of pizza begins with the crust--a rim that is crisp, deeply caramelized, and shatters when you bite through it. The crumb is delicate and floral-scented, with a gentle note of acidity. The crust has large, open holes separated by thin, pearlescent cell walls. And the sauce, cheese, and toppings? You'll unlock their mysteries inside these pages. Every day, Richer assesses his pizza with a 56-point rubric that helps him come as close to pizza perfection as any mortal may dare. In
The Joy of Pizza
, Richer shows how to achieve each one of these ideal pizza attributes in recipes suited to home bakers and professionals alike. He includes instructions for making doughs with commercial yeast as well as sourdough starter, and
Read More chevron_right
Frequently Asked Questions About The Joy Of Pizza: Everything You Need To Know
Book Reviews
(6)
Did you read The Joy Of Pizza: Everything You Need To Know? Please provide your feedback and rating to help other readers.
The most complicated pizza you'll never make

Derived From Web

, Nov 12, 2021

It was a total blast, and I really wanted to be a part of it. However, with my busy schedule, I can't take Dan's dive into pizza world. He also said that people who have done it before are not so naive. It's a diatribe of his journey which would be wonderful if I had more time to kill it all, Graham said. He's accomplished and obviously amazing, McCartney said. His basic dough recipe takes about three days to make, which is just not enough time for me. Dan is seeking a book deal with Simon & Schuster. I don't have time to measure the temperature and humidity of my kitchen, flour, bowls, etc. Just about everything about this pizza dough is wrong. I've had people say that the book is not for a working person trying to make good pizza. For an artist seeking to perfect their craft, the academy's offer is a good fit.
Disorganized and overly complicated

Derived From Web

, Nov 12, 2021

I really want to like this book, as there are some really great pizza topping recipes. It's great to see the pictures, Bruno said. He also laments that the book is missing organizational structure and the dough recipe is too complicated. Then you also have the scan codes throughout the book which may help a more visually-challenged learner master a technique but overall, it's just a lot of wordy information. If you have a lot of time, focus and means to sift through the pages and pages of information, you'd be better off skipping the dough sections completely.
Most comprehensive pizza book ever written.

Derived From Web

, Nov 11, 2021

It's just that I love making pizza. Spent over 30 years working to improve it. It takes time to make small adjustments here.. It takes time to make small adjustments here. Had I been able to find a book that actually explains what the hell is going on here, Mr. Rule told the judge. Fermentation is the key to a great crust, but it just doesn't happen. If you're not into the science of cooking, then this book isn't for you unless you're serious about learning something. It's a regional pizza place. The city has had its own version of the "Mustangs." I'm looking forward to incorporating the techniques into the book.
nerd level pizza

Derived From Web

, Nov 11, 2021

The book is a joy to read, and the attention to detail is what makes it stand out. Less a cookbook and more of a textbook on creating your own style of pizza. i'm working on re-envisioning my pizzeria. Take a careful look at the product before you buy. It's just that the cover is coming off, there isn't any glue on the binding. Also, a couple of the stains are very large. But that doesn't ding on the book, just give it a onceover in case mine isn't an isolated defect.
Will be a classic

Derived From Web

, Nov 11, 2021

Extremely well written and to all levels of experience whether you are thinking about getting into pizza or you already speak it out one way or another, he said. The books cover a broad range of ingredients and temperature options. Will be a reference book in years to come.
Horribly over complicated narrative

Derived From Web

, Nov 10, 2021

It is my belief that few on this planet could follow the directions or suggestions outlined in the book. Professional business owner who attended culinary school and was thinking about making pizza.