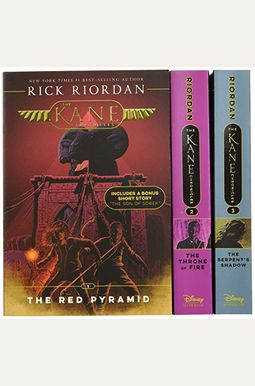 
 
The Kane Chronicles: The Complete Series
Book Overview
From New York Times best-selling author, Rick Riordan, comes a unique and exciting take on Ancient Egyptian mythology and is now available in a paperback box set complete with a bonus graphic novel sampler
A collection fit for the (Egyptian) gods All three books in the blockbuster Kane Chronicles trilogy are included in this deluxe boxed set of paperbacks, each with dynamic cover art, and a bonus graphic novel sampler.
This boxed set will be a treasure trove for readers of all ages, whether they're experiencing Sadie and Carter's amazing adventures for the first time or are faithful fans eager to devour the saga all over again.
Narrated by two different wisecracking voices, featuring an ever-changing crew of friends and foes, and with adventures spanning the globe, the Kane Chronicles is nothing short of a thrill ride.

Frequently Asked Questions About The Kane Chronicles: The Complete Series
Books like The Kane Chronicles: The Complete Series

Book Reviews
(10)
Did you read The Kane Chronicles: The Complete Series? Please provide your feedback and rating to help other readers.
My son's a fan

Derived From Web

, Mar 8, 2022

He loved all the other Rick Riordan books and these are no exception. He is 12 and likes to read adventure - magical stories. The paperback is carried by the books in and out of his backpack of course. The wooden box is solid and holds well on the bookshelf!
Ok Rick

Derived From Web

, Oct 16, 2021

I read and enjoyed this series for a while ''. I love acquiring information about the Egyptian gods while also making the story interesting. My son gets into longer chapter books, so i thought why not. He has said that he enjoys the book so far. Im excited to see how it works for him.
A little danged up but over all good quality

Derived From Web

, May 3, 2021

The product came with a little damage, but nothing severe. Came with red novel of the bonus graphic Pyramid. But did not come in a plastic seal like most other book series usually come in. Overall, the book seems really interesting and was good quality, especially since it came from Arizona all the way.
Another great series

Derived From Web

, Apr 15, 2021

If you like the Percy Jackson series, I would recommend reading "The Red Pyramid ". It has a pretty plot line, only it has Egyptian mythology instead of Greek. The book is about two siblings who learn they are descendants of two Pharaoh bloodlines. Carter and Sadie help save the world from the god of Evil and save their father. There are lots of twists and turns, so it is fun to try and predict what is going to happen next. One thing I did not like was how it kept switching from Carter to Sadie narrating the book. Rick Riodan makes learning Egyptian mythology fun while also making sure he is not bombarding us with information. I strongly recommend reading this book if you are into Egyptian mythology. I can 't wait to read the rest of the series.
Not new books

Derived From Web

, Apr 2, 2021

Great books! After reading the library copy, my children love them and want them for the home collection. Unfortunately, what we received are not new books. As you can see from the pictures, the box is damaged and the books are wrapped in a plastic bag.
What's with the shoddy materials for the box sets, lately?

Derived From Web

, Jul 14, 2020

I haven 't gotten to reading the books myself, but I am a fan of Mr Riordian and so I am sure that I 'll love him. However, the situation is quite different now. I am dam disappointed with another crappy cardboard box after both my Olympians and my heroes box sets fell apart just from sitting on my shelf for less than a month. I suppose I'll see how this set holds up, but I do wish that Mr Riordian's publishers were a little cheaper when it comes to his books. The books themselves are great, but the Collector's sets leave much to be desired.
Great books!

Derived From Web

, May 8, 2020

I loved reading this series '', I loved reading it. I became interested after reading the short stories with Percy Jackson and Annabeth, who introduced me to the Kane kids. I was hooked and had to know more. I really enjoyed the series ''. I enjoyed the series a lot. Thanks to the sample graphic novel, my daughter became interested and now I am reading the series to her.
Daughter can't put it down.

Derived From Web

, Feb 14, 2020

The set bought me as a gift for my teenage daughter. She is a big fan of the author and couldn t be happier with this new series.
Box set, great price and arrived quickly.

Derived From Web

, Nov 4, 2019

I love buying sets and not having to return to the store to buy the next one, this is for a grandson that loves a particular author. The series enjoyed him greatly.
Invasion of the body snatchers

Derived From Web

, Apr 4, 2019

My 13 year old daughter hates to read. I bought this set for my son because he enjoyed the Percy Jackson series. I can hardly talk to my daughter anymore, because she won t even get her nose out of these books! She discovered a total different person, now that she's discovered literature that interests her.