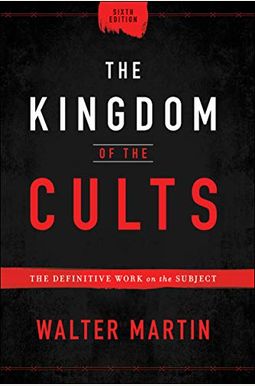 
 
The Kingdom Of The Cults: The Definitive Work On The Subject
Book Overview
The Leading Reference Tool on Non-Christian Religions, Now Completely Updated!

In an era of confusing religious ideas, Christians need information they can trust. And as Western culture drifts further and further from its Christian roots, there is an even greater need for awareness of the beliefs of those around us. The Kingdom of the Cults equips readers to understand the claims of numerous cults, sects, and religions--including some that masquerade as Christian denominations--contrasting those claims with biblical teaching.

This new edition, comprehensively updated by experts Jill Martin Rische and Kurt Van Gorden, builds on Dr. Martin's authoritative original text, and includes helpful information about changes and developments in belief systems around the globe in recent years.

Readable and reliable for teachers, pastors, and lay readers alike, The Kingdom of the Cults is sure to remain the go-to reference book on non-Christian religions for years to come.

Dr. Walter Martin (MA, New York University; PhD, California Coast University) held four earned degrees and was the author of a dozen books. He was internationally known as the host of The Bible Answer Man, a popular syndicated radio call-in program in the U.S. and Canada. He was also the founder and director of Christian Research Institute.
Frequently Asked Questions About The Kingdom Of The Cults: The Definitive Work On The Subject
Books like The Kingdom Of The Cults: The Definitive Work On The Subject
Book Reviews
(7)
Did you read The Kingdom Of The Cults: The Definitive Work On The Subject? Please provide your feedback and rating to help other readers.
Best most comprehensive book about cults I've Read

Derived From Web

, May 17, 2020

This is a Christian biblical overview of religions that fail to conform to great orthodoxy. The information about the Mormons and Jehovah's witnesses is particularly illuminating. The authors'knowledge of the Bible is astounding. I would recommend this book to everyone.
Comprehensive and thorough review of non-Christian religions

Derived From Web

, Dec 5, 2019

Excellent and in-depth review of all major and many minor non-Christian religions. For example, the author takes great care to point out the absurdity of Jehovah's witnesses insisting that there is only one God, JHVH, but also insisting that Jesus was A God, for the article, and the contradiction of saying that there is one God, but also a mighty God. I have used this information many times in discussing beliefs with others. This can't remove someone, only God can change a heart, but it can save mental stumbling blocks. It's a big read, but all the straight info is no fluff.
A Classic in every since of the word to understand Cults

Derived From Web

, Oct 10, 2019

For anyone to really understand cults and how to approach anyone in one, this is a must-have book as a reference and guide!
Exactly What I Wanted - Detailed

Derived From Web

, Oct 2, 2019

This was received in record time, in fact a day early via Baker Book House after my order of a used book on Amazon. I am so glad that I chose to order the newest edition. The condition is perfect : After reading a chapter, it is just what I wanted with details and citations easily accessed, with 796 pages, which gives a plethora of facts! Happy :
Great apologetic tool

Derived From Web

, May 23, 2019

It is a very good tool for defending faith. It is highly recommended.
A classic from the father of the modern counter-cult movement

Derived From Web

, May 22, 2019

For a Christian looking to deepen their knowledge on cults and world religions, there is simply no better book. As noted by another review, it is from a Christian perspective. It is odd that is a point of contention since it has never claimed to be anything else. It was the first Christian book I bought after reading my first Bible and even after many years as a believer and many years after Dr Martin's death continues to provide valuable insights.
Narrow-minded

Derived From Web

, May 22, 2019

This book is strictly Christian fundamentalist perspective. Instead, it emphasizes differences and finds scriptural minutiae to rebut them. If you want to feel alienated and separate from much of the world, this is the book for you.