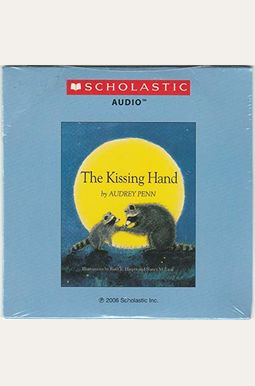  
The Kissing Hand CD and Paperback book
Book Overview
This Description may be from another edition of this product.
With over four million copies sold, countless children have been introduced to Chester Raccoon through The Kissing Hand, the first title in the series that firmly shows the importance of characters with whom kids can share their troubles.
School is starting in the forest, but Chester Raccoon does not want to go. To help ease Chester's fears, Mrs. Raccoon shares a family secret called the Kissing Hand to give him the reassurance of her love any time his world feels a little scary.
Now in its 25th year of printing, The Kissing Hand has found its way into the hearts of teachers, librarians, parents, and children around the world, especially during times of separation like starting school, entering daycare, or going to camp. Celebrate the special Kissing Hand anniversary with Chester and his mother in this limited edition family keepsake with a dedication page, Letters to Chester booklet download and, of course, heart stickers.
Frequently bought together
Frequently Asked Questions About The Kissing Hand CD and Paperback book
Books like The Kissing Hand CD and Paperback book
Book Reviews
(13)
Did you read The Kissing Hand CD and Paperback book? Please provide your feedback and rating to help other readers.
Wonderfully Tender Book - Helps with Separation Anxiety

Derived From Web

, Apr 20, 2022

Every year, I use this book in my PreK class. The story is about a young raccoon who is afraid to leave his mother and start school. I have both the children and their grownups trace, cut out, and decorate their handprints when we're done with the story. Attach yarn by punching holes. The parents and kids kiss. We put heart stickers in the middle of each handprint. When they miss their little ones, the grownups can take their children's handprint home. The children keep their handprints in school and when they get lonely they can wear the hand and feel their grownup's love close to their heart. It helps with anxiety separation from the parent's perspective. -)
Very cute book. Great for preschooler heading off to school!

Derived From Web

, Apr 20, 2022

Before my daughter's first day of school, I read this book to her. This is a good book to read to your preschool child before they start school. It's a cute story and helps with separation anxiety. I'm happy to add it to our home library.
absolutely touching and relatable.

Derived From Web

, Apr 20, 2022

My son started kindergarten on Monday and as my husband and I suspected, he would have some time to adjust. He gave the puppy a face when we dropped him off. He wants to come back to be with us. He said Chester is just like him after reading this book. He said that his fourth and fifth days of school will be great because he will be smiling all day. Purchasing this book on my phone is priceless. Thanks a lot. Evelyn W. is the mom of a child.
Amazing book with an amazing loving gesture

Derived From Web

, Sep 11, 2021

The story is beautiful for little ones. I have always kissed the little children in my arms and held them tight. If they miss home, parent or just feel blue, just kiss them on the cheek and all will be better. I didn't know that this book existed. This is a beautiful book and gesture to make little ones feel more comfortable and less afraid. My son is 34 years old and I began kissing him in the hand. He would always say that he wanted to be with you. The loving gesture was done many years ago, and always worked to comfort him. If you are going through a transition with a little child, this book is a must have. The hand kiss is very special.
LOVELY STORY!!!!!

Derived From Web

, Feb 3, 2021

This book is perfect for reading. I read it to my children when they were small.
When the pages get wrinkled this much - you KNOW it's a good book!!!

Derived From Web

, Mar 23, 2020

We love gathering books for our home reading collection shelves and have spent a lot of time in the library to find things to try at home first. Let's keep the book out if it starts to fall into it. We'll check to see if it should be in our home library. The Kissing Hand is one of the books that we have at our house. The wrinkled pages note shows that a book has caught the imagination of our 3-year old and has become one of his own reads. It was read to his collection of stuffed animal friends, his 6-year old brother and even to his parents at different times of the day. The proof in this pudding is that the central part of the palm is kissed. A wonderful story! It was!
Not a bad book

Derived From Web

, Dec 21, 2019

The idea of bringing a caring person inside you when you're apart and have to do difficult things is a nice premise, as is the idea that it's hard for parents when their kids go out into the world without them. I didn't like the presumption that a child who doesn't like school or has difficulty making friends will love school. A lot of people like that sort of thing, but I think this book is too cloying for me.
Very touching story

Derived From Web

, Feb 17, 2019

Oh wow! The story is about a mother and child. I would like to see things like this more often. Thank you very much.
Perfectly written

Derived From Web

, Jul 28, 2018

This has been the best way to ease the separation anxiety of two kids. First is now 17 years old and remembers this story very well. I helped with the 2nd for preschool last year.
beautiful!

Derived From Web

, Jun 27, 2018

This book is a must have for any child that is going to school for the first time. I will keep this book for a long time.