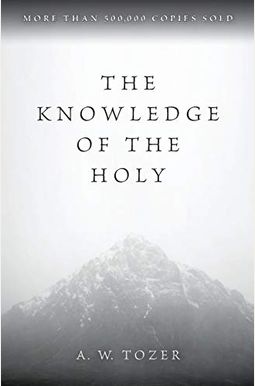 
 
The Knowledge Of The Holy
Frequently Asked Questions About The Knowledge Of The Holy
Books like The Knowledge Of The Holy
Book Reviews
(15)
Did you read The Knowledge Of The Holy? Please provide your feedback and rating to help other readers.
Knowing God also means knowing your true self

Derived From Web

, Apr 20, 2022

I can't say enough about the book, which changed my entire life. Before reading The Lord's Law, I was a victim of abuse and felt worthless. I couldn't have asked for a better introduction to God than this book." I never expected such wonderful results! It saved me and my children from years of grief, Mrs. Kennedy said.
A mountain packed into a small package.

Derived From Web

, Apr 20, 2022

If you are being called to walk in the Spirit, and have a desire to know our God better, then you must read this short book written by a giant man of God. The reviews from my more mature, sincerely seeking Christ men have been great, she said.
Thoughts on GOD

Derived From Web

, Apr 20, 2022

What comes into your mind when you think about God is the most important thing in your life, he said. It's just that terrible. Most of us would think of a number of other things that we would consider more important than what we think about God, or no god, for that matter. After reading this book, I realized that from what we think about GOD, everything else follows, not vice versa. But, seriously, what a revelation. I am the LORD, I change not is a statement of immense ramifications, but it is too easily dismissed as superfluous. A W. Tozer's contemplative study seriously questions our thoughts about that which we cannot easily quantify, and therefore often avoid altogether. It's great to hear from people who have had the thought what is the most important in their life. Even if you dismiss God, you will not be disappointed.
We talk so much about God's love all the while forgetting that first and foremost

Derived From Web

, Apr 20, 2022

This is probably the most important book Christians should read in our modern day of compromise, he said. The book is titled "Do Not Think Right About God" and explains how we as Christians in this day and age do not think right about God. The book is short, yet says more about God and His attributes than many other books that talk about God. I have been deeply moved by this book and I have come to realize how far short my thinking about God was. This is not an easy read since Tozer has a way of bringing the reader to the point of decision and challenging the reader to think about God. This is a book all Christian should have in their library and should read once a year for the rest of their life.
Great Read By Tozer

Derived From Web

, Nov 3, 2021

The book argues that the church and individual will spiral down spiritually when they have a low view of God. He reveals Himself to us through the power of the Lord. He said that God has always been "perfectly holy" and has "never changed." God's interest in us comes from His goodness and not because He needs us, he said. He said that "God knows all things equally well." He has encouraged us to trust Him. He added that we must "meet God's terms" in order to be forgiven. It is satisfying to turn from our limited selves and into the infinite, the Lord. Like all Tozer titles, The Book is profound, provocative, and will challenge you intellectually. Will be back next time. Highly recommend.
Simple, but effective primer for reconnecting to God!

Derived From Web

, Feb 14, 2021

I'm a firm believer in the direct approach of this book to re-establish an uncompromising relationship with an uncompromising sovereign God.
Another good one.

Derived From Web

, Apr 29, 2020

Mr. Tozer is good at spelling things out. He leaves no room for compromise and only defines the benefits of a knowledge of God.
Bought this for a friend

Derived From Web

, Feb 1, 2020

He has enjoyed that book and is requesting others to review it.
Awesome book

Derived From Web

, Jun 12, 2019

I would say that this book really blessed me and helped me understand the attributes of God, and the implications of that. The book made me realize the greatness of God in a new light, Graham said.
Horrible formatting, great content

Derived From Web

, Apr 2, 2019

The content of this book is absolutely five stars, said Dr. Goin. The formatting of this book is so terrible, I almost missed the entire thing. You can figure out what should be quoted for the most part because many of the quotes are in the kings English language but man, what a pain to read. I gave it three stars only because of the content, which is so good, and because the publisher states typographical errors may have been corrected without note.