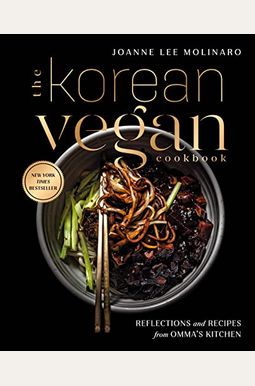  
The Korean Vegan Cookbook: Reflections and Recipes from Omma's Kitchen
Book Overview
Korean dishes, some traditional and some reimagined, from the home cook and storyteller behind @thekoreanvegan on TikTok
The single most frequent question Joanne Lee Molinaro gets asked is How can you be vegan
and
Korean? Korean cooking is, after all, synonymous with fish sauce and barbecue. And although grilled meat is indeed prevalent in some Korean food, the ingredients that filled out the bapsangs of Joanne's childhood--doenjang (fermented soybean paste), gochujang (chili sauce), dashima (seaweed), and more--are fully plant-based, unbelievably flavorful, and totally Korean.
In her debut cookbook, Joanne shares recipes and narrative snapshots of the food that shaped her family history. Some of the recipes come straight from her childhood: Jjajangmyun, the rich Korean-Chinese black bean noodles she ate on birthdays, or the humble Gamja Guk, a potato-and-leek soup her father makes. Some pay homage: Chocolate Sweet Potato Cake is an ode to the two foods that saved her mother's life, Kale & Ramen Salad with noodle croutons and a dressing akin to ramen broth.
With the intimate storytelling and stunning photography she's become known for on social media,
The Korean Vegan Cookbook
celebrates how deeply food and family shape our identity.
Frequently Asked Questions About The Korean Vegan Cookbook: Reflections and Recipes from Omma's Kitchen
Book Reviews
(11)
Did you read The Korean Vegan Cookbook: Reflections and Recipes from Omma's Kitchen? Please provide your feedback and rating to help other readers.
Beautiful book

Derived From Web

, Dec 25, 2021

It was beautifully composed. The pictures are glossy. This is definitely a show. A good coffee table book can start a discussion. This book was sent back by me. It wasn't what I was looking for.
A beautiful, heartfelt cookbook

Derived From Web

, Dec 8, 2021

I have never seen a cookbook like this before. I enjoy the stories and the recipes.
Mushrooms Causing Editorial Troubles

Derived From Web

, Nov 16, 2021

It is great to have a reference for vegan Korean recipes because I have cooked about 6 from this book so far. Even though I tried a few recipes, I found some mushroom related editing mistakes. Oyster mushrooms are mentioned in the recipe text but enoki mushrooms are listed as the main ingredient. It is never stated when to combine the king mushrooms with the rest of the ingredients. The last time they were mentioned, they were pan fried and never mentioned again. I am not sure if there are any additional mistakes in the rest of the book, but I feel that they should have been caught in a round of editing.
Favorite cookbook

Derived From Web

, Nov 4, 2021

A wonderful book filled with amazing, delicious recipes, but also beautiful stories of the author's life and family, is what this is. I have had it for two weeks and already cooked 11 recipes from the book. I have not been disappointed in any of them. I would have bought the book for that recipe alone, because there have been many that were so good. It continues to impress me. The gamja and dooboo are both great. The bulgogi and jjajangmyun are important. Don't sleep on the eclair cake, and make a double batches of muffins.
The most beautiful & authentic Korean cookbook in my collection

Derived From Web

, Oct 23, 2021

The book is large. There are beautiful pictures and delicious recipes. I fell in love with Korean food many years ago. I can eat my favorites if I choose the vegan alternatives. It was Stunning and satisfying.
Gorgeous. Stunning. Perfect

Derived From Web

, Oct 13, 2021

I have been waiting for this cookbook for a long time. I was admiring the beautiful photography while I was reading the pages. Every recipe makes me feel like she is with me in the kitchen. She takes some time to introduce us to many of the ingredients we will use, as well as providing suggestions on favorite brands and how to store them, so if you are interested in Korean cooking, this book is a must have. What a wonderful gift.
A must buy!

Derived From Web

, Oct 13, 2021

I ordered this in March because I have been following Joanne for over a year in various social media apps. It arrived on release day. The book is well done. I've already made a few of these recipes, but have many more to try. The photographs represent the culture and the vegan lifestyle very well. The narration she shares online is documented here as well. I'm very happy to have my own copy. I will be cooking several recipes this week. Theee Korean vegan, thanks!
Beautiful Book

Derived From Web

, Oct 13, 2021

I like the cover and the pictures. I haven't tried any of the recipes yet, but I finished reading the stories and cried a couple of times. I used to think that food was just something you needed for survival. I now understand that food is more than that. It's a way to connect with your family, friends and people in general. A meal can make you understand where someone comes from, and how it can transport you to another country. I realized that we sometimes take our parents for granted. I am getting emotional once more.
Wonderful!!

Derived From Web

, Oct 13, 2021

I have been waiting for this book. It has many traditional Korean recipes that bring back memories of my mom making dishes similar to these or eating variations of these dishes. She respected the original dish and made it vegan. I can't wait to make these recipes! The personal stories she shares on her family are beautifully written and shown in pictures.
An instant favorite

Derived From Web

, Oct 13, 2021

I am sure I will be dreaming about all those delicious dishes tonight, because this had me drooling mere seconds after opening it. The author's stories are delightful and endearing, the images are gorgeous, and if I were to flag every recipe I wanted to try, nearly every page would be flagged. We want to share our beautiful recipes with our family and friends. What a great find!