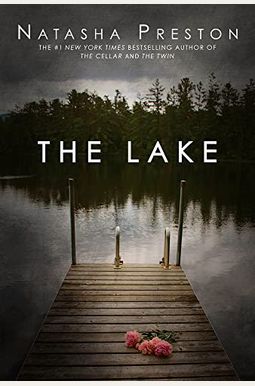  
Product is currently Out of Stock.
You can add it to your wishlist and you will be notified once we receive a copy.
Frequently Asked Questions About The Lake
Book Reviews
(6)
Did you read The Lake? Please provide your feedback and rating to help other readers.
Ending saved this book

Derived From Web

, Jan 8, 2022

The book is meant for a younger audience. The characters are 18 year olds. The main girl didn't come out and tell anyone who the stalker was, but again, she's young and dumb and scared, and I get it. It took me a while to get into the book because the beginning chapters are about setting up a camp and I feel like some of the information was unnecessary. One of the things in the book was obvious, so I ignored it, even though I thought it had to be done to make us believe we knew. It was the ending. The ending was very good. The last page and a half was genius. The book was saved for me by that.
If you're older, don't bother

Derived From Web

, Apr 21, 2021

This one doesn't impress for the feeling of suspense. The Lake left me wanting nothing more than for it to be over, even though I usually enjoy the books byNatasha Preston. It was a sad horror movie and was sent out. The writing is not good. The books are written so childishly that I felt like I could have spent the same amount of time watching a horror movie on MTV and it would have the same effect.
Teen Mystery/Thriller on the lake at summer camp!

Derived From Web

, Apr 4, 2021

This is the first book I' ve read, but I have several others on my shelves. The Lake kept me on my toes. Teens returning to summer camp with unshared secrets was a concept that I liked. The development of minor characters and their relationships with the main group might be something I would have liked more. I can not wait to read The Twin again. Thanks to NetGalley for the chance to see the book. I had a great time on the escape.
THIS BOOK IS DRIVING ME CRAZY

Derived From Web

, Mar 10, 2021

There areSPOILERS! It starts off great, but at the end of the day, everyone on the side died from being hit by a PLOT TWIST. That chapter wasn't very enjoyable. The Lake was a good book. It broke my heart when I heard of the deaths of Rebekah, Olly, and Jake, and I wonder if Lillian would have spared one of them for a happy ending. I need The Lake 2 asap.
Messed up printing.

Derived From Web

, Mar 6, 2021

Absolutely love him. I got to page 90 and my next page was 123. The pages were in order 123- 154 before jumping back to 123. There was an extra set of pages 123-154 and no pages 91-122. It was a super upset. When I ordered this from Amazon in July 2020, I was expecting it to be released in a few days, but I had to wait another week to get a new copy. What I was reading was really good.
'BUT WHAT HAPPENS NEXT??' is Natasha's signature. The Lake doesn't disappoint.

Derived From Web

, Mar 5, 2021

I absolutely love her. I couldn't wait to read this book. I liked the idea of the book as a whole. It wasn't one of my favorites for me. I was dying to know the secret of the book's strong beginning. It took a long time to figure out. There were pieces here and there that fit. The middle of the book had a lull and I wish the secret was a bit more. I liked how everything came together. The characters were likable, and I enjoyed having their secrets untangled. She leaves the end of her books with a huge ' but what happens next?' She didn't let this one go to waste. The ending seemed to have a few plot holes that could be poked, but overall I liked how everything was set up and how it ended. Thank you to NetGalley and Delacorte Press for an advanced copy in exchange for an honest review.