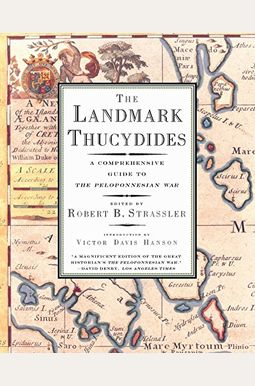 
 
The Landmark Thucydides: A Comprehensive Guide To The Peloponnesian War
Book Overview
This Description may be from another edition of this product.
Thucydides called his account of two decades of war between Athens and Sparta a possession for all time, and indeed it is the first and still the most famous work in the Western historical tradition.
Considered essential reading for generals, statesmen, and liberally educated citizens for more than 2,000 years,
The Peloponnesian War
is a mine of military, moral, political, and philosophical wisdom. However, this classic book has long presented obstacles to the uninitiated reader. Written centuries before the rise of modern historiography, Thucydides' narrative is not continuous or linear. His authoritative chronicle of what he considered the greatest war of all time is rigorous and meticulous, yet omits the many aids to comprehension modern readers take for granted--such as brief biographies of the story's main characters, maps and other visual enhancements, and background on the military, cultural, and political traditions of ancient Greece. Robert Strassler's new edition amends these omissions, and not only provides a new coherence to the narrative overall but effectively reconstructs the lost cultural context that Thucydides shared with his original audience. Based on the venerable Richard Crawley translation, updated and revised for modern readers,
The Landmark Read More chevron_right
Frequently bought together
Frequently Asked Questions About The Landmark Thucydides: A Comprehensive Guide To The Peloponnesian War
Books like The Landmark Thucydides: A Comprehensive Guide To The Peloponnesian War
Book Reviews
(10)
Did you read The Landmark Thucydides: A Comprehensive Guide To The Peloponnesian War? Please provide your feedback and rating to help other readers.
Kindle Edition

Derived From Web

, May 30, 2022

This is an amazing book, but the Kindle edition is severely lacking. I read it on my Kindle Fire. The maps are included, but in their current form they are unreadable. Zooming in to the maps creates very blurry images. The Kindle edition includes the paragraph numbers and summaries, however their location alternates between being located after the paragraph to the before the paragraph. The foot notes are included at the end of each bookchapter, but there is no link or numbering to connect them to the writing. Most of the footnotes refer to the maps, which can 't be read anyway, but there is some additional information in those notes that would be helpful to the reader to access. It is an awesome book and worthy of 5 stars, but the Kindle edition needs to be improved before I can give it a 3.
Is this real life?

Derived From Web

, May 30, 2022

Seriously, I read this book and feels like I am reading about WWII or some other world-changing event. Since he doesn 't seem to flourish anything, the events he describes seem to be human, even if a little cold. The Peloponnesian War was the peak of classical Greece's peloponnesian war. The Athenian Empire dominated the Aegean Sea and the Peloponnesian League balanced it peacefully not always. I can 't even get into it, since it would seem fake and just bleh. You have to read it from Thucydides himself, who knew the Greek leaders, fought in the war and recorded it without any pretensions.
An Annotated & "Illustrated" Thucydides

Derived From Web

, May 30, 2022

This is a helpful marginal issue with very scholarly annotations, maps and illustrations. A classical addition to any fine library.
Lovely Useful Edition

Derived From Web

, May 30, 2022

It was a joy for anyone still interested in paper books.
Maps, Footnotes, and Appendices! Oh, my!!

Derived From Web

, May 30, 2022

The translation is poor, but the maps, notes and appendices make up for it. If you're picky about translation, read it just beside your preferred version.
Landmark Thucydides

Derived From Web

, May 30, 2022

It is a good resource for my paper, which I am working on.
Just tell me, does it work? YES, it did for me!

Derived From Web

, Feb 24, 2022

Too often I find myself skubbed by the negative reviews here on Amazon. You come so close to buying an item with 4.5 stars only to see one-star reviews that make it sound terrible! Wondering if it is a scam or something, you skip the purchase. This is my boilerplate review saying that YES, I bought this item and worked without a hitch for me. If I've left this here, I'm trying to make up for low reviews that don 't reflect my experience.
Fabulous reader's edition

Derived From Web

, Feb 15, 2022

If this was recently written, I would have given it 3 stars as a well written but relatively conventional political history of a regional war with significant global consequences. However, considering that it is 2500 years old, this is an utterly remarkable work, especially in this edition and translation. It would have been hard to follow with all names and places, but not for the excellent maps and explanatory materials in this issue. As someone who loves reading political and military history, I am very glad that I read it, especially in preparation for our planned cruise later in the Mediterranean, this year.
Hardcover not worth it

Derived From Web

, Aug 30, 2020

It is quite disappointing when you spend the extra money for a hardcover edition of the book and to be excited for its arrival, only for the publisher to cut corners in 2020 and give it a book sleeve rather than a design on the hardcover. Books - Sleeves are so difficult to read over 100 pages while reading a book of any length, and if you take them off suddenly you have the ugliest book you are reading. It is an outdated practice from decades before that should be provided today only as an additional sleeve to protect the hardcover in transit. Will update if any further news transpires regarding build quality.
The answer to a serious student's prayer!

Derived From Web

, Aug 25, 2020

All Landmark series are utterly fantastic! Translations are all first-rate and the editor's comments are extremely helpful. But the MAPS are simply beautiful, as is the fact that at the top of each page the reader is told where and when the action took place on that page. Shortly after the closing are synopses of the text along the margins. Between the maps and the incredibly comprehensive index, this book is like its Landmark siblings what a serious student of the subject would pray for.