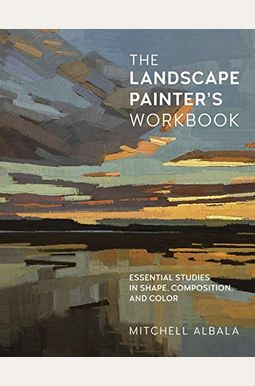 
 
The Landscape Painter's Workbook: Essential Studies In Shape, Composition, And Colorvolume 6
Book Overview
The Landscape Painter's Workbook is the definitive hands-on guide to the time-honored techniques and essential elements of landscape painting.
Written by celebrated landscape artist, instructor, and author Mitchell Albala, this
richly informative
and
beautifully illustrated
volume leads you step by step through his approach to the genre, from establishing a composition using basic shapes to applying time-tested color strategies, with all-new
lessons
,
practical exercises
, and
special topics
, including:
The Complete Color Strategy. What are the three aspects of color contrast that guide a painting's strategy?
Notan. Explore this special type of compositional study, which identifies the underlying shapes and patterns of a composition.
Picture Formats. How does the picture format--horizontal, vertical, or square--affect the composition? What are the pros and cons of each?
Color Grouping. A full chapter details this special practice, which helps maintain harmony by organizing colors into a limited number of groups.
Composition. An in-depth review of variation, movement, and active negative space, with illustrations that diagram the action in each example.
Workshop Exercises. Instead of demonstrations that show how the author paints, Read More chevron_right
Frequently Asked Questions About The Landscape Painter's Workbook: Essential Studies In Shape, Composition, And Colorvolume 6
Book Reviews
(8)
Did you read The Landscape Painter's Workbook: Essential Studies In Shape, Composition, And Colorvolume 6? Please provide your feedback and rating to help other readers.
Full of great advice

Derived From Web

, Mar 21, 2022

Very high quality illustrations with explanations of what the artist was trying to achieve and how they got there. It's not exactly 'do this the way I do, but do it the way you do it only better,' said Blair. Yes, I'll go back to this book again and again. The Kindle edition has a built-in zoom function, so I can see pictures clearly. It's just that good.
Its good for a beginner

Derived From Web

, Feb 23, 2022

Its an excellent start for beginners but if your a painter there might not be too much new information here.
A Problem-Solver's Delight

Derived From Web

, Feb 8, 2022

Mitch introduces his new book to painters as a handbook for problem-solving—those 'problems' being about shape, value, composition, and all the other tools artists use to create. This book has examples and exercises to help each of us tease out the answers, that is, simple solutions. Mitch gives clear advice to his client on his reasoning. I've had friends who have done diving and I'm thrilled to say they recommend it.
Great information

Derived From Web

, Feb 1, 2022

Great exercise, said Dr. Julie Goin, also director of physical education at Boston University. Some of the principles I already knew, but he stated in such a way that I really got it. Noteworthy: I devoured the book taking notes. This book is good for beginners as well as advanced readers because he explains it in ways that other books don't.
Clear and concise, like an expensive art workshop in book form

Derived From Web

, Jan 31, 2022

The book, "The Art of Living," follows the writer's journey through the academy and into the world of fine art. There are many forms of landscape painting, ranging from the simple to the elaborate. This workbook will help you move forward and create better paintings. In his book, "The Artist's Dilemma," Albala explains concepts many artists can't articulate or find difficult to grasp. In this book, Kline employs many of the picture-making principles that have made the Walt Disney movies. Review questions in each section to ensure you understand the concepts and can analyze and critique your own work. That really affects the companies, Byrne said. Through book and technique, students of all levels can become better and more confident artists.
Perhaps one of the best books for landscape painters I have read.

Derived From Web

, Jan 28, 2022

The author has clearly done his homework and the examples by talented artists illustrate the concerns of painting in an informed and thoughtful manner, he said. If you are a landscape-curious or a pro, this book will be a great resource for your own creativity.
Excellent, rich content and gorgeous examples

Derived From Web

, Jan 7, 2022

I have read his first book and was unsure whether I should pick up his second. The new book contains organized thematic chapters with practical exercises so you can learn by doing. I learned more from the chapters about color than I have from other books and workshops devoted solely to that topic, he said. If you liked it, you'll be glad you did! The Kindle version has a rating of 3 stars by Amazon. com reviewers. The Harrisons did not get married, as claimed by MSNBC. com. Amazon's Kindle edition has all the book's text, and is also in beautiful living color. However, the reviewer's file may have a problem, or an incorrect setting on her end.
No color images on Kindle

Derived From Web

, Dec 22, 2021

I'm a big fan of Saul's work, and I own his earlier book. Can you confirm that I am new to Kindle? It said it was grayscale, but I had no idea it was possible. I will now buy books on that, Mr. Dhaliwal said. He said: "I am very disappointed.